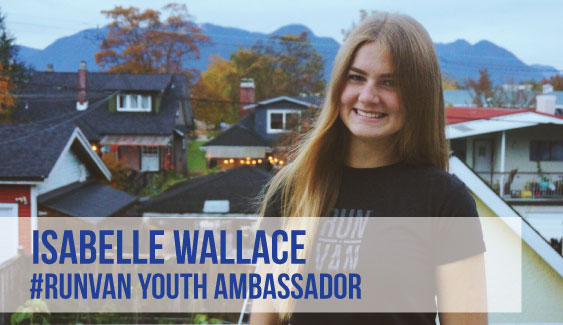 Meet Isabelle, a student at Templeton Secondary School in East Vancouver. Isabelle is fairly new to the "running scene", participating in her first 10KM event last April (Vancouver Sun Run) and her first RUNVAN® event this past fall (Granville Island Turkey Trot). Being a full time student and equestrian (her first passion), finding another sport that allowed a busy schedule was tricky. Running, however, was something she could train for on her own time at her own pace and Isabelle quickly developed a new second passion. Isabelle is excited to begin her new role as a Youth Ambassador with RUNVAN®. She hopes to promote youth at her school and within the Lower Mainland to get involved in running and developing lifelong healthy habits.
Find Isabelle online at:
Instagram: @isabellewallace_
Twitter: @isabellew1630
---
Take us back to the first time you ran in the Vancouver Marathon, Half Marathon, 8KM, Granville Island Turkey Trot, Fall Classic or your first race. What was it like? How long ago was it?
My first race was the 2016 Vancouver Sun Run. Running alongside nearly 50,000 other runners felt overwhelming at times, but it's incredible to see so many people out there! Running with a team also added to the experience; the motivation from your friends and teammates is a great boost of energy for the race.
Name a few of your favourite places to run in Vancouver or your city. Why do they stand out for you?

There are a couple places I like to run. I prefer runs close to home for convenience, and with Vancouver being a beautiful city, you don't have to go far to find scenic routes. Running around Trout Lake at John Hendry Park is an escape from busy streets. It sometimes feels hard to believe you are still in the middle of the city while running around the quiet lake!
Another route is running straight east from Templeton Secondary School down Adanac Street to where the road crosses over Highway 1, near the Cassiar Connector. It's a hilly route, and I like the view south over the highway, especially at night when I can see all the city lights.
Running is a great way to see the world. Of all the places you've traveled to outside of Vancouver or your city, whether it be for competition or for pleasure, which was your favourite spot to run in and why?
This past spring, I went on a trip to Costa Rica. Getting up early while the temperature was cooler and running along the beach has definitely been one of my favourite experiences. It was a complete change of scenery and very different from a typical run in the city. Running in sand was also more challenging than running on a harder surface like sidewalk or asphalt. Now I try to get out and run wherever I travel, every new city/location brings a new challenge!
4.What is your pre-race routine?
I trust my own training and try not to cram in too much the week leading up to a race. I walk and do light exercise as well as some stretching a few days prior, and get a good sleep the night before any race.
Pay it forward: What's the best advice you've ever received from a parent, coach, or mentor about running? OR got your own advice? Share it with us!
" If you want to win something, sprint 100 meters. If you want to experience something, run a marathon." Long distance running is an experience, from the training runs, the race, to crossing the finish line. Enjoy the journey! The Vancouver running community has brought successful experiences to so many people and it's something I am so excited to be a part of.
---