7 race day tips for a successful marathon

Preparing for race day is the key to a successful marathon. In the days leading up to the big day, you want to give your body time to rest up, recuperate and prepare itself. Here are seven tips to round off the last week of your training journey.
1. Enjoy the taper.
Shorten your runs and allow your body to rebuild and refresh itself for race day
Focus on preparing mentally for the race
2. 3-Day carb-load.
In the three days coming up to race day, runners should increase their carbohydrate intake to 70-80 of their total calorie intake
Day one: Load up on complex carbs, such as whole grain breads and pasta.
Day two: Switch over to simple carbs, such as white bread and regular pasta.
Day three: Continue with simple carbs. Have your last major meal 12-15 hours prior to the race.
3. Stay hydrated.
Make sure you are staying hydrated
Ensure you are drinking four to eight glasses of water a day
Find out what kind of sports drink will be provided on race day, and try it out during your training
Plan out a way to access your preferred fluids during the race if the provided drink does not work – this could mean wearing a hydration belt or having friends and family hand you drinks along the course
4. Aim for 8 hours of Zzz.
Aim for eight hours of sleep prior to race day
Unless your race has an early start, try to avoid going to bed too early – this may cause you to wake up too early and be unable to fall back asleep
While runners should aim for a full eight hours, research shows not getting the full amount should not have any adverse effects on race day
5. Don't overdress.
Check the weather the night before the race
Try to dress as if it's 15 degrees warmer than it really is – your body will warm up while you're running
Bring something to stay warm at the start line before the race
6. Find a dynamic warm-up routine.
You'll want to conserve your energy for the race, so your warm-up needs to be minimal
Warm up with dynamic movements instead of traditional "stretch-n-hold" stretches
A suggested warm-up includes five minutes of brisk walking followed by two to three minutes of easy jogging
7. Pace yourself.
Remember that you will be surrounded by tons of runners at the start line, all running at their own pace
Rather than following the speedsters in the pack, stay at your own race pace – or even a little slower at the beginning to conserve your energy
---
Related articles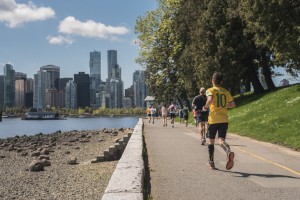 6 tips for training for your first marathon
Looking to finally cross "run a marathon" off your bucketlist? Taking on your first marathon takes both time and motivation. Here are six expert tips to help with your training, equipment and preparation for the big day.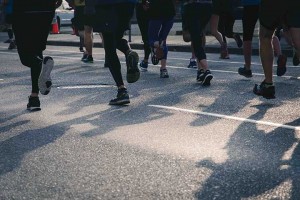 Finding the shoe that fits
When preparing for a marathon, it's important to don the right equipment— and that includes wearing the right pair of shoes. Finding running shoes that are both comfortable and affordable can prove to be a challenge, but you will be spending lots of time in them so it's important to find a pair that you like and fits well.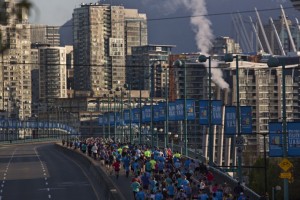 More expert tips
Whether you're a beginner training to tackle your first marathon or a seasoned runner looking to improve your time, these articles are here to help you prepare for a successful race day. Below you will find training advice, tips to prepare for race day, and more.