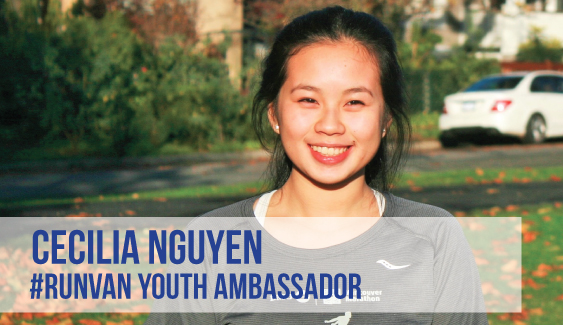 Meet Cecilia Nguyen, a student at Templeton Secondary. Cecilia's first community run was the RunVan BMO 8km in May 2015. She was involved in the 'School Challenge' with the Templeton Titans and their team won the challenge. Cecilia was born with asthma and over the years it continued to get worse. She was told that running on a consistent basis would help to improve her asthma and thus, decided to make this change in her life. Cecilia increasingly gained interest in running and it has became a big part of her life. Her goal is to encourage youth to be more involved and find passions within physical activity.
1. RUNVAN: Take us back to the first time you ran in the Vancouver Marathon, Half Marathon, 8KM or your first race. What was it like? How long ago was it?
My first race was the BMO 8KM this year. It was awesome! I was very excited, yet nervous at the same time. I received a great amount of support from my friends and family and finishing the race felt great.
2. RV: Name a few of your favourite points along our course or in Vancouver. Why do they stand out for you?
During the 8KM race, running along seawall was amazing! As I ran, I enjoyed the view of the ocean while passing by.
3. RV: What is your pre-race routine?
Sleep, sleep, and sleep! I'm a very anxious person and don't sleep well before important events. I hydrate and carb-load the day before and try to sleep as early as possible. I wake up three hours before the race and have a light breakfast (oatmeal with fruit) that would keep me energized throughout the race. Finish off with stretching and I'm good to go!
4. RV: Pay it forward: What's the best advice you've ever received from a parent, coach, or mentor about running? OR got your own advice? Share it with us!
The best advice I've ever received about running was to run for yourself, not others! Everyone has their own reason on why they run, whether you run to improve you health, to become more active, or just for the enjoyment. Focus on yourself and work towards your own goals!