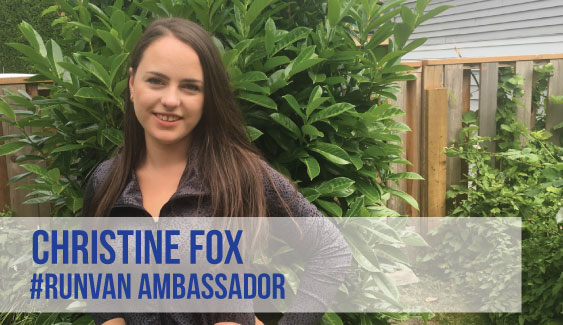 ---
Meet Christine, a health and fitness enthusiast who calls Vancouver home. She recently completed a degree in Communications at Simon Fraser University. With a few races under her belt, she is currently training for her first Half Marathon later this year. A relative newbie to participating in races, she hopes to one day run a full marathon and participate in races all over the world. She is looking forward to getting more involved in the running community in Vancouver through RUNVAN.  
---
RUNVAN: Take us back to the first time you ran in the Vancouver Marathon, Half Marathon, 8KM, Granville Island Turkey Trot, Fall Classic or your first race. What was it like? How long ago was it? What do you think has changed since then in the Vancouver running scene?
The first race I ran was the BMO Vancouver 8KM race in May 2016. I had been running for some time before this but never participated in a race before. I was amazed by the expert level of organization and the overall community spirit the event embodied. Since then I have participated in a variety of races, from small events to large, however the BMO Vancouver 8KM race was by far my favourite.
RV: Name a few of your favourite places to run in Vancouver or your city. Why do they stand out for you?
I live in Kits, which is surrounded by so much natural beauty, it's hard to run anywhere else. You can generally find me running at Jericho Beach and Spanish Banks due to the proximity of the beautiful water and the spectacular views of Downtown and West Vancouver. I always try to get out to the North Shore as well to get some trail running in. I grew up in Deep Cove, so it's always nice to get back to the familiar.
RV: Running is a great way to see the world. Of all the places you've traveled to outside of Vancouver or your city, whether it be for competition or for pleasure, which was your favourite spot to run in and why?
Pacifica, California would be my favourite spot to run in that I've travelled to. My sister lives here about a block away from the ocean and there is a path leading to a cliff overlooking Pacifica. Every time I visit I try to get in a few runs here. Nothing beats the warm California air mixed with the light mist of the surf.
RV: What is your pre-race routine?
I always try to get a good sleep in the night before and wake up early to get myself organized before a race. I always have a big bowl of homemade granola with fruit and then stretch when I get to the starting point. I practice yoga a lot as well, so I always try to incorporate some yoga stretches into my routine before and after the race.
RV: Pay it forward: What's the best advice you've ever received from a parent, coach, or mentor about running? OR got your own advice? Share it with us!
I was in a car accident 8 years ago and had a bad soft tissue injury in my hip. When I first started running I would only be able to do 2KM before my hip would give me problems and I would have to stop. I would get so frustrated that I would not run for days on end. Due to this, I was not improving on my distance running. I was ready to give up on running when my friend introduced me to yoga. Adding a regular yoga routine to my schedule enabled my body to start healing itself and enabled my injured hip to withstand my love of running. My advice to any new runner is to never get frustrated with what your body is capable of in the beginning. Running is a journey, you are never going to achieve your goal if you don't put in the work.