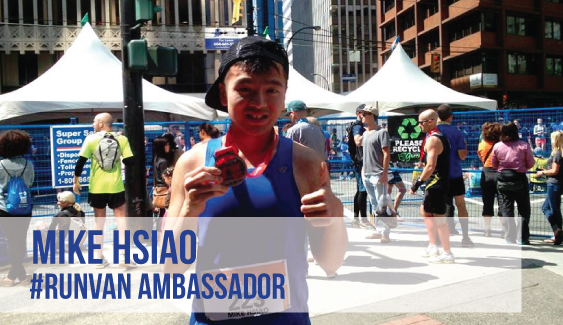 Mike is currently an engineering student at the University of British Columbia. His running journey began in the emergency room, one December night in 2012. He was 19 at the time, borderline obese, stressed from personal life, student life and suffering from the non-alcoholic fatty liver disease ((NAFLD) which he had been diagnosed with at the age of 12). He never took his body seriously at the time until he was clinging for life.
The moment he left the ER that night in 2012, he decided to make a change to his lifestyle and this time for good. He started to run with the goal of finishing a 10km non-stop. Just two laps around the track would have him out of breath. However, pouring hours into fitness, that two laps quickly turned into his first ever non-stop 10km race. Then his first half-marathon followed, and eventually his first full (which was the BMO Vancouver Marathon 2014). The NAFLD needed a check up every year(as the NAFLD can advance into stages that include liver scarring and liver cancer), but after training for his first marathon and losing about 1/4 of my body weight, he was fully cured of the NAFLD.
Since 2008 or at the age of 14, Mike's been involved with the running community as a volunteer (with the first event being the 2008 Granville Island Turkey Trot) and all of these events benefited charities. He started volunteering at a very young age because he is very passionate about the non-profit sector. So when he was acquainted with the running community, It  was both inspiring and heartwarming for him to see the smiles of the runners after they cross the finish line and see how they strive to do their best. This energy that the runner's had and with the causes these events benefited made him want to give back more each time. With this in mind, he eventually founded a non-profit organization who's main purpose is to give back to the running community via sporting events and helping with charities.
Currently he is pursuing to finish 100 races before he turns 25 to further raise awareness for Liver Disease research. He is very enthusiastic and passionate about running, the nonprofit causes that the Vancouver International Marathon Society stands for and feels very honoured and thrilled to be an ambassador for the BMO Vancouver International Marathon and #RunVan. Please feel free to connect with him at www.facebook.com/mikehsiao610, www.mikehsiao.ca or instagram @mychsiao
---
1. RUNVAN: Take us back to the first time you ran in the Vancouver Marathon, Half Marathon, 8KM or your first race. What was it like? How long ago was it? What do you think has changed since then in the Vancouver running scene?
RUNVAN: The first race I ran was in the Vancouver Sun Run back in high school. The running scene in Vancouver is vibrant and lively. Not only does the community come out to support these events by volunteering, but everyone participates by running. This makes us stand out as a lively, fit, and healthy city – a feat that is very difficult to replicate.
2. RV: Name a few of your favourite points along our course or in Vancouver. Why do they stand out for you?
My favourite location is probably after Burrard Street Bridge on the Vancouver Marathon. The times that I ran the BMO Vancouver Marathon, I would remember the stunning scene of the bridge with the urban backdrop of the downtown skyscrapers contrasted with the natural beauty of the Burrard Inlet and Stanley Park. This breath taking view usually helps you forget that you are 30km in and your legs are feeling burned out.
3. RV: Running is a great way to see the world. Of all the places you've traveled to outside of Vancouver, whether it be for competition or for pleasure, which was your favourite spot to run in and why?
Running is definitely a great way to see the world. Whenever I go somewhere new, i would always try to go for a run in the location and see what it has to offer. I still have many places I would like to visit, but out of the few places that I've been to, BC has the most stunning scenery. On the coast and on the island you have the breathtaking views of the ocean while inland, you have the mountains and glaciers. Every town and city in BC has it's own culture and what better way to get acquainted with the people, the lifestyle and the natural scenery than to run?
4. RV: What is your pre-race routine? 
Pre-race routine: I would meditate to the tunes of Mariah Carey (actually I'm kidding, I wouldn't haha, but I know people who do that). Before I do any race, I would try to see what's around me, keep myself calm and assess myself how I am feeling and doing that day.
5. RV: Pay it forward: What's the best advice you've ever received from a parent, coach, or mentor about running? OR got your own advice? Share it with us!
I would say the mental marathon is the most challenging thing to deal with. Besides insecurity, one thing that is important to remember is everyone is born and built differently, and everyone is in a different situation. Either financially, academically, health wise, everyone is different. Someone can run a marathon effortlessly while others have a hard time just walking down the block.I've figured this: as long as you always work to better yourself and do what you can in your current condition, you are a champion.