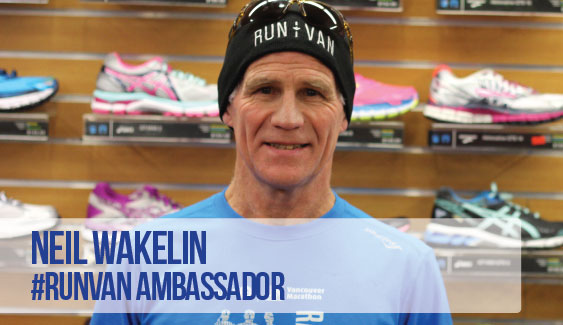 Meet Neil Wakelin, recently retired from the Running Room as an Area Manager and Events Coordinator for the past 20 years. Neil was also a former marathon clinic instructor at the North Vancouver Running Room and still group leads the marathon clinic from this store.
---
Neil ran his first Vancouver Marathon back in 1975 and is now in the Legacy Club for completing over 20 of them in Vancouver, with a personal best of 2:29:27 at the 1979 Vancouver Marathon. His all time PB came at the 1981 Seattle Marathon with a time of 2:28:40.
In 2004 Neil completed a huge goal by running his 100th marathon at the Vancouver International Marathon after running 12 marathons in 12 months to achieve this goal.
Neil will be running the BMO Vancouver Marathon again this year for his 150th marathon and his goal is to run 3:30 and hopefully place first in the men's 65-69 age category. Last year in the BMO Vancouver Marathon, Neil placed 3rd in the men's 65-69 age category with a time of 3:39:07.
Wakelin also competes in ultramarathons and is a 24 time finisher of the Kneeknackering North Shore 30 Mile Ultra Trail Run. This year will mark his 25th running of the Kneeknacker North Shore 30 Mile Ultra Trail Run and will be the first person to reach this amazing accomplishment.
Neil is also the Race Director for the North Shore Trail Runoff Series at www.sky2coveevents.com which he established in 2013. He lives in Deep Cove, North Vancouver, with his wife and son.
Take us back to the first time you ran in the Vancouver Marathon or Half Marathon. What was it like? How long ago was it? What do you think has changed since then?
 
First Vancouver Marathon was in 1975 and I ran a personal best time of 2:46. It was very competitive back in the 70's and 80's.
Name a few of your favourite points along our new course. Why do they stand out for you?

Love the scenic route, especially the views of the ocean and city landscapes.
Running is a great way to see the world. Of all the places you've traveled to outside of Vancouver, whether it be for competition or for pleasure, which was your favourite spot to run in and why? 
Love to run anywhere in NZ, especially the native bush trails and the wonderful sandy beaches that stretch for miles.
What is your pre-race routine?
Early breakfast of a small glass of OJ, yogurt and toast with honey 2 hours before the race.
Pay it forward: What's the best advice you've ever received from a parent, coach, or mentor about running? OR got your own advice? Share it with us!
"Always be consistent with your training and you will be successful. Always pay attention to your body, rather than listening to music, and you will stay injury free".