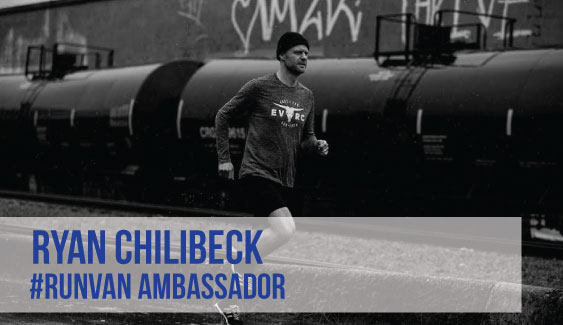 ​Meet Ryan Chilibeck, founder of East Vancouver Run Crew, restaurant owner, Outreach Coordinator and Race Director for the new MEC Trail Race Series in Edmonton, Alberta.
After spending the past few years helping to create and organize EVRC, he recently packed up his family and returned to Edmonton this past October. Even though he is gone from the West Coast, his goal is to always have as much fun as humanly possible while running on his own, with a group or during races. It's social…it should be enjoyable.
This will be Ryan's second running of the BMO Marathon after taking last year off to head up the on-course Crew Cheer Corner. While he enjoyed screaming in runners faces in 2016, there is no better feeling than crossing that finsh line yourself. For more information on Ryan & the East Vancouver Run Crew, check out their Instagram pages: @ryanmeatysauce or @eastvanruncrew
Take us back to the first time you ran in the Vancouver Marathon or Half Marathon. What was it like? How long ago was it? What do you think has changed since then?
This is my second time racing the BMO & I'm really looking forward to getting back to Vancouver to run with some friends. My first time was in 2015 and at the time I was fairly new to organized road racing. I was blown away with the vibe at the start, finish line & throughout the course. I don't think I stopped smiling the entire race. I like smiling.
Name a few of your favourite points along our new course. Why do they stand out for you?


On the half marathon course, I got a kick out of running down Cambie Street & over the bridge. The view was pretty cool…just a sea of bobbing heads for as far as you could see. My other favourite part of the course is running around the East side of Stanley Park. I love the views across to the North Shore mountains that quickly turn into the downtown skyline. This means the end is near.
Running is a great way to see the world. Of all the places you've traveled to outside of Vancouver, whether it be for competition or for pleasure, which was your favourite spot to run in and why?


After spending a great deal of my adult life in Jasper AB, I would have to say that this is one of my favourites. Aside from the odd encounter with wildlife, there is always an amazing view, the air is clean & the trails are technical but very approachable. Since moving back to Edmonton, I have also been blown away with trails in our River Valley. The community in this city is dedicated, passionate and fast. They love their city and aren't shy about showing it off! If you come to town then look me up and I'll take you out too.
What is your pre-race routine? 
It's always the same. I stress myself out the night before until I calm myself down with a couple of scotches, epsom salt bath & some sort of delicious feast. Wake up early, hot shower, stretch, eat a banana & a couple of bagels, put on an AudioBook and make my way to the race in silence. Quick stretch & warm-up at the venue, sing the national anthem…then go time!
Pay it forward: What's the best advice you've ever received from a parent, coach, or mentor about running? OR got your own advice? Share it with us!
For those of us not planning on going to the Olympics, just relax and have some fun. Courses are designed to showcase some incredible areas of the world. Look up, take it in, thank a volunteer & remember, there is always a beer (or water, wine, nachos, loved ones, foam roller, massage therapist, etc) waiting for you at the finish line!