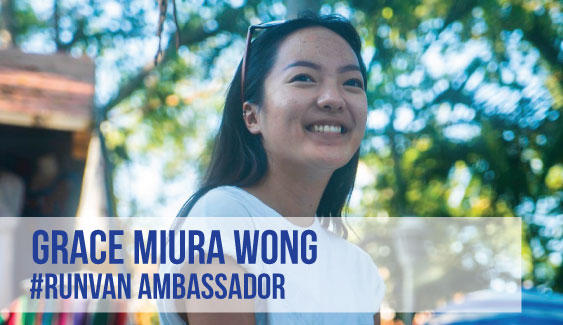 Meet Grace, a 4th year student at the University of British Columbia with hopes to pursue post-graduate studies in law and political science. Grace has been running races since elementary school – from 1 mile races to full marathons – and is so passionate about healthy living and spreading the goodness of sport that she is currently UBC Running Club's president. Born and bred in Vancouver, she has only run competitively in the area and one day hopes to run marathons in Europe and Asia.
---
1. RUNVAN: Take us back to the first time you ran in the Vancouver Marathon, Half Marathon, 8KM, Granville Island Turkey Trot, Fall Classic or your first race. What was it like? How long ago was it? What do you think has changed since then in the Vancouver running scene?
My first ever race was more than 10 years ago on a rainy day at Burnaby's Swangard Stadium. Me and two other kids were chosen to represent our school's district in an intense 2KM race and I came in second overall. I was so young so I don't remember the details but I do know that my passion from running started long ago when I received my medal that day.
2. RV: Name a few of your favourite places to run in Vancouver or your city. Why do they stand out for you?
Hands down, my favourite place to run in Vancouver is Stanley Park. The seawall is a breathtaking continuous flat route with a gorgeous view and if you want to switch it up a little, you can always venture into the beautiful trails. A close second is running down along Marine Drive at UBC, with options to go down Spanish Banks or up into the trails of Pacific Spirit Regional Park.
3. RV: Running is a great way to see the world. Of all the places you've traveled to outside of Vancouver or your city, whether it be for competition or for pleasure, which was your favourite spot to run in and why?
I really enjoyed running along Waikiki Beach in Honolulu when I travelled there last summer with my girlfriends. It was interesting to see other tourists braving out the heat wave and running along the beautiful shoreline at any hour of the day. The water was right there if I needed a quick cool-down which was a great plus!
4. RV: What is your pre-race routine?
Eating my favourite food for dinner (a heaping plate of spaghetti!), trying to get a good night's sleep, waking up to a nice cup of coffee and a solid breakfast (always bananas and PB) and stretching for a looooong time. I tie my shoes and pop in my earbuds right before the race starts.
5. RV: Pay it forward: What's the best advice you've ever received from a parent, coach, or mentor about running? OR got your own advice? Share it with us!
Advice I get from my training partner all the time is simple and to the point: "take it easy". It's easy to forget the stress distance running can have on your mind and body. At least for me, it's NOT easy to take rest days because all I want to do is train train train (I never learn my lesson despite many injuries)! But, I think it is important to remember that running is all about the journey and that sometimes you just need to take a breather and enjoy the ride.