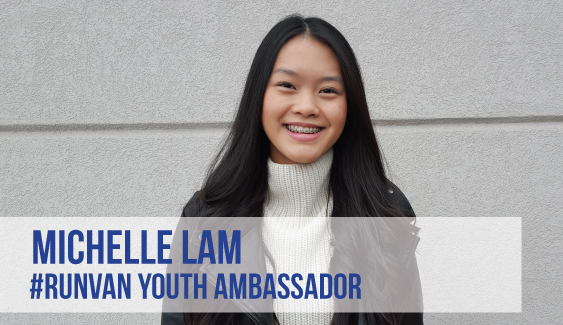 Meet Michelle Lam, a current Global Stewardship student at Capilano University. Michelle ran her first Vancouver race in 2015 during her last year of high school. She ran the 8KM, along with her fellow members of the running club at Templeton Secondary. It was the 'School Challenge' event and the Templeton Titans won! Michelle initially ran sprints and short-distance events during her years of track and field, but over the years, she has developed a passion for long-distance running. Her current goal is to run the Vancouver Full Marathon and other marathons around the world!
---
1. RUNVAN: Take us back to the first time you ran in the Vancouver Marathon, Half Marathon, 8KM, Granville Island Turkey Trot, Fall Classic or your first race. What was it like? How long ago was it?
My very first long-distance race was actually last year! It was the BMO 8KM. The race was such an amazing experience and a great introduction to long-distance events. I cannot wait to train hard and work my way up to the Vancouver Full Marathon!
2. RV: Name a few of your favourite places to run in Vancouver or your city. Why do they stand out for you?
I love to run by the ocean. The Seawall is a popular running choice in Vancouver, and with good reason. However, my favourite hidden gem is New Brighton Park. It is a beautiful local park that I run to often because not only is it near the water, you can have a spectacular view of the mountains. The Lower Seymour Conservation Reserve in North Vancouver is also an absolutely beautiful place to run through.
3. RV: Running is a great way to see the world. Of all the places you've traveled to outside of Vancouver or your city, whether it be for competition or for pleasure, which was your favourite spot to run in and why?
One of the most memorable places I ran in was in Thủ Đức, Ho Chi Minh, Vietnam. I was amazed by the Vietnamese culture I saw and learned during my hour of running everyday. So many residents were awake and walking by 5AM. Thủ Đức is not a wealthy district, but that didn't stop the locals from jogging in the sneakers or slippers on rocky and muddy, unpaved road. Running in Vietnam helped me reflect and think a lot about poverty, privilege, and gratitude.
4. RV: What is your pre-race routine? 
Besides from the typical pre-race essentials, including proper training months beforehand and a sufficient amount of sleep, I make sure to make a music playlist made and ready for the big race day! I also ensure that I am hydrated and that I have a good warm-up and stretch session before the race.
5. RV: Pay it forward: What's the best advice you've ever received from a parent, coach, or mentor about running? OR got your own advice? Share it with us!
Beat your best time. I used to get so anxious because I was afraid of coming in last place for my races while I still did track and field in high school that I would dread race day. I've enjoyed running so much more because I stopped comparing myself to other runners and just focused on how I can become a stronger athlete and runner.