2014 BMO Vancouver Marathon Medals & Shirt Reveal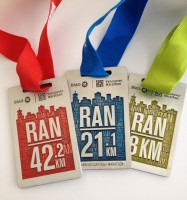 2014 BMO Vancouver Marathon Medals & Shirt Reveal
Finisher Medals
Medals hold great meaning for runners: whether they are a symbol of accomplishment, a keepsake, or a Christmas tree ornament, they are an important part of your race experience.
Every year we adjust medal design slightly so that each year you run the race, you'll have a different medal to add to your collection!
Each event medal has the total km length superimposed in the centre of the piece with a collage of all the neighbourhoods the course covers. Different from last year's, the medals feature a matte border.
This year marks the 25th anniversary of the Half Marathon event! This impressive milestone is engraved on the bottom of the Half Marathon medals, so if you are participating that means you're taking part in an exciting year for the Vancouver International Marathon event!
Saucony Tech Shirts
Another important part of your race experience is your runners tech shirt that you will receive with your race package. This year's Saucony runners shirts are a brand new colour: blazing yellow! We are very excited about the vibrant new colour for 2014, and we're confident you will love them too!
2014 Male Shirts
2014 Female Shirts