Andy Arevalo
RUNVAN® AMBASSADOR
Meet Andy, an active runner, personal finance advisor, and one of the group leaders at LaPower Running Club, a Vancouver Chinese-community running club. Andy had begun running 3 years ago to lose weight and to clear his negative emotions from a relationship breakdown. After losing more than 20 lbs, and becoming more confident and happy overall, Andy ran his first BMO Vancouver Marathon in 2017. It was challenging indeed for him (finish time was 4:28). Since then, he has been actively training and attempted his second full marathon in 2018 at the BMO Vancouver Marathon and finished in 3:48. Besides his great improvement in the marathon, Andy has also ran many events in all distances. He was also one of the pacers for the 2017 Scotia Half in Vancouver. Andy also enjoys other outdoor activities like hiking in the summer/fall and snowboarding in the winter.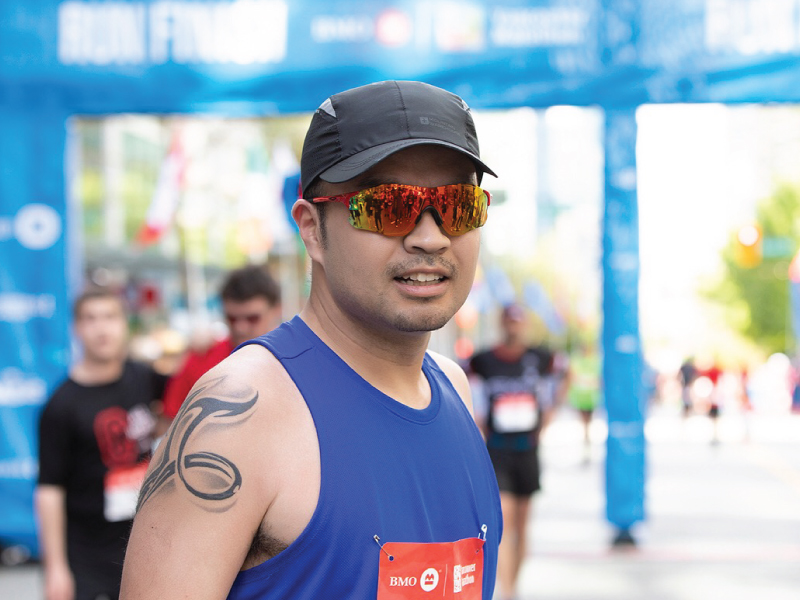 Take us back to your first BMO Vancouver Marathon. What was it like? How long ago was it? What do you think has changed since then?
I ran the BMO Vancouver Marathon for the first time in 2017. It was my first marathon and I was so excited and worried about it at the same time as I didn't trained much for it. The course reminded me of the respect that must be paid to the distance, the course is beautiful and I loved the community support. It was also my first time experiencing "hitting the wall", as I have cramps over my legs at the last section of the race (starting from Stanley Park). Nevertheless, it was a milestone in my running journey.
Name a few of your favourite points along the course. Why do they stand out for you?
I love the start line and all the excitement that it generates. I also really enjoy the view of coming down from UBC to Jericho Beach, as you could pick up your speed there. The last 1km exiting Stanley Park to West Georgia St is most memorable as that's the part where most of us were exhausted, and all the cheering and supports from the crowds were so motivating to get you going to cross the finish line.
Running is a great way to see the world. Of all the places you've traveled to, which was your favourite spot to run in and why?
I've run mostly in Vancouver, but I have run a few times when I was visiting my hometown Hong Kong last year. I have also run the Rock "N" Roll half marathon in Las Vegas in 2017, and it's still one of my favourite oversea runs so far, as I enjoyed so much running on the strip, being surrounded by many runners and the crowds.
What is your pre-race routine?
Depending on the distance of the race, but one thing I would do as pre-race routine for all races is to have a cup of coffee and a simple carb meal (Bagel, muffin, toast with peanut butter, etc.) to fuel myself.
Pay it forward: What's the best advice you've ever received about running? 
It's so tempting to run every single day, or train as hard as you can because you think that is what it takes to be a better runner, most of the time being defined in terms of speed and endurance. However, we should keep in mind that taking rest/break is also as important as finishing the run. A lot of us get injured as a result of going too hard on ourselves. Listen to your body during the run/race or simply during your normal training runs. If you are not feeling comfortable, slow down or simply take a break to regain yourself. Running is a life-long learning experience, don't rush it, as long as you are devoted, and practice properly, improvement is just around the corner.