Arthur Chen
RUNVAN® AMBASSADOR
Meet Arthur, a passionate outdoor runner, a creative CPA and an open-minded photographer at LaPower Running Club, the largest Chinese running community in Greater Vancouver area. As a new year's resolution for 2016, Arthur planed to achieve the goal of running 5K non-stop. Started first with 400m non-stop, he was surprised the original goal was accomplished within the first quarter of the year. What was more unexpected was he started to enjoy running and see it a way of meditation to reform his self-awareness and bonding to nature and community. Since then, he has run 3 full marathons, 11 half marathons, 8 10K races, and there are more to come.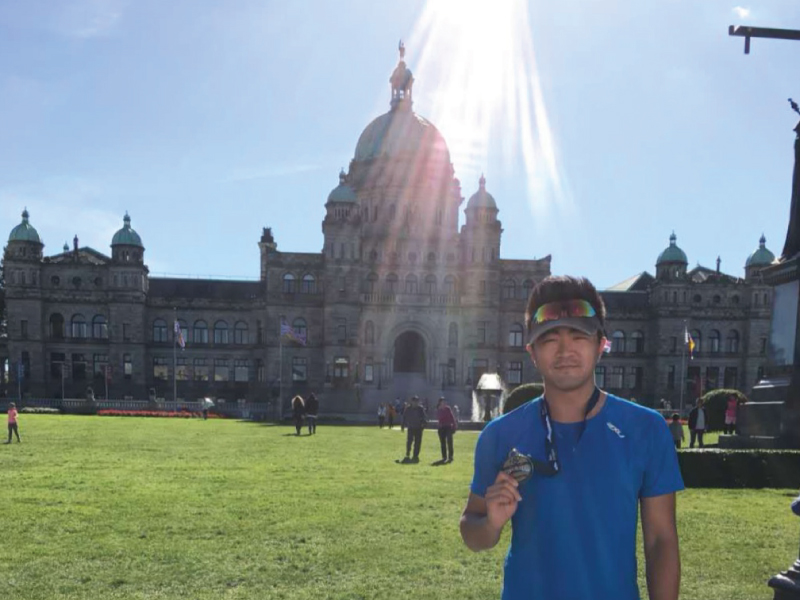 Take us back to your first RUNVAN® race. What was it like? How long ago was it? What do you think has changed since then?
My first half marathon was 2016 BMO Vancouver Half Marathon. Before the race, I had only done one 21.1K in training. No doubt I finished it with sour and pain. That feeling was long gone, however, the memories still remain are the cheering and supports from the neighbourhoods, and encouragements from runners and friends. Through the past few years, as I ran more local races, I felt more people were participating in running events in different ways. Running marathons might not be for everyone, but it connects people into communities. As the spirit of Marathon spreads out, more people are dedicated to more active and healthy lifestyle.
Name a few of your favourite places to run in Vancouver. Why do they stand out for you?
Coastline from UBC, Spanish banks, Kits to False Creek; Granville Street, Oak Street, Cambie Street and Main Street. Beautiful sceneries from sunrise to sundown, from cherry blossom in spring to maple leaves in the fall, from murals to city lights…
Running is a great way to see the world. Of all the places you've traveled to, which was your favourite spot to run in and why?
Running as a local is definitely a bonus to travels. It is helpful to feel and understand the culture of local people both physically and mentally, as well as to find a new view for city sightings.
What is your pre-race routine?
Eat well, sleep well and all electronics are fully charged the night before. Clear mind, warm up body properly, as well as a favourite playlist of music is on.
Pay it forward: What's the best advice you've ever received about running? 
Running is a lifelong commitment, not a momentary impulse. Personal bests are always built upon well-planned trainings. Without finishing safe, finishing strong means less in long term.
Races might be designed for competition, but it also could be considered as periodical KPI reviews. Accept the downturn of body and let the appropriate recovery drive the upturn once again.