Chris Seto
RUNVAN® AMBASSADOR
Chris began running in 2011, where he found his passion! Over his 11 years of running, he has enjoyed
being part of the Vancouver Running Community. As of 2021, he has completed 63 Marathon's / Ultra Marathons and more than 100 Half Marathons. Chris has also been a coach, where he has enjoyed
coaching others through In-Person and Virtual Marathon and Half Marathon training programs. He enjoys the fulfillment of supporting others in embracing the love of running and to also to reach their
running goals!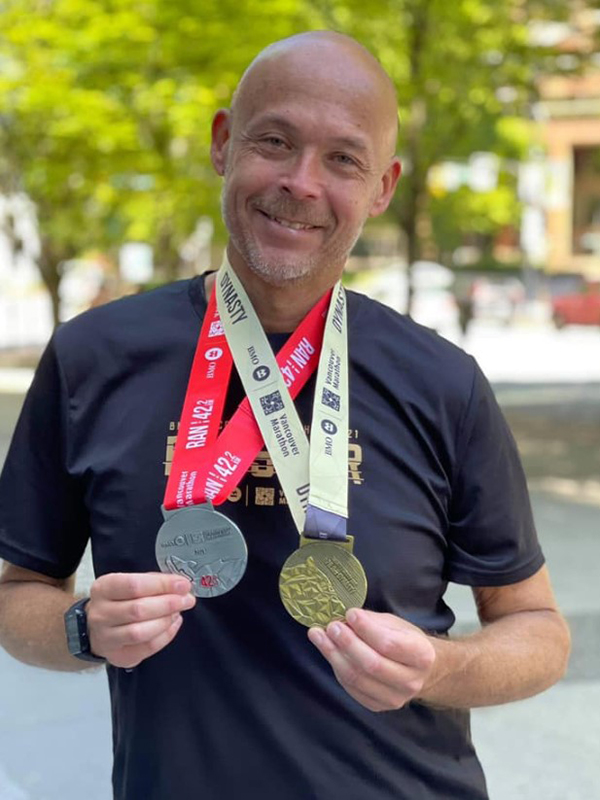 Take us back to your first BMO Vancouver Marathon. What was it like? How long ago was it? What do you think has changed since then?
I ran the BMO Vancouver Marathon 2012, and I remember the feeling of community and friendship. This was my first hometown race! My running friends were with me, but it still felt like a small community. I can still recall that feeling of coming around the final stretch around Stanley Park and seeing downtown. I felt like I was coming home. Since then, I've had the pleasure of seeing the Vancouver running community grow every year. It's always exciting to meet new people and welcome them into this amazing group of people. 
Name a few of your favourite places to run in Vancouver. Why do they stand out for you?
My two most favourite places to run are the seawall around Stanley Park and the False Creek loop. I can always count on saying "Hello" to a friendly face as I pass by all of the amazing runners and walkers in our city. 
What is your pre-race routine?
I am a creature of habit. The night before is pasta or sushi carb load, with copious amounts of coconut water in between. I lay everything out for race day with my partner (we run every race together!), take a photo of it, and post on Facebook. When I wake up in the morning, I have my morning coffee, eat a hearty bowl of oatmeal, and make sure that I have plenty of time to get to where I am going.
Pay it forward: What's the best advice you've ever received about running? 
Endurance running is more than achieving a personal best time. It's about experiencing a rewarding lifestyle, the amazing running community, and challenging yourself in different ways. I am amazed by how many people from different walks of life come together to share a common goal. There is always a time to be competitive. But every time you put on that pair of running shoes, just remember to take a moment and enjoy the experience!