DAVID PAPINEAU
RUNVAN® AMBASSADOR
Meet David, a graphic designer and the former marathon clinic instructor at the Broadway Running Room. David ran his first marathon in Vancouver in 2004 and has now completed 38+ marathons, nine of them in Vancouver, including his personal best of 2:44:55 at the 2009 BMO Vancouver Marathon. He ran his 50th marathon on his 50th birthday in the fall of 2018. 
David is a big fan of Strava and is closing in on his goal to run every street in Vancouver, while creating the occasional piece of Strava Art along the way. David also competes in ultramarathons and is a two-time finisher of the Western States Endurance Run. He lives in Vancouver with his wife and two daughters.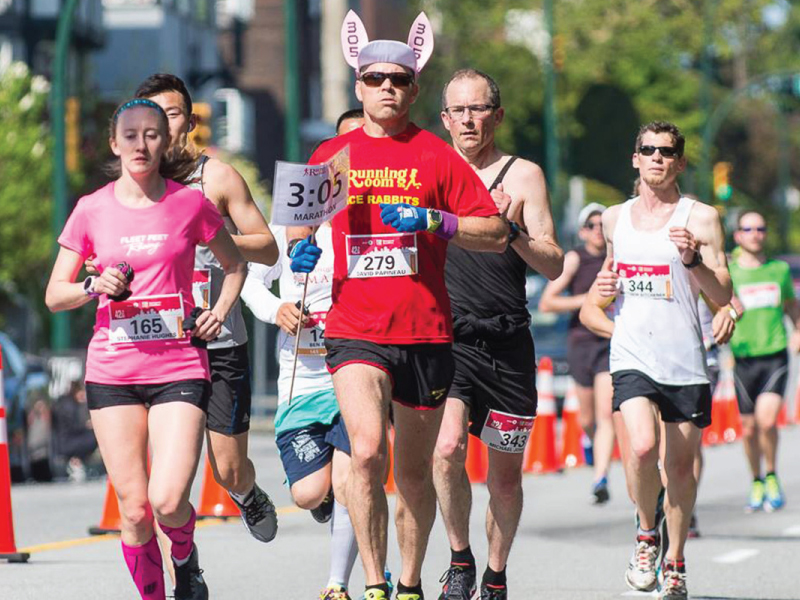 Take us back to your first BMO Vancouver Marathon. What was it like? How long ago was it? What do you think has changed since then?
My first marathon was the BMO Vancouver Marathon in 2004. This was my hometown race, and so I felt well prepared and the race exceeded my expectations. Ten years later, I'm still running marathons, so that first BMO Vancouver Marathon experience obviously had a positive impact on me. The new course design is the biggest change since 2004. Both courses are great, and I will always have fond memories of the old course, especially the feeling of cresting Burrard Bridge for the second time knowing you're down to the last mile.
Name a few of your favourite points along our new course. Why do they stand out for you?
Everyone is going to say the Camosun Street Hill (kidding!) so I will say the downhill stretch from UBC, which starts at about the 19 kilometre point of the race. This is easily my favourite part of the new Marathon course. It offers runners their first glimpse of Burrard Inlet and of the North Shore mountains. The view is spectacular in places and gives weary runners a reason to look up from the tops of their shoes. It also marks a major transition point on the course: from that point onward, the race is run around sea level and the water is always in view until you get to the last half kilometre.
What is your pre-race routine?
I'm into superstitions. I write my daughters' initials on my racing shoes and when a race has timing chips I always put it on my left shoe. I carried a Terry Fox loonie in my shorts pocket each time I ran Boston and New York City, and I always wear my father's Masons ring on marathon day. My dad first got me interested in running when I was a kid and he passed away before I ran my first marathon. Wearing his ring during my marathons is my way of honouring him.
Pay it forward: What's the best advice you've ever received about running? 
Think like a Kenyan. Growing up we hear about how Kenyan kids run great distances to school every day. Why can't we run a little more like that? Run to school, run to work, run to the store. Make running more than a workout. Make it one of your preferred modes of transportation. When you do, running becomes more natural.  When running is your way of getting from A to B, you don't have time to overthink it, you just do it. And if you ever get the chance to run a marathon on or around your birthday, wear a birthday hat. You'll be glad you did.