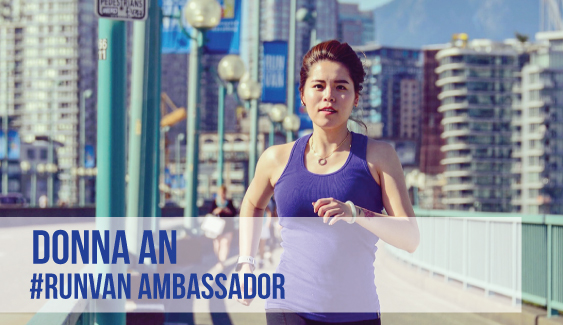 Meet Donna, the Marketing Director, and one of the founders of the Lapower running team; largest Chinese running club in the lower mainland with over 1130 active members.
Donna has started running since 2014, and she is more focusing on social runs to help bringing more people into running and help others to get healthy lifestyle and happy minds. Donna had ran few times of the BMO Half Marathon, and she also helped with greeting and translation for the oversea runners from China.
---
Take us back to the first time you ran your first race or RUNVAN® event. What was it like? How long ago was it? What do you think has changed since then in the Vancouver running scene?
My first race was back in 2015, BMO Half Marathon. It was the first half marathon for me. I found it was very challenge and felt amazing when cross my finishing line. I started to formalize the Lapower running club after the race, and helped more runners to join the race since 2016.
Name a few of your favourite places to run in Vancouver or your home city. Why do they stand out for you?
I like to run around Yaletown area and Stanly park seawall; it was amazing to enjoy such long coastline with no traffic lights and great views. I still enjoy every moment when I run that route even I have been running over 100 times.
Running is a great way to see the world. Of all the places you've traveled to, whether it be for competition or for pleasure, which was your favourite spot to run in and why?
Travelling and running has become my routine; especially I met my husband from running so we now travel together and run together. We love running races from different cities; it is a great way to explore a new place and meet people.
What is your pre-race routine? 
I usually train up for any races with a combination of easy run, interval run, and LSD run. And focus on my nutrition to make sure my body get ready for races. I will take the week before race easy and have nice pasta as dinner before the race day.
Pay it forward: What's the best advice you've ever received from a parent, coach, or mentor about running? Or got your own advice? Share it with us!
Running is never only a physical sport; it is always about how strong your mind is. Take energy from the sun, nature, people around and believe in yourself can take you toward your goal. I am not a fast runner, but I am a very serious runner 😊
---