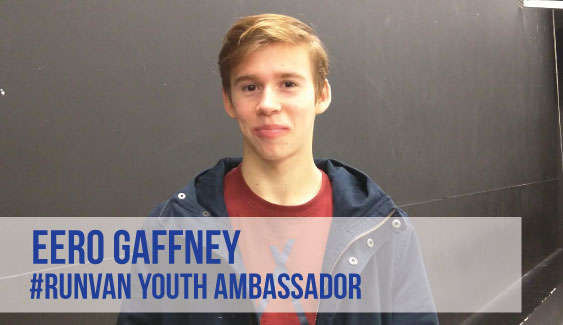 Meet Eero Gaffney, a grade 11 student at Britannia Secondary. Eero ran his first Vancouver Half Marathon in 2015 and has now worked his way up to running actual Marathons. His personal best was 3:33:22 for the full. Eero will be running the BMO Vancouver Marathon again this year and hopes to run under 3:30. He eventually wants to qualify and run the Boston Marathon. Eero loves running as well as pretty much all other outdoor activities.
---
Take us back to the first time you ran in the Vancouver Marathon, Half Marathon, 8KM, Granville Island Turkey Trot, Fall Classic or your first race. What was it like? How long ago was it? What do you think has changed since then in the Vancouver running scene?
My first BMO event was the BMO Vancouver Half Marathon in 2015. Before that point I had never taken on a run of that distance and had rarely ran anything more than 10k. I had no idea what to expect and was quite scared going into it. After the first half an hour, however, my nerves settled down and I started to relax. After that point the rest of the run felt extremely smooth and I finished wanting to run another. I'm not sure whether it's just that I never noticed it before or not but recently I have been seeing more and more support for runners and in general for promoting running. I think this is really important since running is both so physically and psychologically healthy.
Name a few of your favourite places to run in Vancouver or your city. Why do they stand out for you?
My favourite place to run in Vancouver is on the sea wall. I just love being able to look at the water and the sky and to feel the wind. I especially like running in the early morning or at night and being able to watch the sun rise or set. My close second favourite would be any trails in the forest, be it Stanley Park, North Vancouver, or the Endowment Lands by UBC. I enjoy being able to smell the pine trees and the hills really mix things up.
Running is a great way to see the world. Of all the places you've traveled to outside of Vancouver or your city, whether it be for competition or for pleasure, which was your favourite spot to run in and why?
My favourite place in the world that I've ever ran would have to be in Wales. I didn't have a set plan but I was in the middle of the countryside and just decided that I wanted to. I love running in the rain and soon after I started running, rain started to pour down. I don't know how long exactly I ran for but I just worked my way through fields of animals. Everything was amazing! The sky carried the most imposing clouds I had ever seen which shed a different light on the countryside than I had ever previously noticed. It was a truly remarkable run!
What is your pre-race routine?
I always make sure to drink lots of water and eat a bunch of food the night before the run. I'll also try to get an early night. On the day of the event I'll wake up a good bit before the run to give me time to digest my breakfast. I like to have a bowl of oats with protein powder and soy milk. On the way to the race I find that either listening to calming music or just blocking out distractions until right before the race works best for me.
Pay it forward: What's the best advice you've ever received from a parent, coach, or mentor about running? OR got your own advice? Share it with us!
The best advice I have received about running is to stay positive and even if you don't perform the way you wanted to, don't beat yourself up. Focus on how you can improve and use whatever happened to motivate you but don't linger on the negative side. All that will do is lessen your enjoyment so stay positive and keep improving yourself.
---