Emelyn Ticong
RUNVAN® AMBASSADOR
Meet Emelyn, a Project Manager at TELUS who is not new to running but new to running long distances. Emelyn always had a passion for sports, including basketball, volleyball and sprint distance running. In May 2019, Emelyn stepped out of her comfort zone and decided to run her first half marathon at the BMO Vancouver Half Marathon, finishing at 2:11:58. Although it wasn't the time she hoped for, she was hooked onto the energetic and positive atmosphere and wanted to continue being part of such an amazing running community.
She joined Mile2Marathon in the tail end of June 2019, worked with a personal coach and took part in weekly group runs in an effort to achieve personal bests and meet new people. By September 2019, Emelyn completed her second half marathon in Bellingham Bay with an almost 16 minute personal best at 1:56:16.
Since her first race, Emelyn has completed a total of 7 road races and 2 elevation races, and does not plan on stopping anytime soon. She continues to train for bigger goals of even longer distances of 42.2km and greater, with the BMO Vancouver Marathon 2020 being her first marathon.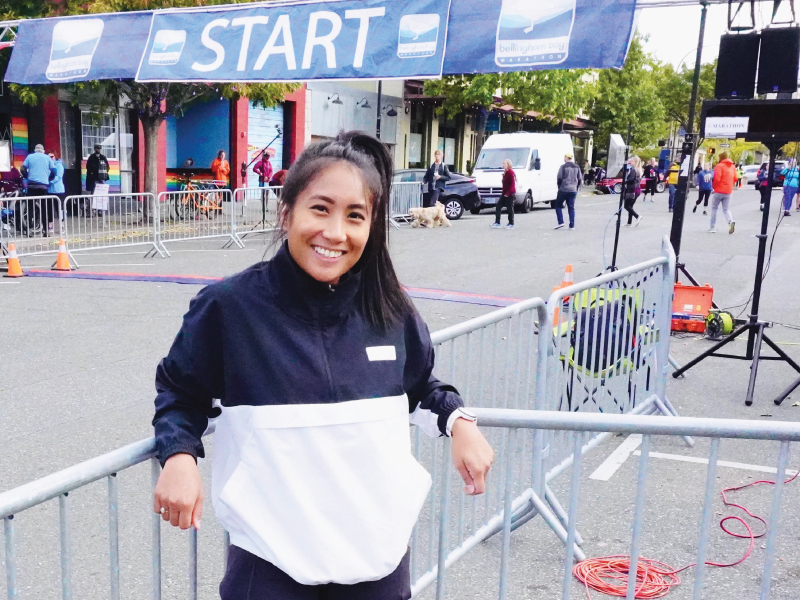 Take us back to your first RUNVAN® event. What was it like? How long ago was it? What do you think has changed since then in the Vancouver running scene?
My first RUNVAN® event was the BMO Vancouver Half Marathon in May 2019. I remember I was so nervous leading up to the race because it was my first 21.1km. But that nervousness quickly faded when I started interacting with fellow racers, grabbing water and high-fiving volunteers along the course, and running past spectators who cheered everyone on.
Although it hasn't been too long since I started running, I've noticed that the running scene is more than just running races – it's a community. And the community is only growing with more and more people connecting, supporting and motivating each other along the way.
Name a few of your favourite places to run in Vancouver. Why do they stand out for you?
You will always see me running on or by the Seawall, whether it's in Stanley Park, Granville Island or Yaletown. It's so accessible and I love that I can see both the water and the city lights during any given season.
Running is a great way to see the world. Of all the places you've traveled to, which was your favourite spot to run in and why?
I haven't travelled much for races except to the states, but there seems to be a pattern to the type of courses I pick. I love running races that are by the water, whether it's the Stanley Park seawall, in Bellingham Bay, or in Seattle at Lake Union. There's something so serene about the water that helps calm my nerves.
What is your pre-race routine?
My pre-race routine always starts the day before the race. The morning prior, I wake up, eat breakfast, go out for a short easy run. And in the evening, I have a big pasta dinner, then lay out my race outfit, my nutrition and other gear on the floor and create my race playlist. The morning of the race, I always have a bagel with peanut butter, banana and honey and while I'm getting ready, I listen to my race playlist to get me in the zone.
Pay it forward: What's the best advice you've ever received about running?
When you're running a race and start to feel like giving up around that last stretch of the course, start thinking about the first time you started running and reflect at how far you've come. It's not easy running a marathon, half marathon, 10k or any race really. Day by day, you'll feel like nothing has changed, but when you look back you'll realize you've become much stronger and faster. Next thing you know, you're at the finish line!