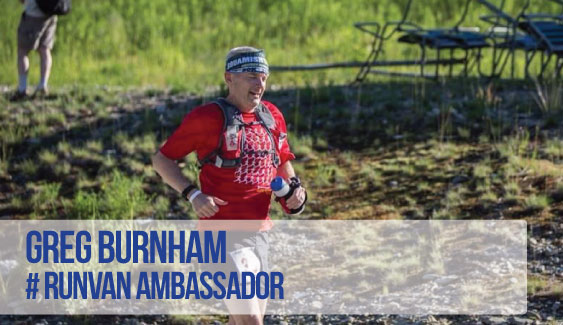 Greg discovered running late in life and is working hard to make up for lost time. And as good as running is, racing is even better. Everything from 5KM to 50 miles; road, trail, or cross-country, if there's a timing mat and a bib, odds are he's there. Greg's first marathon was here in Vancouver in 2010 and he's run either the full or the half every year since. Greg ran his 10th full marathon in 2015.
---
Take us back to the first time you ran in the Vancouver Marathon or Half Marathon. What was it like? How long ago was it? What do you think has changed since then?
My first time was in 2010 – which was also my first marathon ever. With number 10 in my sights, obviously this has made a big impression on me. Certainly the biggest change has been the new course. This has made it a more scenic, more challenging, and overall more spectacular race.
Name a few of your favourite points along our new course. Why do they stand out for you?
The areas that stand out for me aren't necessarily my favourites, but I think they do the most to define the Vancouver Marathon experience. First, of course, is the Camosun Hill. Starting just before the 9KM mark, climbing 54 metres in just over a kilometre, and made all the more interesting this year with the addition of the Camosun Hill Challenge, this hill is not something to be trifled with. Secondly, what goes up must come down – about 10 kilometres later is the descent from UBC. Spectacular views across the water and hitting the magical half-way point make for a very memorable section.
What is your pre-race routine?
Experience has taught me that being sedentary the day before a big race does me no good. So a good long walk, or even a shorter slow run is always on the schedule. And, of course, lots of eating with a good mix of simple carbs and protein. I'm generally an early riser, and even more so on race day with oatmeal and tea for breakfast then getting to the start-line early for the inevitable bathroom line-ups. Around 45 minutes before the start I'll take in some more calories and go find my corral. Finally, at 15 minutes out I'll take a gel and try and contain my nerves.
Pay it forward: What's the best advice you've ever received from a parent, coach, or mentor about running? OR got your own advice? Share it with us!
Pacing, pacing, pacing. When it comes to marathons, as important as you think pacing is, it's much more important than that.
---