Greg Herringer
RUNVAN® AMBASSADOR
Meet Greg, an IT consultant with a passion for road and trail running. Greg has enjoyed running since 2006, when a friend asked "Why don't you try it?".
Those first four minutes on a noisy treadmill sucked but represented a significant milestone. Nine years earlier, Greg was discharged from a cardiac intensive care unit, told that a viral infection had significantly damaged his heart and that significant recovery was unlikely. When Greg asked his cardiologist which exercises could improve his situation, the wry reply was "Well, you could run a marathon, but that will never happen".
The 2015 BMO Vancouver Marathon was Greg's 100th running race and his ninth marathon. In addition to running and volunteering at local road and trail races, Greg has managed four Vancouver Sun Run InTraining clinics and happily hoofs with the fit and friendly Right Shoe Run Club in Kitsilano. As a RUNVAN® ambassador, Greg is looking forward to new opportunities to support and encourage all RUNVAN® participants.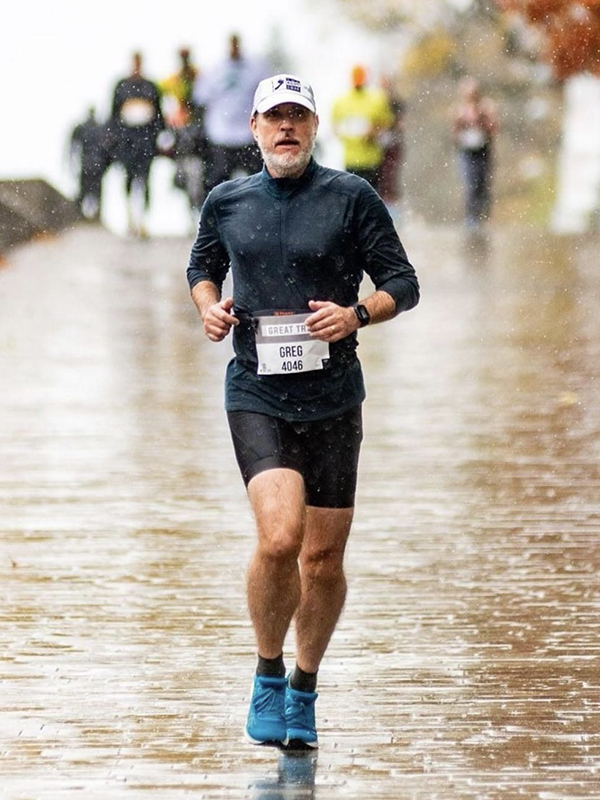 Take us back to your first BMO Vancouver Marathon. What was it like? How long ago was it? What do you think has changed since then?
I ran the BMO Vancouver Marathon for the first time in 2012. As my third marathon, I found it to be a satisfying physical challenge. To my surprise it was visually satisfying too, showcasing the natural beauty of Vancouver in ways I had never expected.  Since then, a few minor tweaks have made the course even better for both racers and supporters.
Name a few of your favourite points along our new course. Why do they stand out for you?
My running buddies would disagree, but I like the Camosun Hill! As an experienced trail runner, I like the change in cadence and movement that a good hill or two brings to a run. Another favourite point is English Bay Beach which is a mere 300 metres from my front door but about 10 kilometres from the finish. It's a great challenge for me not to "just turn right" and go home so I am always happy to see this point and get past it quickly.
Running is a great way to see the world. Of all the places you've traveled to, which was your favourite spot to run in and why?
Summer trail running atop Blackcomb Mountain is an incredible experience I would recommend to any runner. The fresh air, endless alpine meadows bursting with flowers and the infinite vistas of distant snow-capped peaks makes you feel both mighty and tiny at that same time. 
What is your pre-race routine?
Up early, sip good coffee, munch my favourite granola, eat a banana and warm up well.
Pay it forward: What's the best advice you've ever received about running?
Getting a personal best is great, but helping a runner finish a tough race, encouraging a new runner to slowly build endurance and not give up, receiving a smile as I greet a lone runner on an early morning seawall workout are, for me, the best rewards of this sport. I encourage all racers to give back a little something while training for this year's BMO Vancouver Marathon.