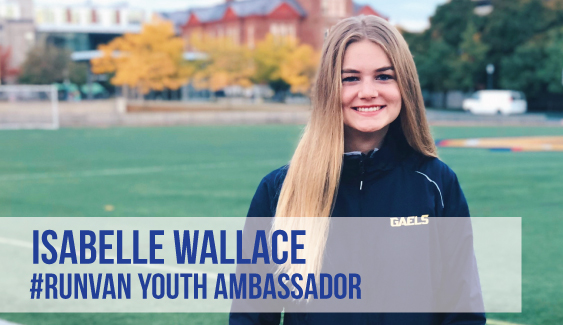 Meet Isabelle, an undergraduate student at Queen's University in Kingston, Ontario. She is currently studying bioethics and environmental science, and competes with the Queen's Equestrian Team. Originally from Vancouver, Isabelle has participated in a number of of RunVan events over the last three years. During the school year, Isabelle will be on the Queen's campus and in the Kingston community promoting the BMO Vancouver Marathon to students and runners
interested in travelling for races.
Find Isabelle on Instagram @isabellewallace_
Take us back to the first time you ran your first race or RUNVAN event. What was it like? How long ago was it? What do you think has changed since then in the Vancouver running scene?
My first race was the 2016 Vancouver Sun Run. I loved the spirit of the event and the feeling of accomplishment crossing the finish line. I've done about 20 races since then, and I have noticed the use of social media for promoting races. The photos of team costumes, enthusiasm of the spectators, and happy finishers and medalists are getting more and more people out and participating on race day.
Name a few of your favourite places to run in Vancouver or your home city. Why do they stand out for you?
I'm a big fan of getting onto the trails in North Vancouver. Trail surface is a nice alternative to concrete and requires more focus and agility. Fisherman's Trail in the Lower Seymour Conservation Reserve is long and relatively flat, and has some great views along the valley. It has been my go-to trail for this past summer. In Kingston, I've just been getting to know some of the popular spots. There's a great path along Lake Ontario that passes right by campus, and has a number
of historical sites on route. Running along the lake is also great for sunset runs.
Running is a great way to see the world. Of all the places you've traveled to, whether it be for competition or for pleasure, which was your favourite spot to run in and why?
I went on a great trip to Costa Rica in Grade 10. I loved running along the beaches because there were wild horses, amongst other creatures one doesn't see when running in the city!
What is your pre-race routine?
I try to do a very light workout the day before and take time to stretch. Queueing up a high energy playlist of favourites is also a must.
Pay it forward: What's the best advice you've ever received from a parent, coach, or mentor about running? OR got your own advice? Share it with us!
Run safe! I think there is a bit of a misconception that running is 100% risk-free. Investing a quality pair of running shoes and sticking to a training program that is right for your level is a good way to start off with some knowledge of injury prevention.