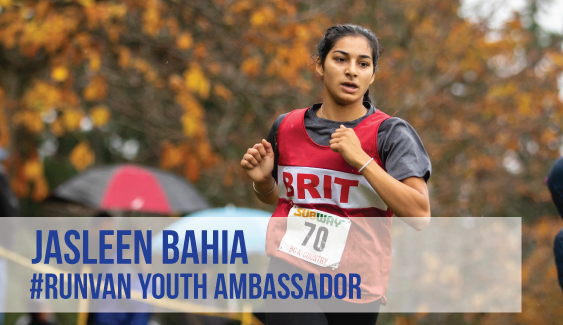 Meet Jasleen Bahia, a grade twelve student at Britannia Secondary in Vancouver. Jasleen is a member of her school's Run Club and promotes running and the importance of physical activity at school and in her community. She has ran various long distance races and ran her first half-marathon in 2018! This year Jasleen will assist in facilitating the Britannia Fun Run and continue to raise awareness about active living.
Find Jasleen on Instagram @jbahia1.
---
Take us back to the first time you ran your first race or RUNVAN event. What was it like? How long ago was it? What do you think has changed since then in the Vancouver running scene?
My first race was the Sun Run in Vancouver when I was in grade six. I remember sprinting from the start and thinking I was at the end of the 10KM just to see the "1KM" sign marked ahead of me. I learned to pace myself in all races after that. Running is a lot more social now in that there are various community groups you can get involved with! I feel a greater sense of community amongst runners in Vancouver now.
Name a few of your favourite places to run in Vancouver or your home city. Why do they stand out for you?
The energizing ambience of the Sea Wall and the scenery of the ocean and mountains makes it one of my favourite places to run – especially in the summer!
Running is a great way to see the world. Of all the places you've traveled to, whether it be for competition or for pleasure, which was your favourite spot to run in and why?
Nothing beats the ocean, mountains, and beautiful weather that Vancouver has to offer! I particularly enjoy all the trails in North Vancouver since they are immersed in the fresh scent of trees.
What is your pre-race routine? 
I try to eat a lot of carbs before a race. I have a light breakfast on the day of and get a good warmup in. I practice some breathing exercises, then I just go!!
Pay it forward: What's the best advice you've ever received from a parent, coach, or mentor about running? OR got your own advice? Share it with us!
The best advice I've received about running is to learn to enjoy it. Mind over body. Being able to control and relax the mind makes it easier to trek long distances without getting drained! Take one step at a time and have fun with it!!
---