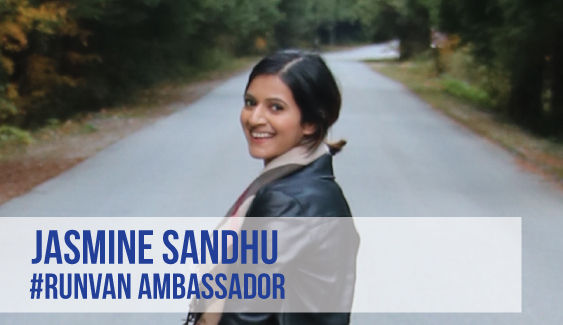 Meet Jasmine, a health care worker with Fraser Health and Family Services Associate at Ronald McDonald House. Jasmine found her passion of running while in university in Ottawa, 3 years ago. She has completed four 10KM races and last summer finished the Seek The Peak Race in Vancouver. She will be running the BMO Half Marathon this May and is super excited to be a part of the running celebrations. Her current goal is to finish the half marathon successfully this year!
Jasmine also found her love of photography and meditation through running. She loves to inspire other people and bring positivity into others' lives. You can follow her online on Instagram, jsandhu28_.
Take us back to the first time you ran in the Vancouver Marathon, Half Marathon, 8KM, Granville Island Turkey Trot, Fall Classic or your first race. What was it like? How long ago was it? What do you think has changed since then in the Vancouver running scene?
The first race I ran was in Ottawa, Ontario. It was my first 10KM race and I was so inspired by how many people were passionate about running like me. I learned running was a great way to bring the community together and meet different kinds of people. When I ran my first few races here in Vancouver, I saw just as many driven runners, and made so many connections.
Name a few of your favourite places to run in Vancouver or your city. Why do they stand out for you?
A few of my favourite places to run in the Lower Mainland area of Vancouver are Deer Lake Park (it's the perfect distance and beautiful all year long), the Sea Wall (I get to be surrounded by so many other active people which motivates me to finish my run), and Campbell Valley Regional Park in Langley (there is so much nature and I always run into the cutest animals there!).
Running is a great way to see the world. Of all the places you've traveled to outside of Vancouver or your city, whether it be for competition or for pleasure, which was your favourite spot to run in and why?
My favourite spot to run outside of Vancouver is in Ottawa, on the trails that lead behind the Parliament of Canada and into Gatineau, Quebec. The views are just unreal and especially during the fall season, all the colors really add to the experience.
What is your pre-race routine?
My pre-race routine is to make sure I have some carbohydrates in my body, so I am not mentally or physically drained during my run. I also just simply connect with other people around me and feed off of all the positive pre-race vibes from everyone around me!
Pay it forward: What's the best advice you've ever received from a parent, coach, or mentor about running? OR got your own advice? Share it with us!
The best advice that I have ever received is from a mentor. When I first got into running, I also became interested in mindfulness meditation. Thich Nhat Hanh is a spiritual leader and a mindfulness and peace advocate. He has a quote and it goes, "Mindfulness helps you go home to the present. And every time you go there and recognize a condition of happiness that you have, happiness comes." When I run, I feel like it's a way for me to be mindful, present, and grateful- which leads to my happiness.
---