Jennifer Taylor
RUNVAN® AMBASSADOR
Meet Jennifer, the Community Engagement Coordinator for the Kitsilano Community Centre. Jenn ran her first marathon in Walt Disney World, Florida when she was a 19 year old "Cast Member" at Epcot, and was hooked; she has since run 7 full, about twice as many halfs, and countless other runs. Her current goal is to reach that magical point when her age bracket will cooperate with her finishing time, allowing her to qualify for Boston (in 25 years or so ;).
Jenn is a mom of two (one and a half, and three years old) and will be running the BMO Vancouver Marathon this year – her first full marathon since having her kids!
Jennifer loves to encourage people in their running goals, and is inspired by every single person who sets out to cross the finish line.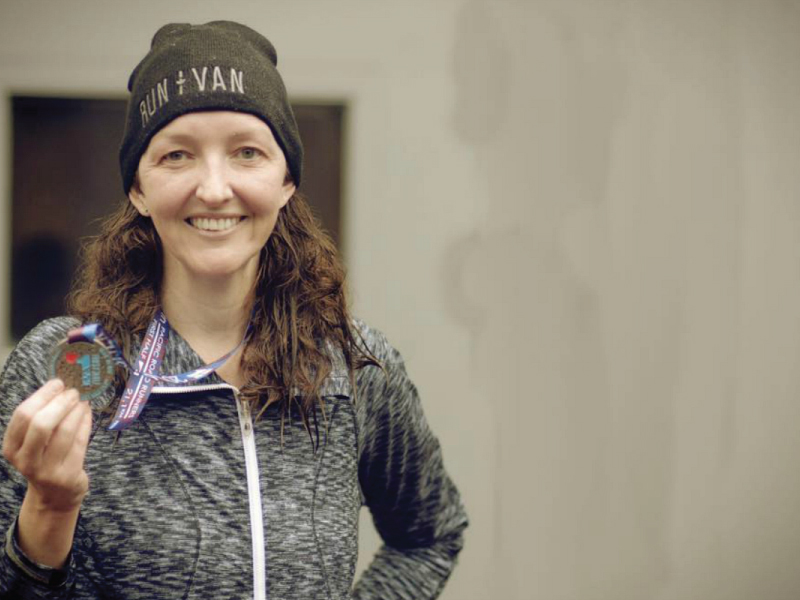 Take us back to your first BMO Vancouver Marathon. What was it like? How long ago was it? What do you think has changed since then in the Vancouver running scene?
My first BMO Vancouver Marathon was 2009 – I had moved to Vancouver from southern Ontario about 6 months beforehand. I remember it was a very warm day, and I wondered where this "moderate temperature" I had heard so much about was. That was on the old course… I think one of the major changes on the Vancouver running scene is the full realization of the opportunity to establish truly beautiful, destination runs here. Runs here are attracting people from all over the world!
Name a few of your favourite places to run in Vancouver. Why do they stand out for you?
I'm a Kits girl, and I'm pretty attached to the Seawall. For short runs, I'll head toward Jericho, and longer runs take me around False Creek, through Yaletown, into Stanley Park. What I love about the Seawall is that not only is it beautiful, but it's always bustling, all year round. Other people's energy motivates me to keep moving.
What is your pre-race routine?
I still get pre-race jitters. I find a stretching spot as close to a port-a-potty that I can hang out without looking too creepy, turn up my tunes, and visualize the mile markers going by. I often find myself speaking with people who are running their first long distance – I tell them they will love it and remind myself the same thing.
Pay it forward: What's the best advice you've ever received about running? 
Best advice ever from the coach at a Running Room Marathon clinic: DON'T use a marathon to try out new gear… I ignored this, to my own peril; things rub, bruise, bounce and blister in ways that will blow your mind with their randomness. Best to get that stuff worked out in advance. Also, enjoy it… really be grateful. So much about the inherent qualities of running are indicators of massive strength and joy in so many ways. Take a moment to breathe it in.