Justin Bonzo
RUNVAN® AMBASSADOR
Meet Justin, an avid runner, PhD candidate, and marathon instructor at the Denman Running Room. Justin began running over 7 years ago after losing 100lbs. In October 2011, Justin ran his first race, which also happened to be his first marathon. Since then Justin has ran almost 30 marathons. Justin has since moved into running ultra-marathons as well.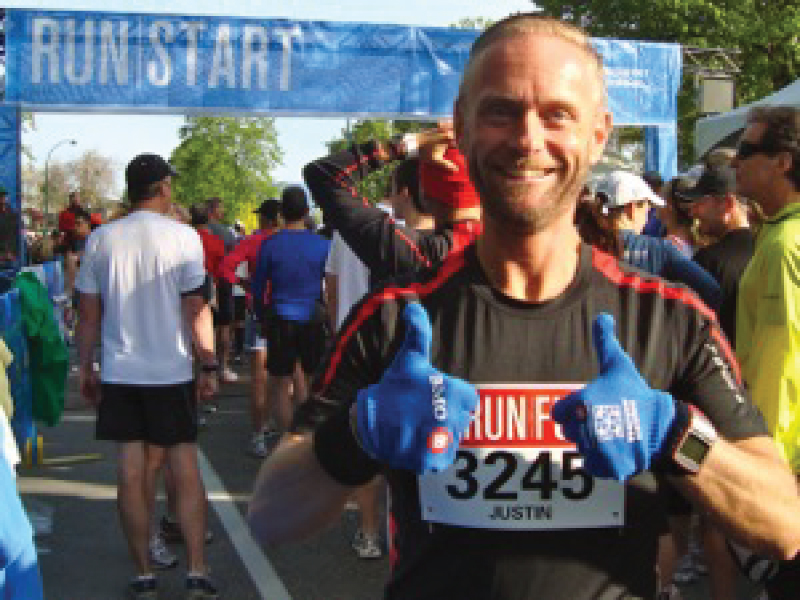 Take us back to your first BMO Vancouver Marathon. What was it like? How long ago was it? What do you think has changed since then?
I ran the BMO Vancouver Marathon for the first time in 2012. It was my second marathon and I considered myself a seasoned marathoner at the time. However, the course reminded me of the respect that must be paid to the distance. I found the course amazingly beautiful and loved the community support. For me, running a hometown marathon is even more exciting running one somewhere else. Having friends, family, and familiar faces along the course is always a bonus!
Name a few of your favourite points along our course. Why do they stand out for you?
I love the start line and all the excitement that it generates. I also really enjoy the view of coming into downtown from the top of Burrard Bridge. Second Beach Pool is also a milestone for me as it reminds me to focus and run happy for the remainder of the race.
Running is a great way to see the world. Of all the places you've traveled to, which was your favourite spot to run in and why?
I've ran and competed several races in Europe, Asia, the Middle East and South Africa. My two favourite cities to run in outside of Vancouver are Tel Aviv and Cape Town. Both of these cities remind me a lot of Vancouver and both have seawalls to run.
What is your pre-race routine?
I wake up 2 hours before the race to eat my oatmeal with coconut oil, a banana, and a coffee. I try to have everything ready the night before so that I'm as relaxed as possible.
Pay it forward: What's the best advice you've ever received about running?
Seeing my runners cross the finish line is, perhaps, the greatest joy I get from the race. My advice to runners is to focus on the whole picture from the beginning of training until the next training cycle starts. Preparing for and running the race is a journey that doesn't just begin at that start line or end at the finish line at a race. It is important to celebrate every step along the process, embrace the amazing running community in Vancouver, and always run happy!