Karl Shen
RUNVAN® AMBASSADOR
Meet Karl, a senior IT professional at Aviso Wealth in Downtown Vancouver. After participating many years in the Vancouver Sun Run 10K, Karl considered quitting running in 2015. Luckily, he was invited to join a friend's team to run the BMO Vancouver Marathon Relay (the first year of the relay), and after that, decided to start his own marathon journey. Karl completed his first full-marathon at the BMO Vancouver Marathon in 2017 at the age of 56, and achieved 3Q (BQ, NQ and CQ) at The Super Marathon on June 30th in 2019.
Karl has participated most of the local race events, and has been an official pacer at Eastside 10K, West Van Run and North Van Run.
Karl has also served as a race/event director at LaPower Running Club, a Chinese based community club with 1200+ members activated in Greater Vancouver.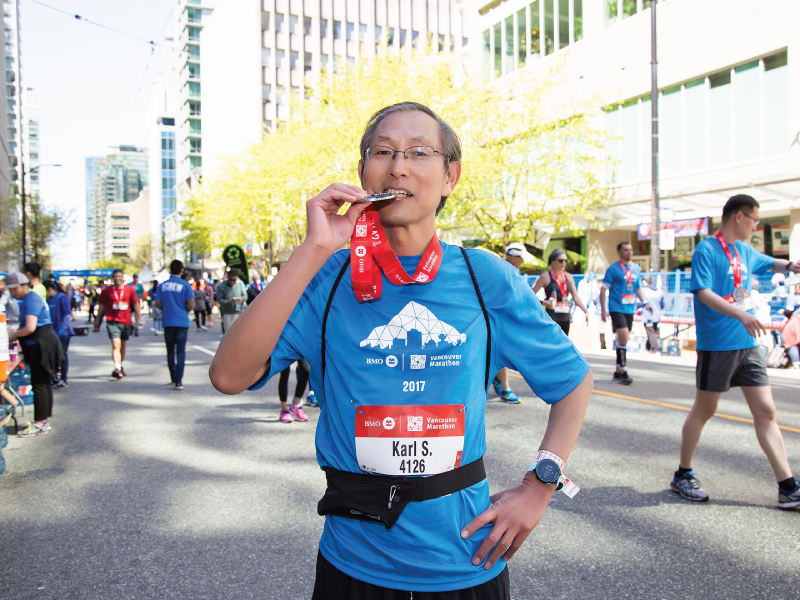 Take us back to your first RUNVAN® event. What was it like? How long ago was it? What do you think has changed since then in the Vancouver running scene?
RUNVAN® helped me achieve many of my firsts: BMO Vancouver Marathon Relay (2015), Fall Classic Half Marathon (2015) and BMO Vancouver Marathon (2017).
I loved all those firsts. It let me show the world what I am capable of; It gave me the confidence to challenge difficulties; It proved to me everything is possible if you work hard on it. The course we take hasn't changed much, but I am seeing a huge increase in the number of Chinese participants, both local and international.
Name a few of your favourite places to run in Vancouver. Why do they stand out for you?
False Creek, English Bay and the Seawall of Stanley Park. Start and end at Pacific Concord downtown head office. It's a gift to have such amazing scenery by the downtown core.

Burnaby Lake is another place I like the most. It's our LSD [long slow distance] training base. Running on the trail under the tree in the summer is so comforting.
Running is a great way to see the world. Of all the places you've traveled to, which was your favourite spot to run in and why?
I always schedule a run around the place I stay. It's a unique way to see somewhere new when I travel in a tourist destination.
The one that you run alone with the Yukon River under minus 20 degrees in Whitehorse in last December, is not my favourite spot, but it the one I would try the most. My beard was covered with ice and the chin had no feeling under such a cold weather which is an amazing experience. Gamin sent me a Frosty Award – below freezing.
What is your pre-race routine?
Reduce training volume and strength; relax and rest well; take advantage of carbohydrate loading; know the energy gel aid station locations and course elevation; plan the pace strategy and gel taking.
Pay it forward: What's the best advice you've ever received about running? 
Slow down during the first mile. Adjust your rhythmic breaching into a comfortable zone. And then keep going.