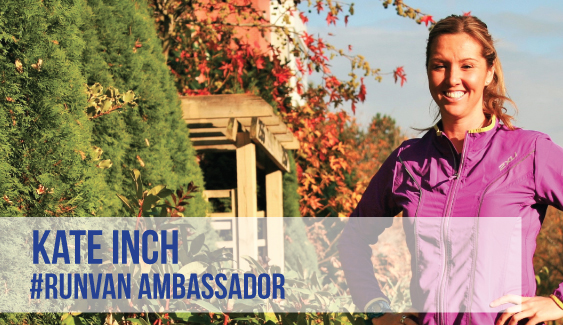 Meet Kate, a Physical & Health Education, Youth Outdoor Ed. and Science teacher at Templeton Secondary School in East Vancouver. An outdoor recreation enthusiast, and advocate for community health and active living, Kate loves to be outdoors running, mountain biking, hiking or skiing on the trails around Vancouver. Enjoying a healthy active lifestyle is something Kate works to promote with her students and the Templeton Running Club is one such way students are getting involved. Participating in the RunVan series each year, including the UBC Fall Classic and the Youth Challenge event at the BMO Marathon, has been a great way to encourage young people to engage with running and other healthy lifestyle initiatives. Kate plans to take an even larger group of Titans to the event this year!
Find Kate online @InchEdu or IG:templetonrunclub
Take us back to the first time you ran in the Vancouver Marathon, Half Marathon, 8KM or your first race. What was it like? What do you think has changed since then in the Vancouver running scene?
Being relatively new to Vancouver the first time I participated with my students in the 8KM School Challenge, I was mesmerized by the scenery and the energy along the course. I had run in a number of other races over the years, including triathlons and marathons, but for my students, this was a first experience EVER of participating in such a community event. The awe on their faces at the starting line, and their sense of achievement and empowerment at the finish line was palpable. It was fantastic!
In terms of a changing running scene, I think we're seeing a huge increase in the number of recreational runners who are lacing up their shoes and getting out there; it's awesome!
Name a few of your favourite points along our course or in Vancouver. Why do they stand out for you?
Nothing beats coming along the east seawall of Stanley Park, as you can see the mountains on the North Shore, the buzz of the downtown core and you're being amped up by the live music on course. It's a pretty energizing final stretch, no matter how beat the legs are feeling!
Running is a great way to see the world. Of all the places you've traveled to outside of Vancouver, whether it be for competition or for pleasure, which was your favourite spot to run in and why?

I've always thought running is the best way to see somewhere new, and I've enjoyed some great runs in a number of beautiful places. As much as I love coastal and beach running, I'd have to say one of my favourite running memories is participating in the Kilimanjaro Half Marathon in Tanzania. It was spectacular scenery, having Mt.Kili in view nearly the entire way. Not to mention they served barbeque and beer as part of the community picnic at the finish line.
What is your pre-race routine?
Take advantage of some carbohydrate loading and try to get a good night sleep. In the morning, I wake up with plenty of time to enjoy a light breakfast and a good warm-up/stretch. I get my favourite tunes going to get energized, and then I just try to enjoy the ride ☺.
Pay it forward: What's the best advice you've ever received from a parent, coach, or mentor about running? OR got your own advice? Share it with us!
Enjoy it for you! Find a training program and time that works for your schedule. Make it fun, make it social, and running can be such a powerful force of positive energy in your life.
---