Liam Baird
RUNVAN® AMBASSADOR
Meet Liam, a civil engineering student and passionate runner who wants to inspire others to reach their athletic potential. Liam completed his first half marathon in a time of 1:45 at the BMO Vancouver Half Marathon in 2016, and fell in love with the sport ever since. Since then, he has ran 8 more half marathons, attempted a full marathon (which ended from serious leg cramps at the 38 km point), and has achieved PB's of 1:24 in the half, 37:30 in the 10 km, and 17:50 in the 5 km.
Liam ran the BMO Vancouver Marathon in 2017, but had to be carted to the finish line due to serious cramping. 2019 may be the year when Liam decides to have another crack at the distance (or he may just enjoy the beautiful BMO Vancouver Half Marathon course once again)…we will have to wait and see!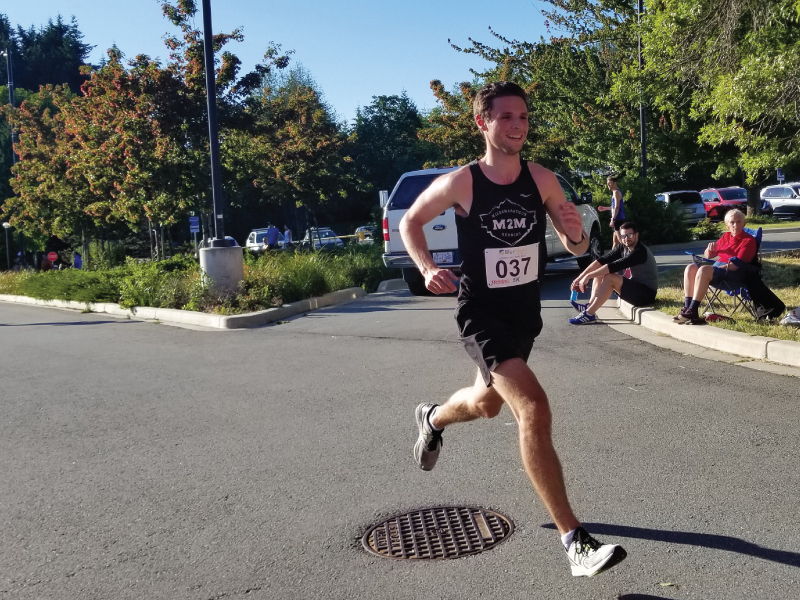 Major Run Goals for 2019
Crack 36 minutes in a 10 km
Crack 1:23 in a half marathon
Pace a race!
Maybe tackle a marathon and qualify for Boston…stay tuned!
Liam runs on Tuesday nights and Saturday mornings with Mile2Marathon, a great local running group that loves to work hard. If he's not working or spending time with friends and family, you can usually find him cruising around one of Vancouver's beautiful seawalls or hammering the hills in his hometown of North Vancouver.
Take us back to your first race. What was it like? How long ago was it? What do you think has changed since then?
My first race was the 2009 Vancouver Sun Run, which I finished with my mother when I was only in Grade 6. After that experience, I basically stopped running distance altogether, until after I graduated high school in North Vancouver. The running scene, at least to my very little knowledge, is much more community based now. There are so many running groups and crews to get involved in, that you'd have a hard time finding one that doesn't suit you! The City of Vancouver has also done a lot of great work to make new running and biking paths, so I've enjoyed those a lot while training for races (the Arbutus Greenway is beautiful!).
Name a few of your favourite places to run in Vancouver. Why do they stand out for you?
The easy answer is the seawall, but my personal favourites are running the trails and roads around UBC, and the Spirit Trail in North Vancouver. My favourite long run route is cruising from my house in Lynn Valley to the West Vancouver Seawall and back along the spirit trail! Both of these areas are never too busy, have a good variety of flat and hills, and have some incredible scenery.
Running is a great way to see the world. Of all the places you've traveled to, which was your favourite spot to run in and why?
I haven't been travelling all that much since I got into running (don't have that much extra money being a student!), but I do remember going on a team run during a high school rugby tour in Sydney, Australia – we cruised over the Harbor Bridge and around the Opera House, which was pretty unreal. Aside from that, I love running along the Chilliwack River and the little connecting pathways when I visit family out there – relatively flat and stunning running.
What is your pre-race routine?
I wake up about 2.5 hours before the race to eat 1-2 pieces of toast and peanut butter with a sliced banana on top, and then I shoot down a couple of espresso shots. After that, all I drink is Nuun and water until race time while I play some video games in the morning before the race – pretty low key ritual, but it works!
Pay it forward: What's the best advice you've ever received about running? 
Do cool things with your life, running related or otherwise. If you think of something and wonder if you could ever do it, odds are you can. Push yourself past what you're comfortable with, do things that make you nervous, and put the time in to get there. You'll be really glad you did.