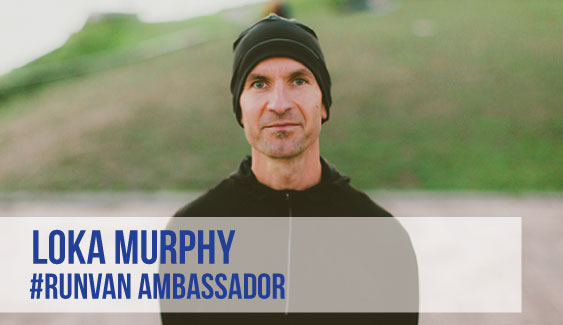 Meet Loka Murphy, an athletic trainer that was born and raised in Missoula, MT and for the past 12 years has called Seattle, WA his home. He is employed by Seattle Children's Hospital and is a proud father of two boys, Satchel (17) and Oskar (13). Loka is the co-founder of the Seattle Green Lake Running Group (rungreenlake.com) and ran his first race in race back in 2009 (the Seattle Half Marathon).
Loka is looking forward to running the 2018 BMO Vancouver Marathon and his goal will be to earn a person best! Back in 2012 the BMO Vancouver Marathon was his very first 26.2 mile experience. He has since gone on to run the Eugene, Portland, NYC and Boston. His favorite quote is "If you want to get in shape, exercise. If you want to change your life, become a runner." Running with others and capturing memories are two of his favorite things. See some examples on Instagram @trilokanath.
Take us back to the first time you ran in the Vancouver Marathon, Half Marathon, 8KM, Granville Island Turkey Trot, Fall Classic or your first race. What was it like? How long ago was it? What do you think has changed since then in the Vancouver running scene?
The BMO Vancouver Marathon was my very first marathon back in 2012. The whole experience was very thrilling! The group I run with had just caught the marathon bug and we all decided that we wanted to tackle the 26.2 mile distance to kickoff 2012. For many of us we were marathon rookies and it was so exciting to be heading into unchartered waters. When each week is a new distance PR you never know what to expect. There is also the thought that each run could be your last (for a little while) since it seemed like the injury bug could strike at any moment. That May we traveled up to Vancouver (from Seattle) with 50+ runners from our group for the exciting adventure! I had trained with four of my really good running friends and we were all very excited! On race morning we were all caught up with the sights and sounds of all the other runners and as we approached the starting area the half marathon kicked off and it was incredible to see wave after wave of participants running by. They just kept coming and coming. When it was our turn it was so exciting to have the months and months of planning, anticipating and training to have all converged on this amazing day. I loved everything about the race. The energy of the runners, the crowds cheering, sharing that experience with my running friends and running a distance and course that were very unfamiliar to me. It wasn't until around mile 21 that I realized we were no longer able to hold our pace and all the fun and excitement had worn off. It felt like so much work and effort to keep moving forward and by mile 24 I decided to wave the white flag and admit defeat. It was either I walk it in or head to the medical tent and I opted to see if I could avoid that. It was extremely humbling and not at all what I had envisioned over the course of the 16 weeks of training. The evening before we had visited the finish line and I imagined how amazing it would be to run across that finish line. The 2012 BMO Vancouver Marathon didn't go how I had imagined, however reflecting back I have gained so much perspective. Things do happen for a reason and that experience went a long ways toward shaping the running I have become and provided me with so much more compassion for anyone else that has a similar experience. Running is about so much more than hitting a goal time, but it takes a while to come to that conclusion. I am definitely looking forward to the training and returning to this race as a wiser more experienced runner. I am grateful for running and how it has impacted my life. When it is all said and done, all the miles I have run will be looked upon as time well spent and shared with some pretty amazing people.
Name a few of your favorite places to run in Vancouver or your city. Why do they stand out for you?
Most of my running takes place in Seattle, WA and feel very fortunate to live in a city that allows me to run year round. I run in the early mornings before the rest of the city has started their hustle and bustle. The running group that I run with is centered around Green Lake, which is a beautiful spot in north Seattle. There are many nearby neighborhoods that are a part of my weekly routes as well (Fremont, Wallingford, Ballard, University, Greenwood, etc…). It is always fun when I get the opportunity to explore a new area or route with a group of friends or visit a location that I haven't run through in a while. Variety is the spice of life and Seattle has plenty of beautiful locations that provide a steady dose of elevation changes to ensure my legs are prepared.
Running is a great way to see the world. Of all the places you've traveled to outside of Vancouver or your city, whether it be for competition or for pleasure, which was your favourite spot to run in and why?
I completely agree about running and how it provides the pathway for adventure. For some reason I am pretty content staying in the same city and not getting out to travel much, but fortunately for me running has taken me out of my comfort zone and taken me to places I otherwise might not have visited. Along those same lines, I have also enjoyed the challenge of keeping my running routine going when I am out of town. I can't think of a better way to explore a new city or town than lace up my shoes and go for a run! Last fall (2016) I participated in the NYC Marathon. If it wasn't for the race I am pretty sure I wouldn't have had the courage or interest in making such a trip. It was an incredible experience and definitely owe it to running. The same can be said for this past spring (2017) when I traveled to Boston with my oldest son to participate in the Boston Marathon. It was our first time there and as a father is was something very special for me to share with him.
What is your pre-race routine?
My pre-race routine generally has me up a couple of hours before the race. I spend quite a bit of time in the bathroom to ensure that I won't have any issues on the course. I take a shower, get my race outfit on, have some breakfast and make sure I have my throw away layers on. Being cold before the race call only add to my race day stress, so the warmer I am the better. I usually enjoy a 1-3 mile warm up as well just to get my legs moving and workout any kinks.
Pay it forward: What's the best advice you've ever received from a parent, coach, or mentor about running? OR got your own advice? Share it with us!
One thing about runners is that we all have the answer. However those answers are usually all different, so what we learn from our own experiences with running and the information we gather from others is what usually shapes the knowledge we share with others. So many runners will tell you "nothing new on race day" however for me race day is very special. I don't race very often, so when I do it is a big deal. Throwing on a new pair of shorts, socks or shoes only adds to that experience for me since putting on new things before a run is special. Maybe race day should be more like the traditions around getting married where you put on something borrowed (a good luck piece from someone you care about), something new and something blue. Like I said, race day is special and the process of getting dressed is like a knight putting on armor before a battle. It is that time to visualize, focus and prepare for the task at hand. The race is the culmination of all your efforts and it is important to remember the journey that got you to this point. As runners we all develop our own style and identity, so all the advice out there is great, but ultimately it will come down to what works the best for us. We all run for different reasons, so over time we will discover what best matches up us to achieve our goals and best represents who we are. I could talk running all day and offer up lots and lots of advice, but ultimately for me it is about helping others discover that running is their own journey and that I am just happy to be a part of it.
---