Mariya Zhalovaga
RUNVAN® AMBASSADOR
Meet Mariya, a Vancouver Police Officer and a former marathon clinic instructor at the Burnaby Running Room. Cst. Zhalovaga ran her first half marathon in Vancouver in 2016 and has now completed 8 half marathons and 3 full marathons. She is a mom of two (5 year old and 8 year old).
As the Vancouver Police Department's school liaison officer for Windermere Secondary, Cst. Zhalovaga started the Windermere Running Club in the fall of 2017 as a means for students to run as a collective, regardless of speed, talent, experience or ability.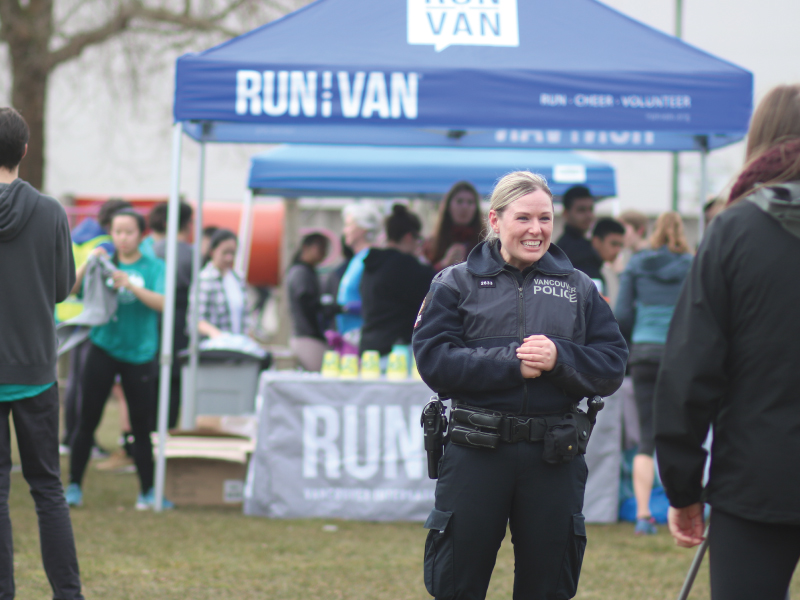 About the Windermere Running Club
At the Windermere Running Club,  youth who may never qualify for any track team or who may never even dream of trying out, are encouraged to attend program sessions and continue to run simply because they enjoy it. Meeting twice a week in the early mornings before school falls into session for the day, the Windermere Running Club is a group of 40 dedicated young runners who work as a group to reach their individual running goals. By relying on each other for support, the Windermere Running Club has seen each participant blossom, as they learn important life skills such as perseverance and self-discipline, as well as compassion and encouragement.
In addition to building physical endurance and stamina, the Windermere Running Club provides participants with a sense of belonging, and by training together as a collective, the group is better able to tackle personal challenges, both on and off the track. The running club is inclusive of students from grades 8 through 12. These students trained and completed numerous ten km and half marathon races over the years.
The Windermere Running Club has also expanded beyond regular club training to help mentor younger students in their community. Partnering with Renfrew Elementary School, the Windermere Running Club students run with the Elementary School students to mentor them and make their transition into high school easier.
Take us back to your first RUNVAN® event. What was it like? How long ago was it? What do you think has changed since then?
My first BMO Vancouver Half Marathon was in 2016. I was asked by my friend Supt. Flamand to run the race with her. It was a warm and beautiful morning. I was mesmerized by the stunning scenery throughout the course and impressed by all the volunteers who gave their time to support such an incredible community event. I felt an incredible sense of accomplishment when I crossed that finish line. This RUNVAN® event was the beginning of my running journey.
In regards to changes to the Vancouver running scene, I think we are seeing an increase in numbers of runners who are travelling from abroad to participate in the BMO Vancouver Marathon.
Name a few of your favourite places to run in Vancouver. Why do they stand out for you?
My favourite places to run are the Stanley Park Seawall because of the remarkable scenery and UBC Pacific Spirit Regional Park trails because of the gorgeous tall cedar trees everywhere I am able to have a peaceful run to clear my mind.
Running is a great way to see the world. Of all the places you've traveled to, which was your favourite spot to run in and why?
Maui, Hawaii because of a gorgeous beachfront.
What is your pre-race routine?
The night before the race I like to have a filling pasta dish and I make sure that I hydrate lots. I go to sleep very early to make sure I get enough rest. I wake up at least 4 hours before the race and have my protein shake for breakfast. I make sure that my gear is all packed the night before so I don't have to stress about it in the morning. I then close my eyes and take a moment to visualize myself running the race and crossing the finish line.
Pay it forward: What's the best advice you've ever received about running? 
The best advice that I received from my running coach is to break up the race into smaller sections. He told me when you are running 42.2 km break it up. Focus on running your first 16km's, then another 16km's, and the last 10km's "that's your race".