Patrick Kiernan
RUNVAN® AMBASSADOR
Meet Patrick, born and raised in Ireland, living 8 years in Edmonton, Alberta, and working as an Engineering Assistant Manager for a Window and Door Company. Patrick has been involved with sports/fitness all his life. Running at a young age, only to give it up for team sports, but lucky enough to rediscover his love for it 3 years ago.
"More of a 5km runner for the first 2 years, I have recently wanted to aim higher and better, slowly moving into the half distance (even though I have already ran a Marathon without any training haha). Currently training with runlAB – an elite coaching team in Edmonton, it will be my first time running the BMO Vancouver Half Marathon. I have a PB of 1.30 but will be hoping for 1.20 (yes it is a huge jump but my other times in 5, 10 and 15km suggest I am on track for it). I am excited to run this race and get to explore the city while doing so, have heard so many good things about this event. When I am not out chasing my run goals, I help run a track group called Need For Speed every Tuesday morning at 5.30am in the summer and also a very active ambassador for 5 Peaks Trail Running."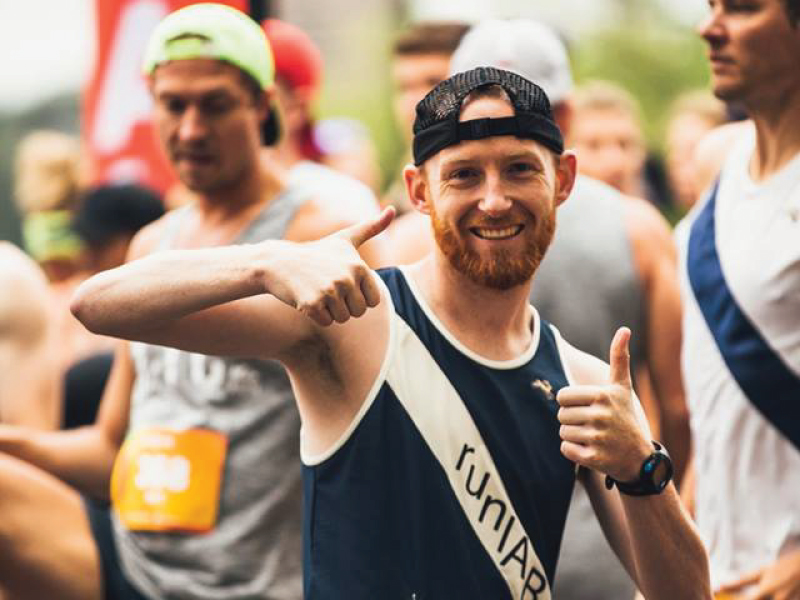 Take us back to your first race. What was it like? How long ago was it? What do you think has changed since then?
I remember my first real race in Edmonton. It was a chilly spring morning in Edmonton 2015 and I was running a MEC 5km. I thought I was going to win it, but was beaten easily (finished 5th). I remember leaving the race so satisfied, knowing that I had challenges in front of me. At that moment, I fell in love with running again. It wasn't for another year after it that I started to really take it serious, but the race opened my eyes to the amazing running community.
Name a few of your favourite places to run in Edmonton. Why do they stand out for you?
As I am from Edmonton, it is a pretty easy one. The River Valley, the trails and paths go forever in every direction. At times when you look around, you don't even feel you are still in a busy city. It is my happy place.
Running is a great way to see the world. Of all the places you've traveled to, which was your favourite spot to run in and why?
It would have to be Bigfork Montana. A few years ago, when doing Obstacle Course Racing, I did a 21km race in Bigfork. The trails, views and area was just breath-taking. I have never experienced anything like it before. I ended up racing the course 3 years in a row and every time was in awe.
What is your pre-race routine?
I am a very structured type of person, so my pre-race routine would be, just going over the race in my head, as I would have studied every inch of the course beforehand, I also try and give myself confidence, telling myself "I can do this, hard work pays off". For food before a race, I keep it pretty simple. Oatmeal, whatever granola bar is around and a banana.
Pay it forward: What's the best advice you've ever received about running? 
Failure is an option, it is how you learn to become better. It isn't your last race, so whatever happens, remember you have more races in the future. No human is limited (taken from the great Eliud Kipchoge).