Siobhan McCormick
RUNVAN® AMBASSADOR
Siobhan is delighted to be a part of the RUNVAN Ambassador program once again as it is important for her to be able to give back to the running community that is so wonderfully supportive. She has run over
100 races including 21 marathons, over 28 half-marathons, numerous 10, 8, and 5km races and lots of trail races. While the Vancouver Marathon is definitely her favourite marathon to run, a close second is
the Boston Marathon, which she has run twice.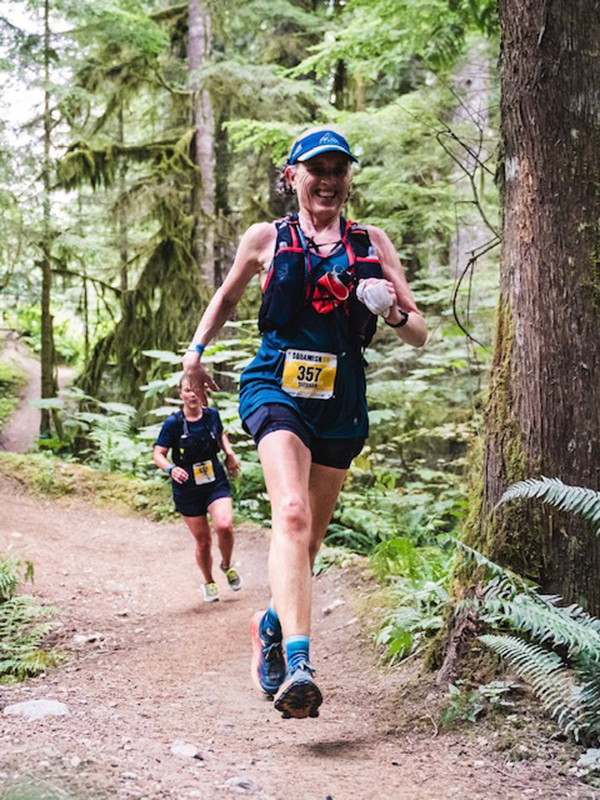 Take us back to your first BMO Vancouver Marathon. What was it like? How long ago was it? What do you think has changed since then?
It was in 2009 and I had committed to run it with a couple of friends. As luck would have it, I ended up being the only one of us who trained and ran it that year! I did a big chunk of my training on my own in Montreal due to a family tragedy. The weather in Montreal was terrible — very cold and stormy — I remember my fluids kept on freezing during my long runs. I am stubborn though and as I had committed myself to doing the marathon, I was not going to jam out! The race course was the old one. I went out way too fast and having no real sense of pacing — I had just started running the year before — I paid for it dearly. By the end of the race I could barely walk. But I finished! I was really proud of myself for persevering with the odds stacked against me like that. The running scene has just exploded since then! You could literally run a race every weekend but the BMO Vancouver Marathon is still the best to run.
Name a few of your favourite points along our course. Why do they stand out for you?
The section of the race that starts at the bottom of Camosun until you turn onto West 16th Ave is for me one of the most beautiful parts of the race. Camosun Hill is super tough and I can't say I 'enjoy' it but running that whole section beside the forest of Pacific Spirit Park is incredible. I also love running Stanley Park because not only is it beautiful with the ocean on one side and the park on the other but it is also really familiar to me and it's nice to be 32Km into a marathon and know what is coming.
What is your pre-race routine?
I try to have written out a Plan A and a Plan B for race day sometime in the weeks before: Plan A for when everything is going well and Plan B for what to do if the wheels fall off. I work on visualizing my race and going through Plan A/Plan B a few times in the weeks leading up to the race. The week before I make sure to get my rest and keep hydrated. The night before I lay out my race gear, pin my bib on, organize my gels and fill my water bottles and stick them in the fridge. I eat an early dinner — something pretty bland so it won't upset my stomach. I go the bed early. On race day I get up and eat breakfast about 2.5 hours before the race — usually steel cut oats with berries. I get to the race site about 1.5 hours before the race and do a warm-up with my running clinic. Then a visit to the port-o-potties and into the corral to wait for the start!
Pay it forward: What's the best advice you've ever received about running?
The best advice I've received came from my running coach, the awesome Lara Penno, and it is to run your own race. Don't worry what others around you are doing, stick with your plan and execute it the best you can on that day AND don't forget to smile when you cross the finish line. It is a huge accomplishment to run a marathon and you should be proud of yourself for just getting out there and doing it!