Spencer Lee
RUNVAN® AMBASSADOR
Meet Spencer, a registered nurse who helps people get back on their feet. Whether it is helping sick clients get back to home or helping runners with their goals, Spenny always puts others first. Spenny is a road and ultra trail runner from Hamilton, Ontario and just moved to British Columbia in July 2019. Back in Ontario, he has been a pace bunny at many of the biggest marathons including the Toronto Marathon, Mississauga Marathon, Around the Bay, Army Run and Ottawa Marathon. He enjoys pacing people and finishing with runners who have earned Boston Qualifiers or have completed their running goals. Just recently, Spenny has finished three 100km runs, one that was a Western States Qualifier, in pursuit of one day running one of the most prestigious trail races in the world. In 2020, Spenny has registered for the Sinister 7 solo 100 miler race in Alberta.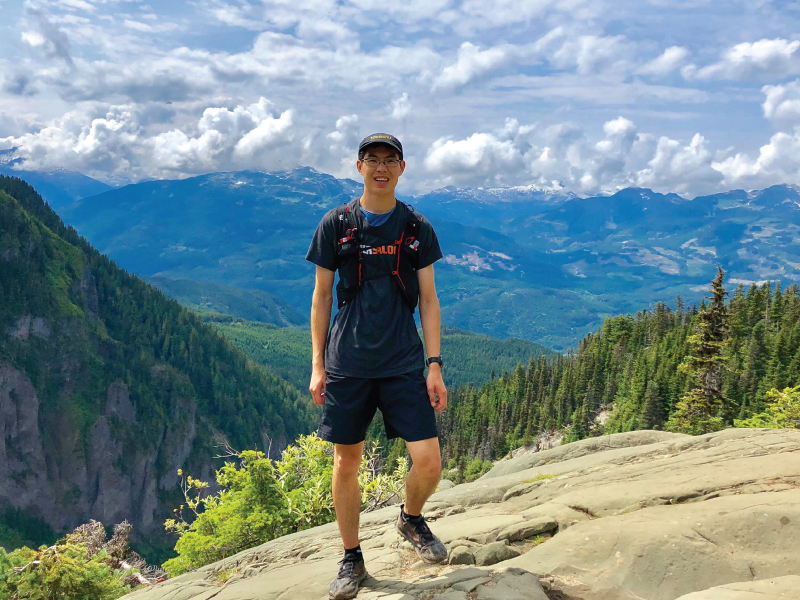 Take us back to your first race or RUNVAN® event. What was it like? How long ago was it? What do you think has changed since then?
My first race was a local 5k where I nearly died and thought 5k was the most I'll ever run. Now I have realized that the human body can handle distances much further than 5k. My first RUNVAN® event will be the First Half.
Name a few of your favourite places to run in Vancouver. Why do they stand out for you?
Some of my favourite places to run are at Buntzen Lake and Cypress Mountain. The Howe Sound Crest Trail is so amazing and provides views of a full sunset along the water.
Running is a great way to see the world. Of all the places you've traveled to, which was your favourite spot to run in and why?
I have been to a lot of places for running but the best ones have been at Yosemite National Park and Zion National Park. Both places have mountain ranges that go on forever, but both are incredibly different in their own ways.
What is your pre-race routine?
I don't have any pre-race routines. I just go out and run. I mainly just run to get outside and to make races apart of my trips. Vacations are based solely on when races occur.
Pay it forward: What's the best advice you've ever received about running? 
My best advice is to listen to your body and go by feel in training. Running is a tough sport on joints and road runners especially are prone to injuries. I always have longevity in mind. It's okay to take breaks or to slow down on some training days to minimize injury. Always have a purpose for each training run and most importantly have fun. If you don't enjoy what you are doing, then stop and re-evaluate how much running you are doing.