VINCE SLUPSKI
RUNVAN® AMBASSADOR
Meet Vince, one of our two Seattle RUNVAN® ambassadors. Vince ran his first marathon in 1983 in Madison, Wisconsin. After chasing marathon PRs in the late 1980s (his best was 3:17 at Portland '87), he took 10 years off from the long distances, ran Portland again in 2000, then tried his luck at Portland 2015. Cramps left him flopping on the parking strip at Mile 20 like a spawned-out salmon. He came back to finish his first marathon in 16 years at Tacoma '16, and ran four marathons and two 50Ks in 2017.
Vince runs with the Seattle Green Lake Running Group, which is bringing 100 runners to the 2018 Vancouver Marathon. He lives in north Seattle with his wife, son, and daughter. He appraises commercial real estate and is interested in the comparative history and urban planning of Seattle and Vancouver.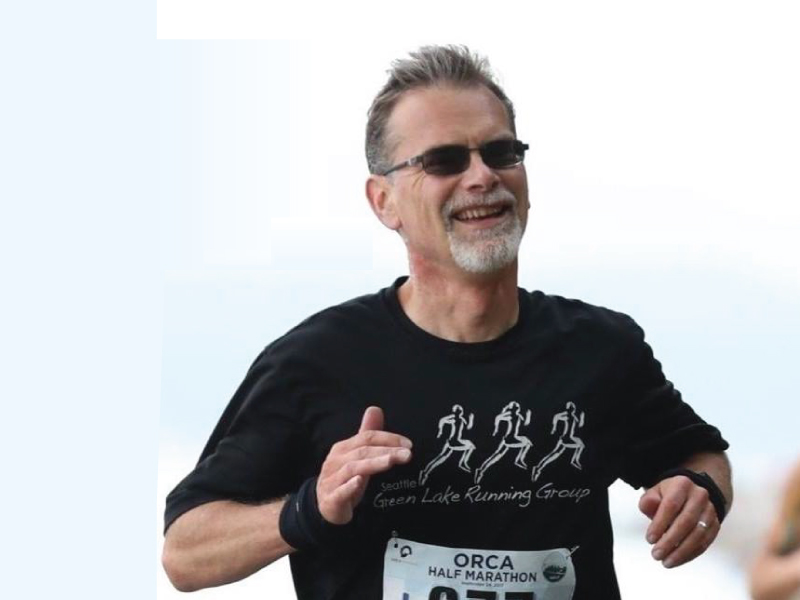 Take us back to your first BMO Vancouver Marathon. What was it like? How long ago was it? What do you think has changed in the running scene since then?
My first BMO Vancouver Marathon was in 1990. The course began and finished at BC Place and passed over the Lions Gate Bridge, east through North Vancouver, back over the Second Narrows Bridge (it had not yet been dedicated to the Iron Workers), and through East Van. Last December, I ran parts of that course on a visit, and can't believe I ran 3:19 on a course that included that climb up the Iron Workers Bridge!
I can't speak to Vancouver, but in general I'd say that running has become more social via Meetup and Facebook – those tools to organize running groups weren't around decades ago. Another really notable change is the growth in women's running, especially among middle-aged women. Of course there have been great women runners since Bobbi Gibb and Kathrine Switzer crashed the 1967 Boston Marathon, but the women's Olympic marathon wasn't run until 1984 (Joan Benoit won) and 35+ women who ran were rare and considered rather eccentric. Now I'm outrun regularly by a bunch of women's masters runners and am glad to see them setting an example for all of us.
Name a few of your favourite places to run in Vancouver and Seattle. Why do they stand out for you?
I moved to Seattle in 1989 and found a running group that trained at Green Lake, and in 1993 bought a house ¾ mile away. Green Lake, about three miles around, is the most visited park in the state, and I've run around it literally thousands of times, in all weather and all times of the day and night.
In Vancouver, I love running the city streets! Broadway, Yaletown, Kitsilano, Commercial, Hastings, Shaughnessy Heights, the bridges, everywhere! So much to see, and always those beautiful North Shore mountains right there.
Running is a great way to see the world. Of all the places you've traveled to, which was your favourite spot to run in and why?
Wow, 40 years of running makes for a lot of memorable runs! Stone Mountain, Georgia at dusk; Calcutta at dawn; the India Gate in Delhi; the bike trails in Boulder where the prairie dogs poke out of their holes; the Chattahoochee River near Atlanta; the National Mall in DC; the University of Wisconsin campus. But there's a route in San Francisco that I've done a few times that I think is my all-time favorite: Fisherman's Wharf through the Marina, then Chrissy Field to the Golden Gate Bridge, around the point to Golden Gate Park, through Haight-Ashbury, and back down Market Street to downtown. The city of Twain, Maupin, Ginsberg, the Grateful Dead, Jefferson Airplane, and the Summer of Love!
What is your pre-race routine?
Pretty normal: bagel, banana, medium cup of coffee, good dynamic warm-up with some strides 10 minutes before the start, if conditions allow.
Pay it forward: What's the best advice you've ever received about running? 
I've never taken the best advice! Which is, start out slow and finish strong. Still working on that! Other than that…run with your heart! I don't follow a training plan – I run hard enough to pant and sweat a couple times a week, a couple easy runs for mileage, and a long run when I feel up to it. Show up, put in some effort, and good things will happen. "If there's a short cut, I'd have found it, but there is no easy way around it" – Todd Rundgren, Love is the Answer.