Cam Levins sets Canadian Half Marathon Record and Natasha Wodak breaks her own event record at the First Half presented by BlueShore Financial
RUNVAN kicks off the Road Race Label series with Athletics Canada and continues with the BMO Vancouver Marathon and BMO Vancouver Half Marathon in May.
Vancouver, BC – February 12, 2023 –
Canadian Olympians Cam Levins and Natasha Wodak broke records taking overall wins in 1:00:18 and 1:10:17. Levins sets the new national standard betting Ben Flanagan's time of 1:01, and Wodak breaks her own event record set just last year at 1:11:32.
Lee Wesselius in 1:04:17, and Thomas Broatch in 1:04:23, finished second and third, while three-time Canadian Marathon Champion Trevor Hofbauer placed fourth. Despite being nearly four minutes behind Levins, Lee Wesselius moves into the event's all-time Top 5.
Leslie Sexton in 1:11:40 and Sasha Gollish in 1:12:51 rounded out the podium placements. All-time at the event, Sexton now sits third after Wodak's top two times.
The First Half presented by BlueShore Financial was a tremendous success, attracting a sold-out crowd of over 2,000 runners on the rainy but beautiful day of Sunday, February 12, 2023.
Runners came together to push their limits and achieve their personal goals, led by a stacked Canadian Elite Athlete field who brought their A-game and set a high standard for all participants.
"It was great – the crowds were great, so I had a really good time out there and it seems like a of people ran personal bests so that's awesome," adds Natasha Wodak, the star Canadian Olympian and Canada's fastest Marathoner who now has four wins at the First Half Marathon, matching her four wins at the BMO Vancouver Half Marathon. "It was a good day."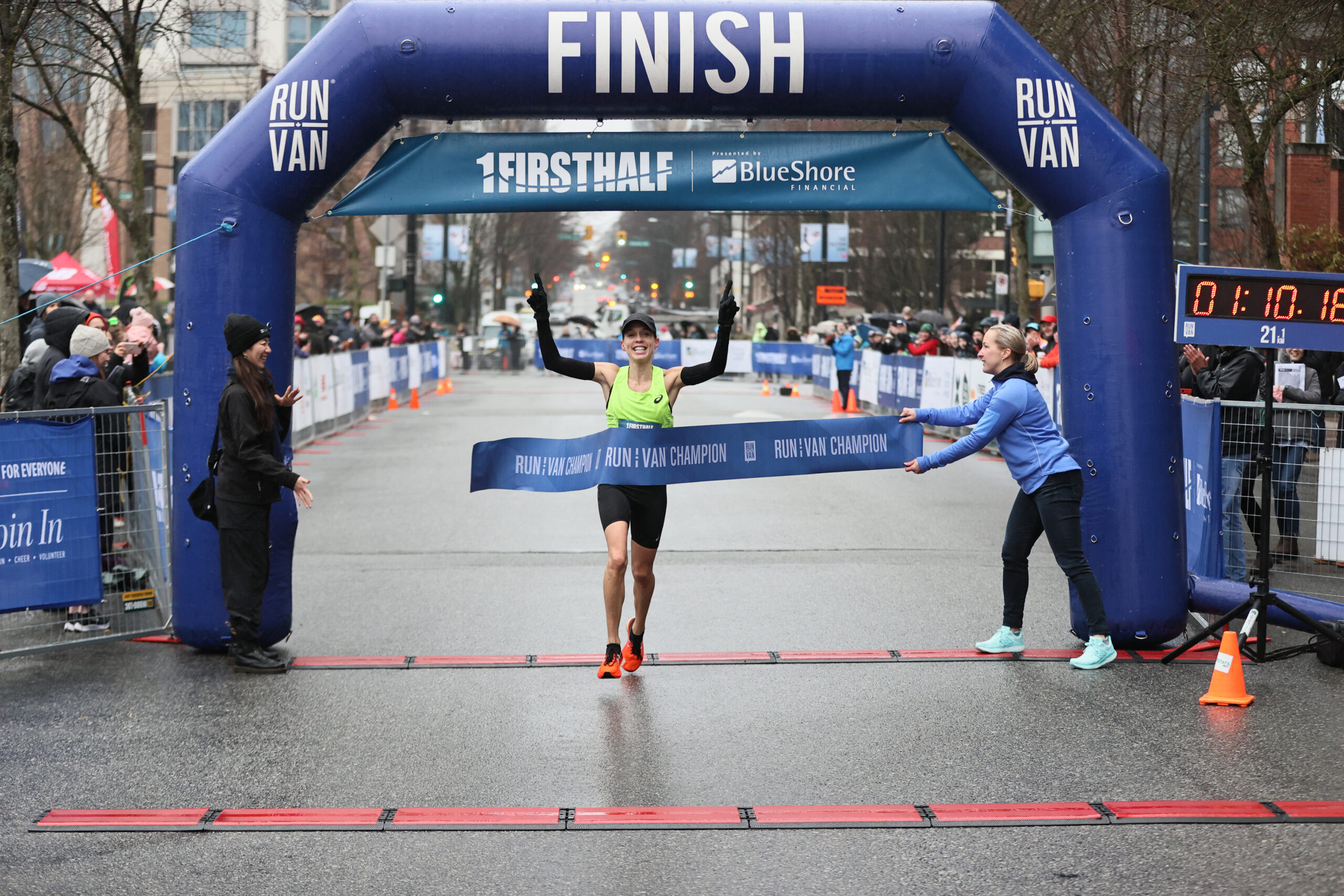 "The Seawall was really cool," adds Cam Levins, now Canada's fastest Marathoner and Half Marathoner. Levins significantly lowers the overall event record of 1:03:25 set just last year by Luc Bruchet, seventh this year. "Really pleased with the race, it was fun out there," adds Levins.
Cam Levins officially becomes the first Canadian to break the 61 minute barrier over a Half Marathon with his clocking of 60:18.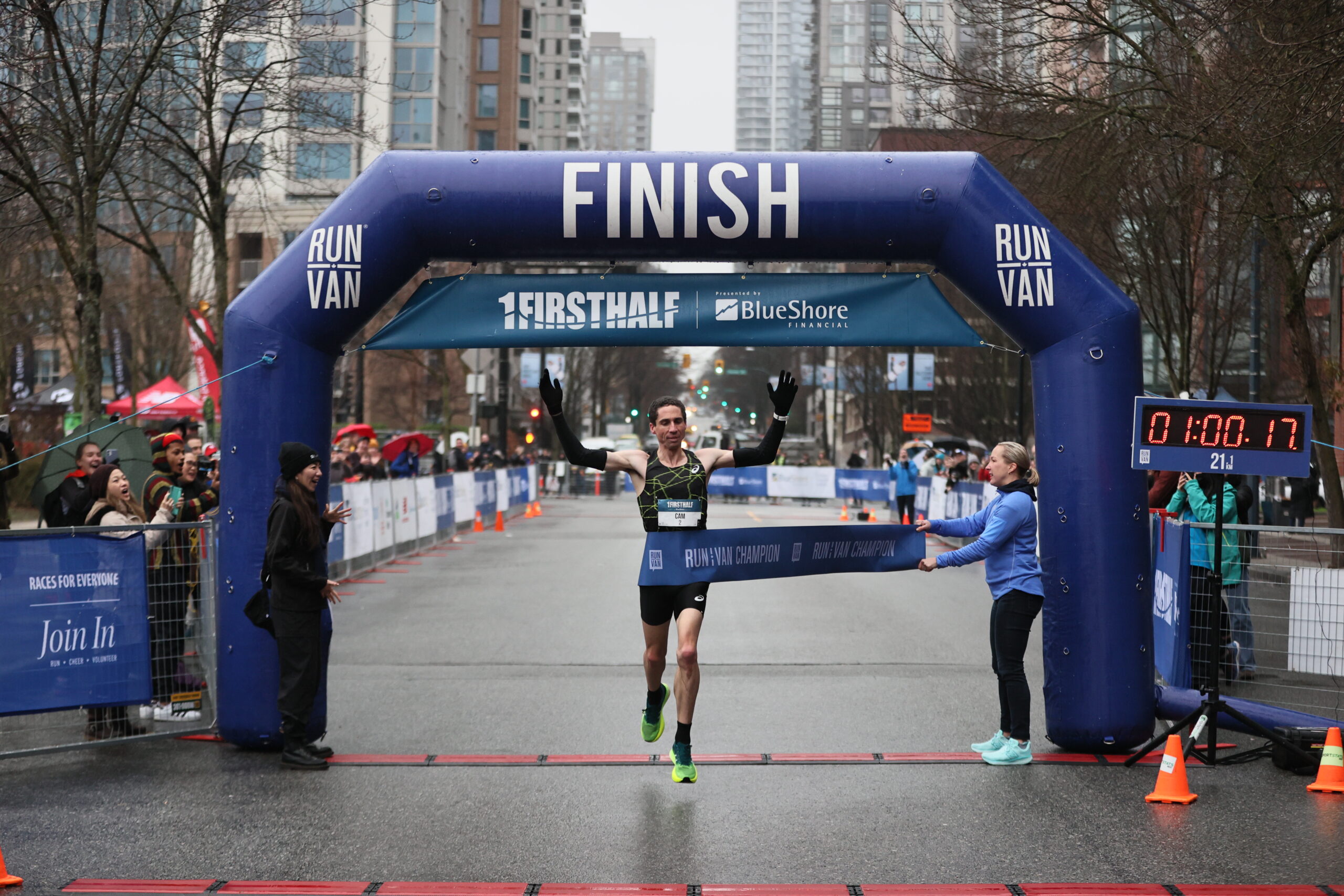 BlueShore Financial enjoyed its role as new presenting partner, adding to the atmosphere and providing some of the hundreds of volunteers to help out on race day. The team also handed out gorgeous finisher medals designed by Indigenous artist Darryl Blyth.
"RUNVAN is incredibly proud of the turnout and the level of athleticism on display," adds Eric Chéné, RUNVAN Race Director, noting it's great that the event continues to attract top Canadian Elite Athletes who add a special level of excitement and inspiration for all. The organizers are proud to continue a tradition started by the Pacific Road Runners back in 1989.
"As a non-profit, volunteer-run organization, RUNVAN is dedicated to promoting healthy and active lifestyles within our community through running events, and this event is a shining example of that mission in action," adds Chéné. "RUNVAN would like to extend our heartfelt thanks to all the volunteers who gave their time and energy."
The First Half presented by BlueShore Financial is a celebration of wellness and personal achievement, and a testament to the strength and resilience of the human spirit. Runners of all abilities came together to be a part of the incredible event, and the organizers are already looking forward to the next one.
Initially established as a build-up to Vancouver's only Marathon event, the First Half presented by BlueShore Financial in February is followed closely by the BMO Vancouver Marathon and Half Marathon in May. RUNVAN rounds out its race series with the Granville Island Turkey Trot and Great Trek presented by BlueShore Financial in October.
"As a local financial institution, BlueShore Financial advocates for wellness in all its forms, from physical to financial," adds Brett Boag, Director of Employee & Corporate Communications at BlueShore and Runner. "We were thrilled to present the First Half and support the runners, volunteers, and partners who came together to create this vibrant local event. See you next at the Great Trek this fall."
To learn more, visit runvan.org