RUNVAN Ambassador Natasha Fraser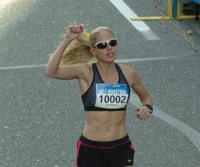 Meet Natasha Fraser,elite runner and half marathon champ
More than just long-term runners of the BMO Vancouver Marathon, RUNVAN Community Ambassadors are leaders in Vancouver who embody the Vancouver International Marathon Society's mission, vision, and values. Elite and recreational runners, business leaders, or local heroes, these superstars find joy in motivating and inspiring others through running. They're also comfortable with public speaking and tend to be regulars at our running events throughout the year.
Natasha Fraser is an elite runner from Port Moody, BC. Natasha now lives in Vancouver, where she trains and competes full time with coach Richard Lee of Endurance BC. Some of her many first place trophies include the BMO Vancouver Half Marathon (2012 and 2013); the Vancouver Sun Run (2012 and 2013); and most recently the Modo Spring Run Off 8 k. She also was the first Canadian finisher at the 2013 IAAF World Cross Country Championships in Bydgoszcz, Poland, her first major international competition in which she placed 24th overall.
RUNVAN: Take us back to the first time you ran in the Vancouver Marathon or Half Marathon. What was it like? How long ago was it? What do you think has changed since then?
Natasha Fraser: I ran the BMO Half Marathon for the first time in 2012.  It was the first year on the "new course", and I loved it.  Not sure what it was like before, but it can't be any better then it is now.  Very scenic, with just a few hills.  It offers the best views of the city.  And the course is on the "fast" side, so it's good if you want to run a good time.
RV: Name a few of your favourite points along our new course. Why do they stand out for you?
NF: Running through Yaletown is pretty cool. The BMO Half Marathon is one of the only races in Vancouver that goes through Yaletown.  And of course running in Stanley Park is always amazing.  Can't beat the ocean and mountain views.
RV: Where's your favourite spot to run and why? 
NF: I have so many favourite spots!  I really enjoy running along Jericho Beach and Spanish Banks. It's so beautiful there, with a nice, flat, path.  But if I'm doing a longer run, I will venture out to Burnaby Lake–I love the trails that loop around through the forest and beside the lake.
RV: What is your pre-race routine? 
NF: The night before a half marathon, I keep things pretty low key.
 I usually just a meal of pasta, lots of water, watch some TV or a movie and get to bed as early as possible.  Sometimes, life gets in the way, though, and I might not be able to get to bed early, or eat exactly what I want. My advice in this situation is: don't stress!  Even if you only sleep for four hours, as long as you've gotten some decent sleep during the week, you will be fine!  As for food, just don't eat anything new!
That goes for all things: wear new socks, try a new energy bar, or wear new shoes for the race. 
A couple of weeks before the BMO event try a mock-race-day run. That means do your pre-race routine before your regular long run.  This will help you iron out any kinks. The last thing you want to worry about on race day is the blister on your toe from a new pair of shoes, or an upset tummy from something you ate.
RV: What's the best advice you've ever received from a parent, coach, or mentor about running? Or, got your own advice? Share it here, too.
NF: "Don't let the highs get too high, or the lows get too low".  There have been plenty of ups and downs in my running career.  I try to live by this motto, but it can be hard.
So when you have a good race, enjoy it, celebrate it, and then get back to training. Don't go overboard thinking about how awesome you just did.
And when you have an injury or a really crappy race allow yourself to be sad for one day, and then suck it up and move on.  Remember: stay positive!