Featured on the First Half, BMO Vancouver Marathon, Half Marathon, 8KM and Relay courses.
Overview
Awarded the Top Park in the World by TripAdvisor for its "mini-forest, beautiful gardens, totem poles, and scenic walkways," Stanley Park is an iconic piece of Vancouver's stunning landscape. The 400-hectare natural West Coast rainforest is frequented year-round by both locals and visitors alike, and is a popular spot for walking, running, cycling, and more. One of North America's largest urban parks, Stanley Park is the ideal escape from the bustling sounds of Downtown Vancouver.
Featuring scenic views of mountains, the ocean, and trees, Stanley Park offers kilometres of trails, stunning beaches, and local wildlife. The park is said to be home to over 200 bird species alone, as well as large raccoon, coyote, beaver, and rabbit populations. With natural and historic landmarks along the way, the Stanley Park Seawall remains one of the most frequented areas of the city.
The park was originally owned by different coastal Indigenous groups for thousands of years before being colonized by the British in the 1800s. The land was later turned into Vancouver's first official park during the city's incorporation in 1886. Named after Lord Stanley, the 16th Earl of Derby, Stanley Park is the result of the evolution of a forest and urban space over many years.
The First Half and all four BMO Vancouver Marathon courses run through this iconic site. The BMO Vancouver Half Marathon and 8KM runners get a taste of the park's lush forestry, while First Half, BMO Vancouver Marathon and Relay runners run along the famous Stanley Park Seawall.

The Stanley Park portion offers stunning forest, mountain and ocean views. Photo: Matt Clark / RUNVAN®
Attractions & Landmarks
Second Beach
Located at Stanley Park Drive and North Lagoon Drive, Second Beach is a popular beach off the Stanley Park Seawall. The area also includes a heated, outdoor pool, BBQ area and picnic tables. BMO Vancouver Marathon and First Half runners pass Second Beach between KM 32 and 33, and at KM 15, respectively.
Third Beach
Located at Ferguson Point, Third Beach is a naturally sandy beach surrounded by lush forest. A quiet escape from the bustling downtown noise, Third Beach is a popular spot for swimming, sunbathing, picnics, and watching sunsets. Runners in the BMO Vancouver Marathon and First Half pass through around KM 34 and KM 13.
Siwash Rock
Standing between 15 to 18 metres tall, Siwash Rock is located between Third Beach and Prospect Point. An iconic landmark, Siwash Rock is a millennia-old rock formation recognized for the twisted Douglas Firs sprouting on top and is a popular photography spot for visitors. BMO Vancouver Marathon and First Half runners see this unique landmark on course at KM 34 and KM 13, respectively.
Lions Gate Bridge
Named after the iconic Lions peaks, the Lions Gate Bridge is a suspension bridge that connects Vancouver to the North Shore. A pair of concrete lions, designed by sculptor Charles Marega, are placed on either side of the south entrance onto the bridge.
Girl in a Wetsuit Statue. Designed by sculptor Elek Imredy, the Girl in a Wetsuit is a bronze sculpture located along the north side of Stanley Park. This public art piece is a popular photo backdrop for visitors, and is visible along the BMO Vancouver Marathon and First Half courses.
Brockton Point Lighthouse
Built in 1914, the Brockton Point Lighthouse is located on the north side of Coal Harbour. Characterized by the red horizontal stripe on white, the Brockton Point Lighthouse can be seen from the First Half and all BMO Vancouver Marathon courses.
Stanley Park Totem Poles
BC's most visited tourist attraction, the nine totem poles at Brockton Point were designed and carved by the Coast Salish peoples. Made from western red cedar, each totem pole tells of a real or mythical event. The site is about a 20-minute walk or 10-minute bicycle ride from the Coal Harbour entrance to Stanley Park.
9 O'Clock Gun
Located just past Brockton Point, the 9 O'Clock Gun is a cannon shot every night at 9:00PM. Cast in the early 1800s at Woolwich, England, the cannon was brought to Vancouver in 1894.
Harry Jerome Statue
An iconic structure to all runners, the statue of Harry Jerome was installed at Stanley Park just past the Hallelujah Point. Sculpted by Jack Harman, the sculpture depicts one of the greatest Canadian track athletes of all times. First Half runners can see the statue as they near the 9KM point. BMO Vancouver Marathon runners pass by after KM 39, while the statue is visible to Half Marathon and 8KM runners around KM 18 and KM 5, respectively.
Vancouver Aquarium
Both a renowned tourist attraction and a centre for marine research, conservation, and marine animal rehabilitation, the Vancouver Aquarium is Canada's largest marine science centre. With over 70,000 animals, the Vancouver Aquarium is home to whales, otters, snakes, dolphins, and more. Open daily, the Aquarium offers several special offers and discounts to groups, bus and bike commuters, and more. Learn more >
Prospect Point
A famous viewpoint, Prospect Point offers stunning views of the Lions Gate Bridge, West Vancouver, and the North Shore Mountains. With a restaurant, gift shop, and more, Prospect Point is located at the northern tip of Stanley Park. Learn more >
Stanley Park Rose Garden
Located along Pipeline Road, the Stanley Park Rose Gardens houses a collection of plants from the Royston nursery. With over 3,500 rose bushes and stunning floral beds, the Stanley Park Rose Garden is a beautiful sight to see between spring and fall each year when the flowers are in bloom.
Stanley Park Horse-Drawn Tours
Stopping at several historic and cultural points along the way, the Stanley Park Horse-Drawn Tours offers a professionally-guided and narrated one-hour tour of Deadman's Island, Vancouver's Harbour, the Lions Gate Bridge, and more. The tours operate annually from March to November. Learn more >
Stanley Park Railway
The Stanley Park Railway is a popular attraction for visitors, covering 2-kilometres of track around the park. The railway was built along the grounds cleared by Typhoon Freda in 1962, the most devastating storm in Vancouver history. The train is open in the spring and summer, and for special events during Easter, Halloween, and Christmas.
Peaking up above the tree line is the famous Vancouver Lookout. Photo: Clarence Chan / RUNVAN®

The Brockton Point Lighthouse was built back in 1914. Photo: Clarence Chan / RUNVAN®

The Harry Jerome statue pays tribute to one of the greatest Canadian track athletes of all time. Photo: Ivan Calderon / RUNVAN®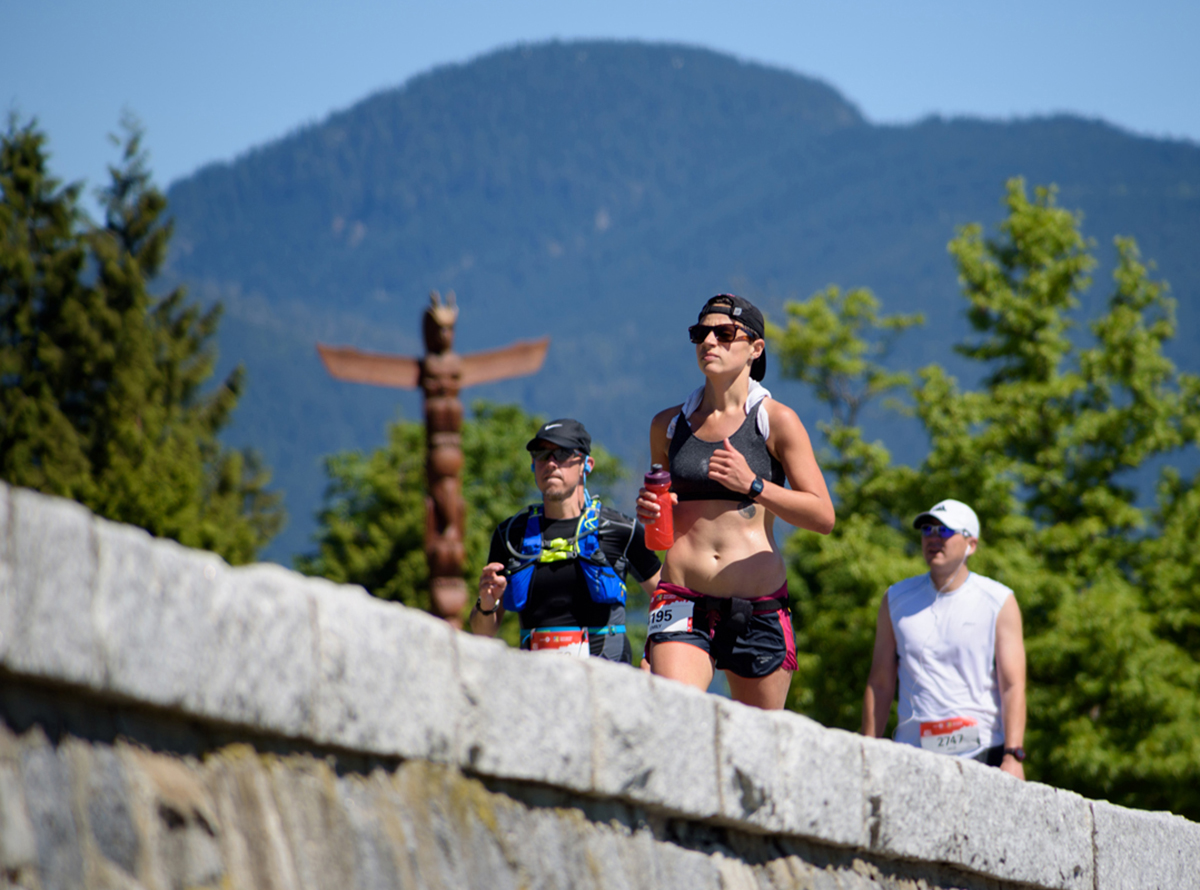 The Stanley Park totem poles can be seen along the last few kilometres of the race. Photo: Ayumu / RUNVAN®
---
NEIGHBOURHOODS | RUN | CHEER | VOLUNTEER | PHOTOS