Run Cambie
Vancouver Neighbourhoods
Cambie
Start your running at the top of the city! With gorgeous views overlooking Vancouver, the BMO Vancouver Marathon kicks off at Midlothian Ave and Clancy Loranger Way inside Queen Elizabeth Park.
Known as one of Vancouver's oldest neighbourhoods, Cambie Boulevard is recognized for its unique urban design with forty-five blocks of tree-planted median, one-way streets, and mountain views. The neighbourhood has historic relevance dating back to the early 1930s when it was identified as a central geographic location and major transportation corridor within Vancouver.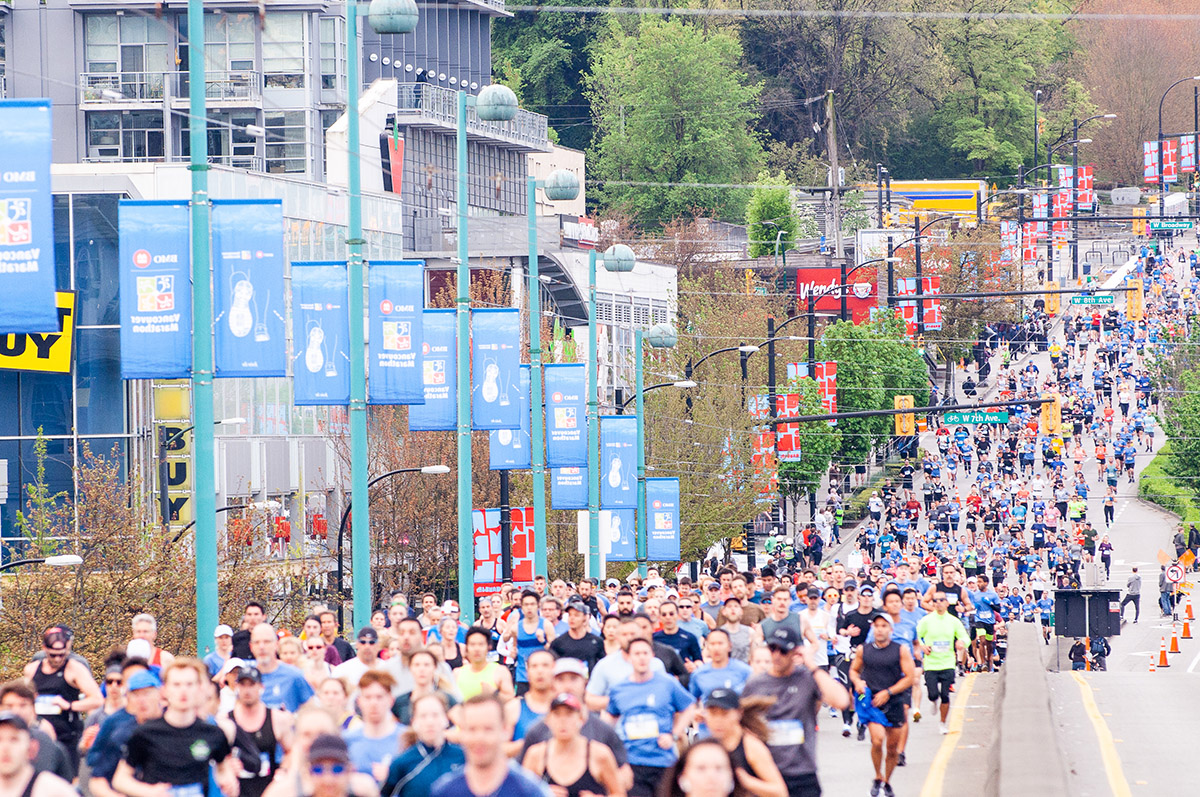 Cambie is lined with a vast array of approximately 450 coniferous and deciduous trees including sequoias, golden elms, and cherry blossom trees. These colourful cherry blossoms are symbolic of spring in Vancouver and arrive just in time for the BMO Vancouver Marathon each year. One hundred of these trees were received from Yokahama as a gift for the 1967 Canadian Centennial – the 100-year anniversary of Canada's confederation. Now in their prime, the cherry blossoms are one of the most beautiful sights to behold with their cotton candy-coloured petals dotting the streets of Vancouver each spring.
Charming Cambie is the first neighbourhood that Marathon, Half Marathon and Relay runners journey through, providing a scenic start with sea to sky views and flowering canopy trees. Cambie is unique to BMO Vancouver Marathon courses, with no other marathon event exposing runners to this historic area of the city.
The Cambie neighbourhood is easily accessible by the Canada Line and several bus routes.
Featured on the BMO Vancouver Marathon, Half Marathon and Relay courses.
Queen Elizabeth Park
The highest point of the city, Queen Elizabeth Park offers gorgeous views overlooking Vancouver's Cambie Boulevard, downtown core, ocean, and North Shore mountains. Originally a basalt quarry in the 1900s, the site supplied foundation rock for some of the city's first roads. The park received its name from Elizabeth the Queen Mother when she visited with George VI in 1939, and was transformed into a beautiful quarry garden in the 1950s complete with covered walkways, fountains, sculptures and exotic trees. Now, Queen Elizabeth Park is known for its aesthetic beauty and is a haven for view-seeking locals and visitors.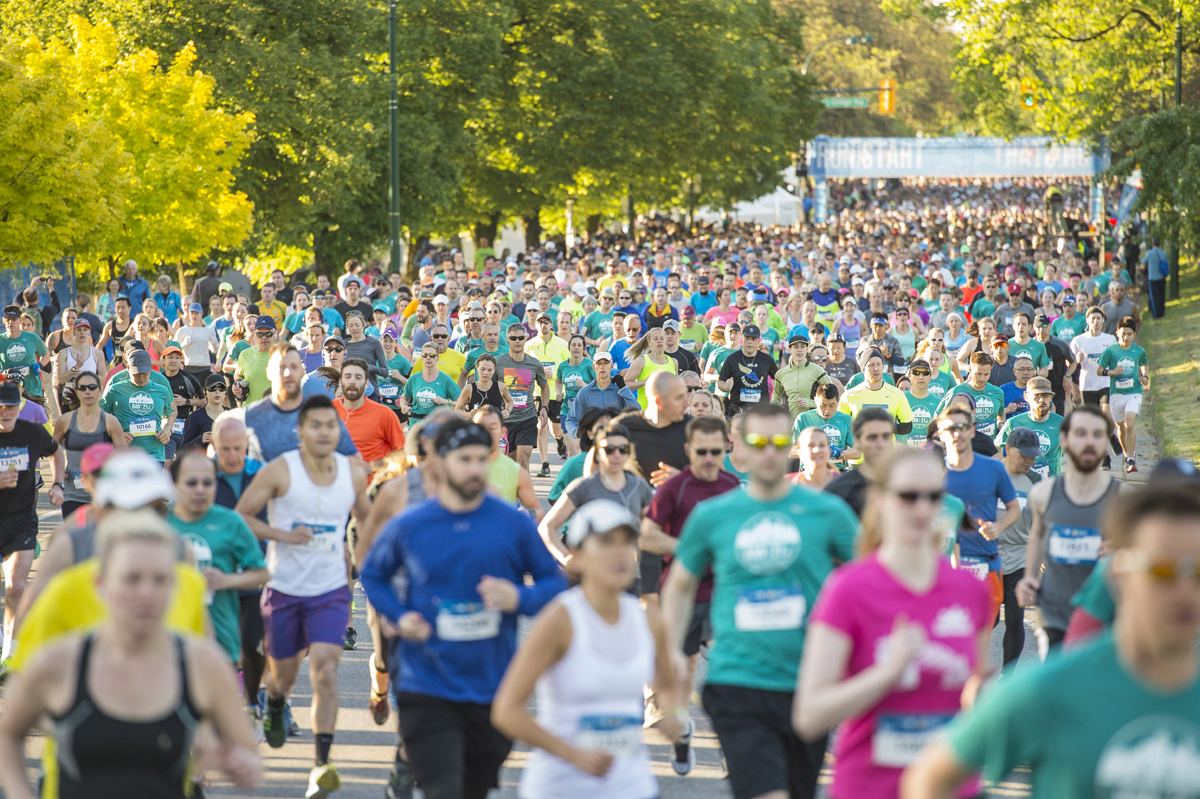 Bloedel Conservatory
Located at the top of Queen Elizabeth Park, Bloedel Conservatory is a family-friendly attraction with over 120 species of free-flying birds ranging from Macaws to African parrots, and over 500 species of tropical plants. Open daily, the conservatory features three different climate zones to emulate tropical ecosystems, including the tropical rainforest habitat, subtropical rainforest habitat, and the desert zone.
Van Dusen Botanical Garden
Beautiful year-round, VanDusen Botanical Garden is home to over 7,500 species of plants from around the world, carved totem poles, large stone sculptures, and a family-friendly hedge maze. A popular spot for photography and wildlife spotting, the garden also offers educational courses and events for all age groups. The VanDusen Botanical Garden spans 22 hectares and is open seven days a week.
Vancouver City Hall
One of Vancouver's most well-known art-deco monuments, Vancouver City Hall was built back in the mid-1930s and was designated a heritage building in 1976. Located at 453 W 12th Ave, visitors are welcome to enjoy the building's historic and renowned architecture from Monday to Friday between 8:30am and 5pm. BMO Vancouver Half Marathon runners pass by city hall within the first few KM of the course.
Forerunners Main St.
One of the city's most established running stores, Forerunners offers weekly clinics from their Main St location on Mondays at 6:15pm and Wednesdays at 6:30pm. Led by certified coaches, runners can drop-in for a low fee of $5 or sign-up for the full clinic, which range from 5KM to Marathon. Learn more
Fraser Street Run Club
Established in 2013, the Fraser Street Run Club now boasts a community of over 100+ runners. On Tuesdays at 6:30pm, the club hosts a structured speed workout at Eric Hamber Secondary track, and welcomes runners of all abilities to join. These sessions are about 60 to 90 minutes in duration. Learn more
Lululemon Run Club (Oakridge)
With a variety of routes through local neighbourhoods, the Lululemon Run Club meets every Wednesday at 6:00pm at the Oakridge Lululemon store. Open to runners of all abilities, the club is led by certified run coaches and offers unique ways of keeping yourself accountable. Learn more
Oak Street Runners
A weekly run club hosted by Rackets & Runners, the Oak Street Runners meet on Tuesdays and Thursdays at 6pm, and Saturdays at 8:15am. Led by a core group of ambassadors, the crew takes runners on routes around the quiet Cambie neighbourhood and Queen Elizabeth Park. With a membership fee of $80/year, members receive many perks including store discounts, discounted race entries, and more! Learn more