RuN KERRISDALE
Vancouver Neighbourhoods
KERRISDALE
Dating back to the late 1800s, the quaint neighbourhood of Kerrisdale is located in the west side of Vancouver and is known for its involvement in the BC Electric Railway and streetcar service. It was an important hub for interurban transportation along what is now West 41st Avenue. West 41st has now become a shopping district, featuring diverse restaurants, boutiques, and services. Kerrisdale officially became a part of the city of Vancouver in 1929 and is known today as the commercial and political centre of the Point Grey community.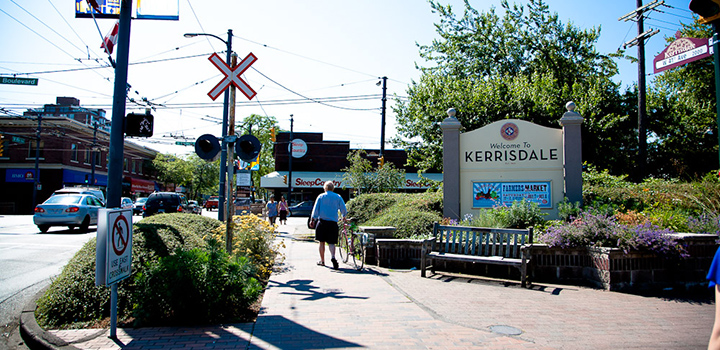 Kerrisdale has an upscale feel and is a prominent neighbourhood with an interesting mix of new, modern houses, older mansions, and bungalows. Many of Kerrisdale's residential streets are lined with sweeping, hundred-year oak trees, some of which are older than downtown Vancouver buildings. Others, are lined with stunning cherry blossom trees and Japanese maple. Today, this established community is experiencing changes with new development, culture, and demographic shifts.
All Marathon and Relay runners enter Kerrisdale around KM 3. Runners can take in the older character houses of Shaughnessy – an affluent area within Kerrisdale before finding themselves beneath an arched canopy of Vancouver's oldest trees. Both charming and historic, Kerrisdale is a renowned neighbourhood within Vancouver and unique to the Vancouver Marathon course.
Featured on the BMO Vancouver Marathon and Relay courses.
Lions Gate Road Runners
Established in 1971, the Lions Gate Road Runners have been an integral part of the Vancouver running community ever since. The club manages and organizes several running events each year, as well as a weekly workout every Thursday at 6pm from Point Grey Secondary School. Lions Gate Road Runners include runners of all abilities and has a small club membership fee of $30 per year. Learn more
Mile2Marathon
Founded by Olympians Dylan Wykes & Michael Woods, Mile2Marathon offers coaching from a team of professional athletes. Although the club hosts several events each week, they meet every Tuesday at 6:30pm at Point Grey Secondary School. Runners can attend their first M2M training session for free; each clinic after has a $7.50 drop-in fee. Learn more
Vancouver Falcons Athletic Club
A competitive running club in Vancouver, the Vancouver Falcons Athletic Club was formed in 1987 and is an affiliate of BC Athletics. The club meets every other Saturday at 9:45am at Point Grey Secondary School. Drop-ins are allowed for a small fee of $15, or runners can apply for a yearly membership. Learn more