Run Point Grey
Vancouver Neighbourhoods
Point Grey
Point Grey is known to locals for its gorgeous vistas, large trees that line the streets and significant history in the city. The neighbourhood resonates prestige, architectural heritage and beauty.
The area that is now Point Grey dates back to the 1700s when the First Nations Musqueam band first inhabited the region. It was rediscovered in 1791 by European settler, Jose Narvaez and made into the area's first logging camp in the 1800s. Point Grey and South Vancouver were officially amalgamated with the City of Vancouver in the early 1900s with the construction of the scenic Northwest Marine drive soon after.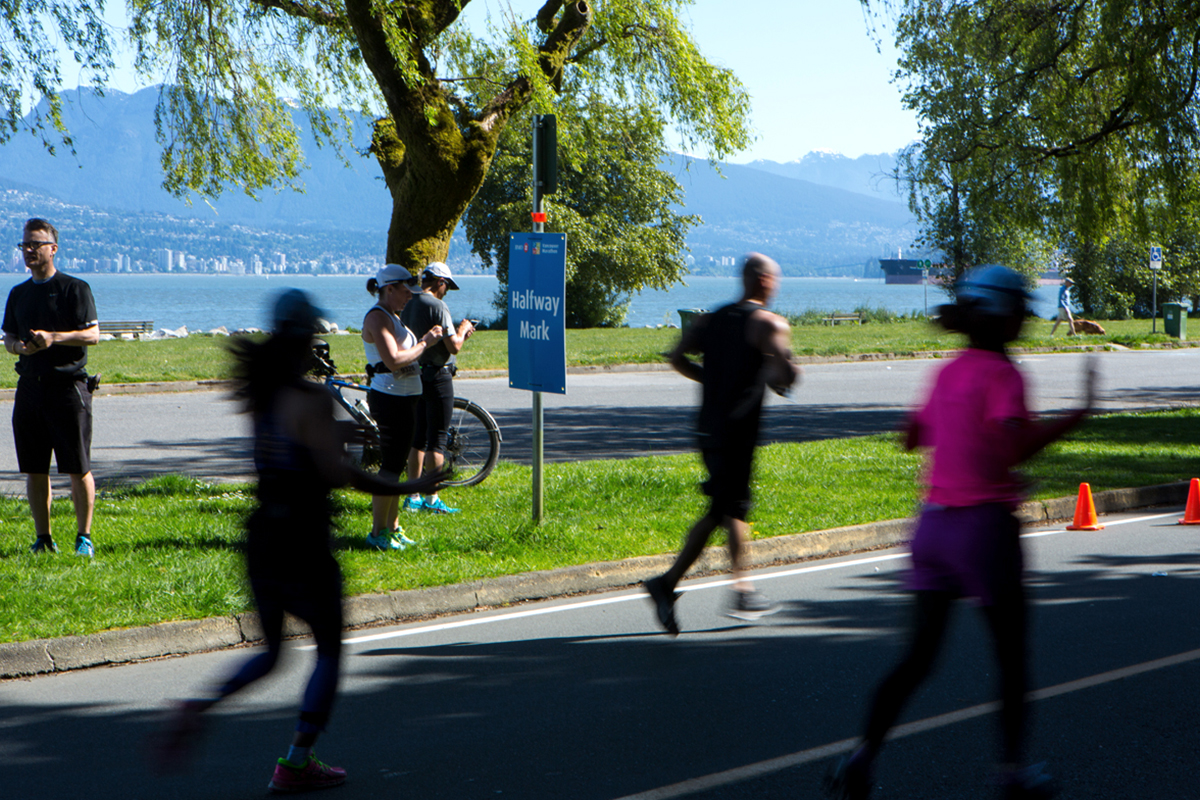 Bordering Pacific Spirit Park on the west side, the Point Grey neighbourhood also encompasses many small parks of its own. Trimble Park, West Point Grey Park and Westmount Park are all hidden gems offering waterfront views. The area also includes two of the city's most popular and beautiful beaches, Jericho Beach and Spanish Banks. These waterfront stretches are two of the six beaches experienced by BMO Vancouver Marathon runners.
Today, Point Grey retains some of its original homes including two 1913 Tudor revival mansions. This neighbourhood is a perfect mix of charm, elegance, beauty and history with breathtaking views of the North Shore Mountains, glistening waterfront and downtown towers. BMO Vancouver Marathon and Relay runners are sure to be visually motivated through this beautiful 4KM of Point Grey.
Featured on the BMO Vancouver Marathon and Relay courses.
Spanish Banks
Bordering the Burrard Inlet, Spanish Banks spans 16-acres and offers stunning mountain and city panoramic views. The low tides lead to warmer temperatures, making Spanish Banks a popular spot for swimming. Its volleyball courts, BBQ areas and concession stands make Spanish Banks a local favourite in the summer months.
Jericho Beach
East of Spanish Banks, Jericho Beach is a prime spot for sunbathing, swimming, and recreational water activities. Home of the Jericho Sailing Centre, locals enjoy activities such as kayaking, paddleboarding, windsurfing, and tennis during the summer months.
Spanish Banks Beach Park – 5.45KM
Starting at the intersection between Jericho and Spanish Banks beach, this fun out and back route takes you on a scenic run along the ocean with views of the North Shore mountains in the distance.