Run UBC
Vancouver Neighbourhoods
UBC
The UBC neighbourhood is primarily known as the site of the city's renowned University of British Columbia. Established in 1899, the school is the oldest institution of higher learning in Vancouver, with nearly 60,000 students enrolled annually. Ranked as one of the world's top 40 universities, UBC has produced seven Nobel Prize winners, two prime ministers and 65 Olympians.
The neighbourhood encompasses the University Endowment Lands, an unincorporated area located between Vancouver's centre and the university, and is the home of Pacific Spirit Park.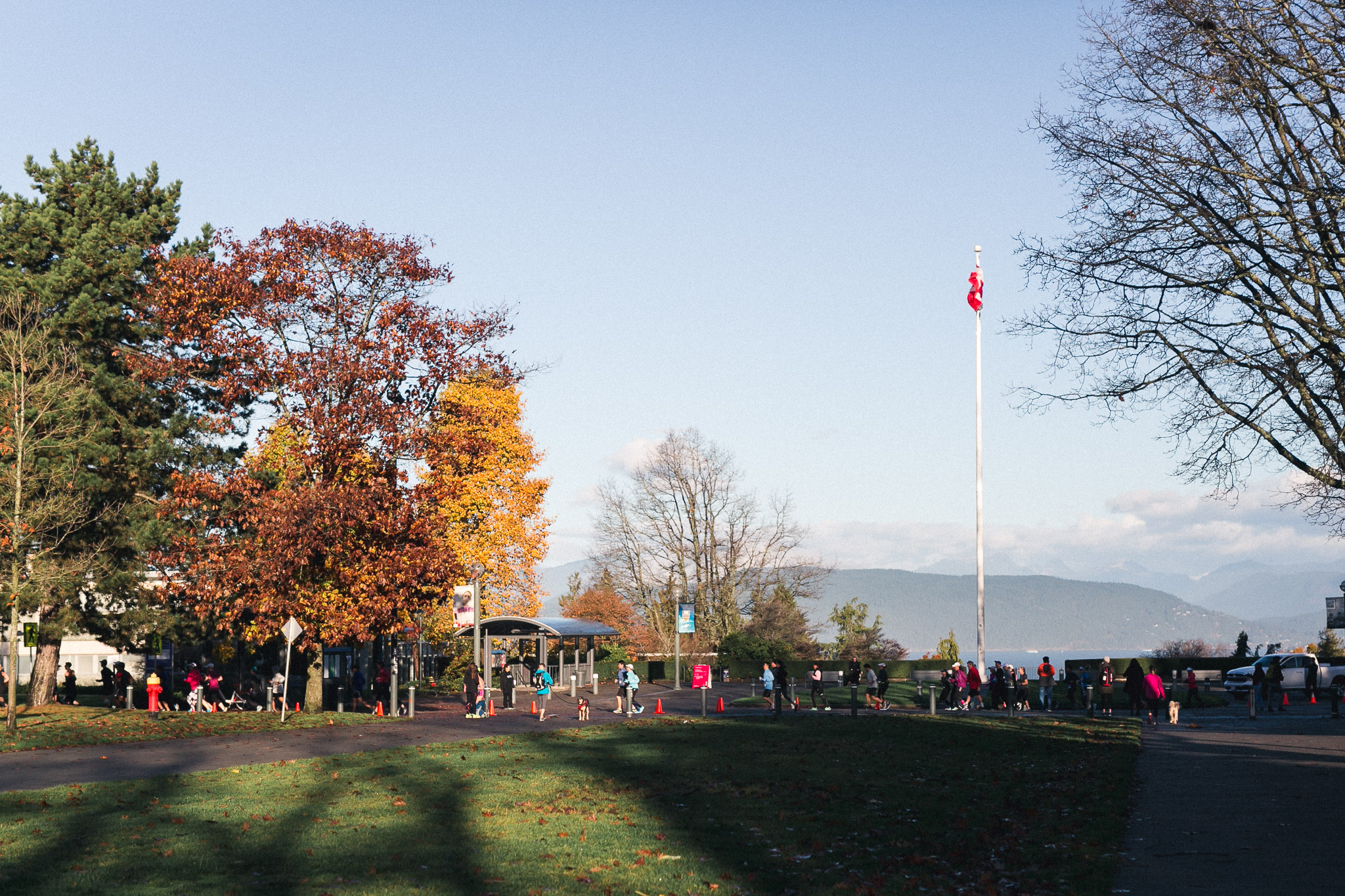 UBC is the largest neighbourhood on the BMO Vancouver Marathon course, with runners venturing through approximately 9KM. UBC is also home to Vancouver's famous Wreck Beach, a gorgeous, clothing-optional sandy stretch where locals go to sunbathe during the warm summer months. From here on out it's all shoreline views for Marathon runners.
Featured on the BMO Vancouver Marathon and Relay courses, and home of the Great Trek Half Marathon, 10KM and 5KM.
Pacific Spirit Park
With numerous forested and shoreline hiking trails, beach access, estuary marshes and wooded ravines, Pacific Spirit Park is perfect for a walk, jog or cycle. A local favourite, the park borders the beautiful University of British Columbia (UBC) campus and clothing-optional Wreck Beach on the western edge.
UBC Botanical Garden
Founded in 1916, the Botanical Garden contains over 8,000 types of plants from around the world, an alpine garden, food garden, and physic, medicinal garden. The site's main feature includes an Asian garden called the Nitobe Memorial Garden and is considered to be one of the most authentic Japanese gardens in North America. The garden is open daily from 10am to 4:30pm. Learn more
Beaty Biodiversity Museum
A natural history museum located on the UBC campus, the Beaty Biodiversity museum features collections of over two million specimens, including the Cowan Tetrapod Collection, the Marine Invertebrate Collection, the Fossil Collection, and more. Open Tuesdays to Sundays, the museum is free for UBC students, faculty and staff. Learn more
Chan Centre for the Performing Arts.
Amidst evergreens and rhododendrons, the university's Chan Centre for the Performing Arts hosts university classes, rehearsals and performances for different UBC departments, as well as yearly performing arts for the general public. Performances range from classical recitals and jazz concerts to avant-garde theatre and opera productions, to folk and world music. Learn more
LaPower Running Club
With several chapters around the Metro Vancouver area, LaPower Running Club has almost 1,000 members across the city of all ages. The club's Vancouver chapter meets every Wednesday at 7pm at the Rashpal Dhillon Track & Oval out at UBC and holds several events annually. Learn more
Pacific Spirit Loop – 10.4KM
For fans of trail running, Pacific Spirit park offers a network of trails under beautiful evergreen trees, including Cedar, Hemlock, Douglas Fir and Sitka Spruce.