Run West End
Vancouver Neighbourhoods
West End
Surrounded by beaches, Stanley Park, and the business district of downtown, the West End is a highly populated residential area with great attractions for both locals and visitors. With Vancouver's prime shopping street, picturesque sandy stretches, and an array of dining options, the West End offers many entertainment options and beautiful sights.
Dating back to 1862, the development of the Canadian Pacific Railway brought many residents and immigrations to the area. By the late 1800s, the neighbourhood had quickly evolved to create the diverse and densely populated area known as the West End.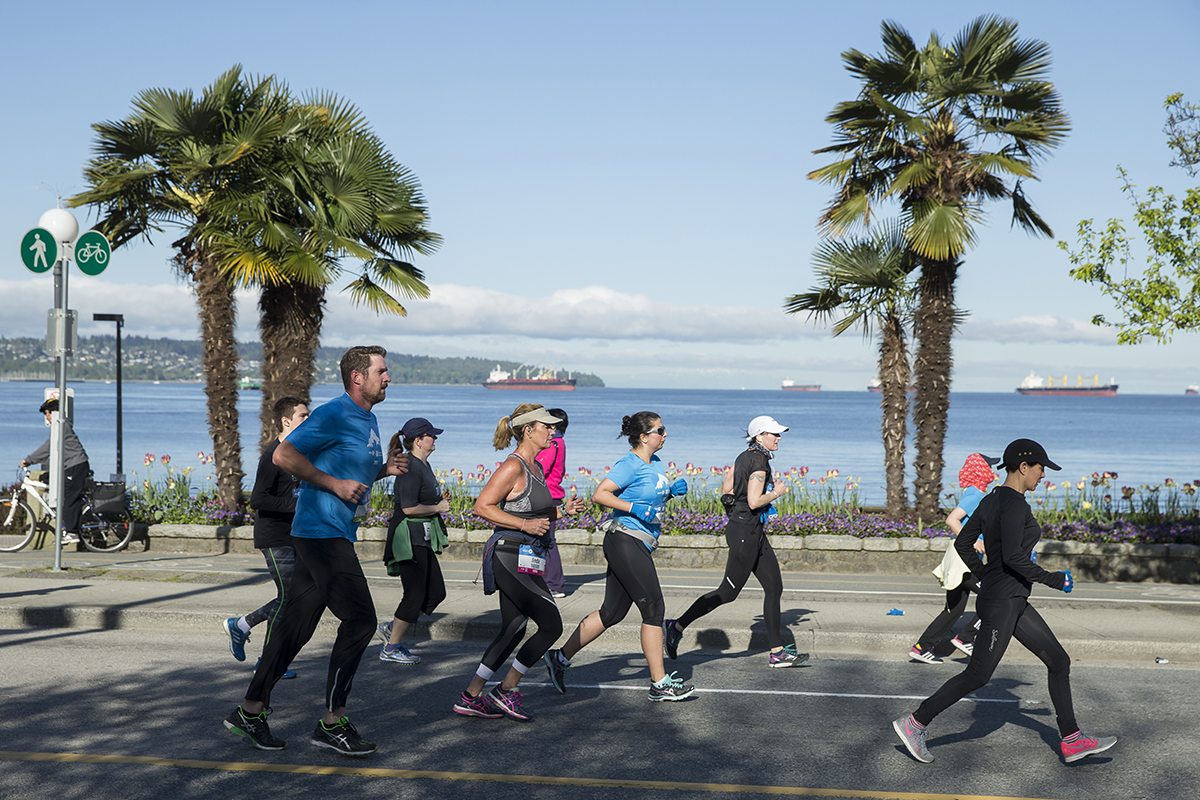 Today, many high-rise condominiums are seen along the shoreline. The Seawall links residents to the area's various cafés, restaurants, beaches and the entrance to Stanley Park. Robson Street, the city's high-end retail and consumer district and David Village, a hub for the city's LGBTQ community, are two vital areas within the West End. Each summer, the neighbourhood hosts numerous block parties and events, including the annual Vancouver Pride Parade and the Celebration of Lights fireworks.
A prominent part of the First Half, BMO Vancouver Marathon, Half Marathon, and Relay courses, the West End is a local favourite for runners. The First Half passes through along its out-and-back course from KM 3 to 5 and again from KM 18 to 20. The BMO Vancouver Marathon, Half Marathon and Relay courses cut through this waterfront neighbourhood on route to Stanley Park and the Finish Line.
Featured on the First Half, BMO Vancouver Marathon, Half Marathon, and Relay courses.
English Bay
Located near Denman and Davie Streets, English Bay is the most populated beach in the Downtown Vancouver area. Just a short walking distance from the Stanley Park entrance and along the famous Seawall, English Bay is characterized by a never-ending stream of walkers, runners, cyclists, and rollerbladers passing by. The Stanley Park Seawall, a popular running and biking route, runs along the east side of the beach.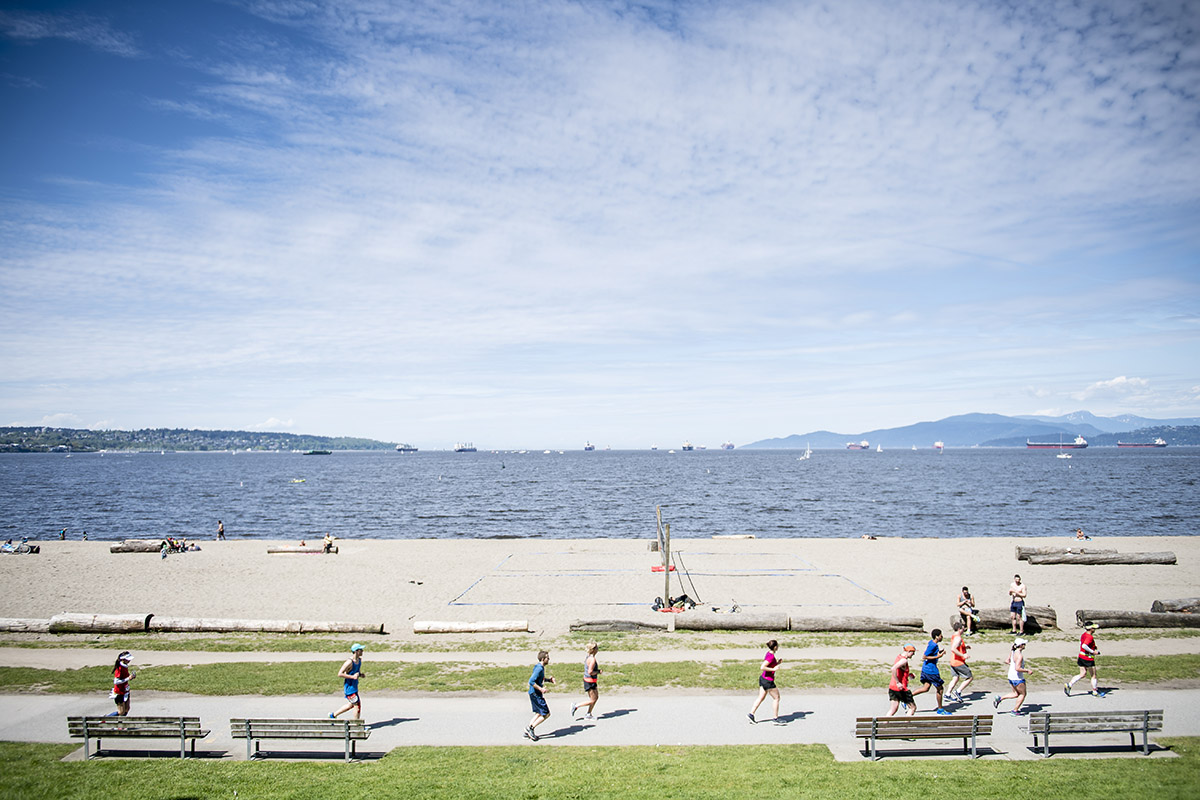 Sunset Beach
Like the name suggests, Sunset Beach is an excellent spot for catching a stunning Vancouver sunset. Just west of the Burrard Street Bridge, the beach is also just steps away from the Vancouver Aquatic Centre and the False Creek Ferry pier.
Inukshuk
Constructed by Canadian artist Alvin Kanak, the Inukshuk at English Bay was commissioned by the government of the Northwest Territories during Expo 86 and later gifted to the City of Vancouver. The Inukshuk is recognized as an ancient symbol of the Inuit culture and represents northern hospitality and friendship.
The A-maze-ing Laughter Sculpture
Done by contemporary Chinese artist Yue Minjun, the A-maze-ing Laughter sculpture is composed of 14 bronze statues portraying the artist's own image "in a state of hysterical laughter". Created as part of the Vancouver International Sculpture Biennale, this public art piece was donated to the City of Vancouver in 2012. Located near English Bay, the sculpture is a classic photo backdrop for visitors.
Mile2Marathon
Founded by Olympians Dylan Wykes & Michael Woods, Mile2Marathon offers coaching from a team of professional athletes. Although the club hosts several events each week, they meet every Wednesday at 6:30pm and occasionally leave from Sunset Beach. Runners can attend their first M2M training session for free; each clinic after has a $7.50 drop-in fee. Learn more
Vancouver Falcons Athletic Club
A competitive running club in Vancouver, the Vancouver Falcons Athletic Club was formed in 1987 and is an affiliate of BC Athletics. The club meets every Thursday at 6:45pm at various locations in Stanley Park, although many runners leave their gear at the Denman Running Room. Drop-ins are allowed for a small fee of $15, or runners can apply for a yearly membership. Learn more