Run Yaletown
Vancouver Neighbourhoods
Yaletown
Along with Chinatown, Strathcona, Downtown Eastside and Gastown, the neighbourhood of Yaletown is one of the five oldest in Vancouver. Now one of the most densely populated districts of Vancouver, Yaletown began as an industrialized area during the 1900s. Like many other neighbourhoods in the city, the Canadian Pacific Railway played a major role in the origin of Yaletown. The name of the area came about when the railway repair shops and the workers moved to Vancouver from Yale. Close access to the water and the railway company spurred the growth of many factories and warehouses in Yaletown during the 1900s.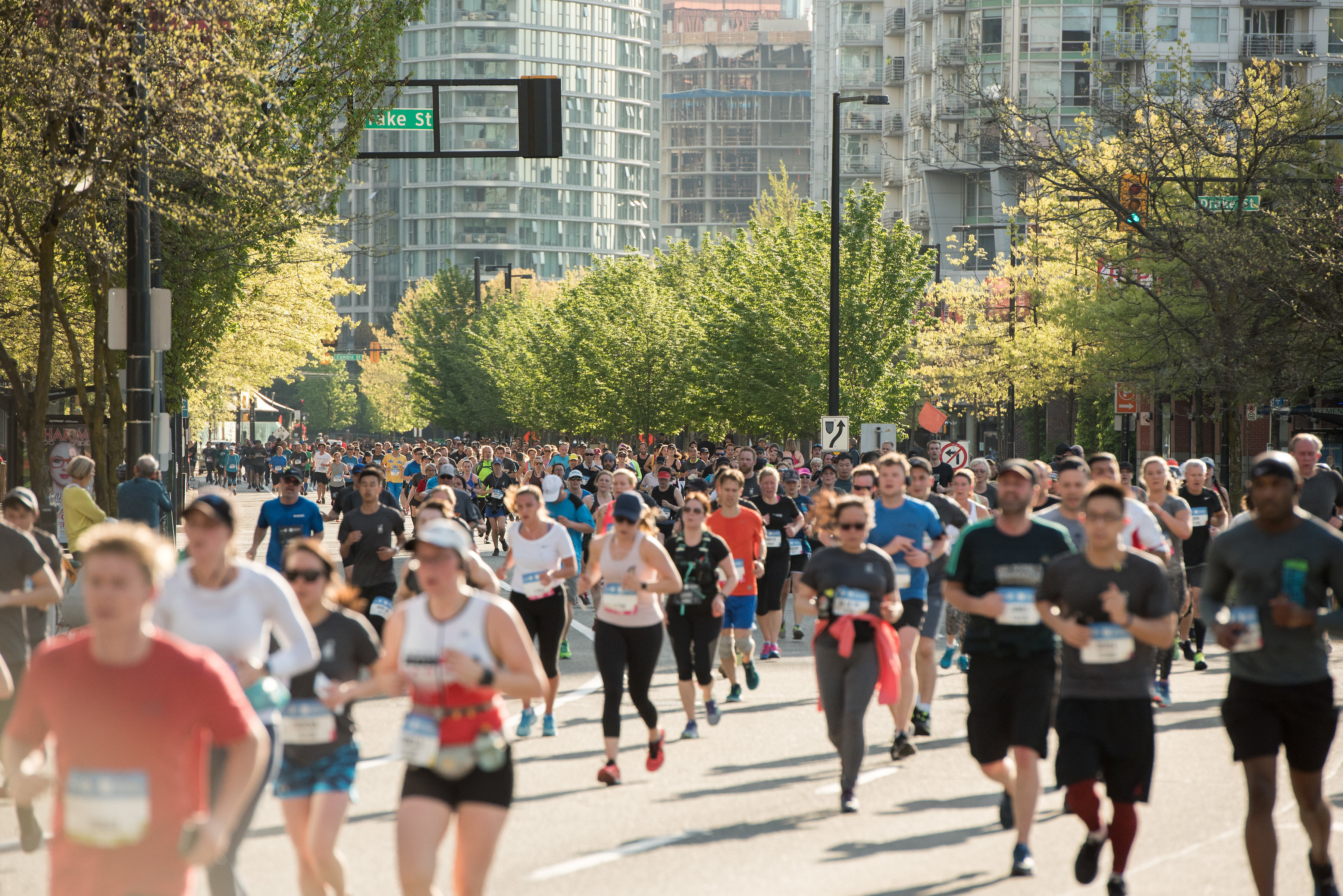 Yaletown began to transform into the current combination of high-rise condominiums and historical brick houses after Vancouver hosted Expo '86. With new apartments overlooking the marina, easy access to public transportation, and trendy cafes along the streets, Yaletown is now a popular hub for people to live, work, and play. In recent years, tech start-ups have gathered in this area, occupying room in the restored brick houses.
Home of the First Half Start and Finish Line, runners have the perfect opportunity to take in the architectural blend of the past and current times of Yaletown. Furhter, runners in the BMO Vancouver Half Marathon experience 2KM of the bustling streets of this rapidly growing neighbourhood, while the Granville Island Turkey Trot course passes through the Yaletown portion of Vancouver's famous Seawall before continuing along False Creek.
Featured on the First Half, BMO Vancouver Half Marathon and Granville Island Turkey Trot 10KM courses.
Roundhouse Community Centre
The primary site of the First Half, the Roundhouse Community Centre was built from the last buildings of the CPR railyards and even features a restored historic steam engine, the Engine 374. – the locomotive that pulled the first trans-continental passenger across Canada and into Vancouver in 1887. The Roundhouse hosts numerous events each year. Learn more
David Lam Park
A relaxed green space in Yaletown, David Lam Park is a family-friendly spot along the Yaletown portion of the Seawall. The park hosts several events each year and is easily accessible by the Canada Line and False Creek Ferry.
Vancouver Frontrunners
An inclusive group of runners and walkers of all abilities, the Vancouver Frontrunners provides a safe and friendly environment for the LGBTQ2+ community. The crew meets every Wednesday at 6:30pm at Roundhouse Community Centre and offers both a running and walking group. Learn more