Run Chinatown
Vancouver Neighbourhoods
Chinatown
One of the largest historic Chinatowns in North America, Vancouver's Chinatown dates back to the mid-1800s. Developed in 1866, Chinatown is one of Vancouver's five oldest neighbourhoods with its first residents immigrating to Vancouver to work on B.C.'s railroads and in the coalmines and sawmills.
By 1890, there were over 1,000 members of the Chinatown community and in 1911, Vancouver's Chinatown became the largest Chinese settlements in Canada.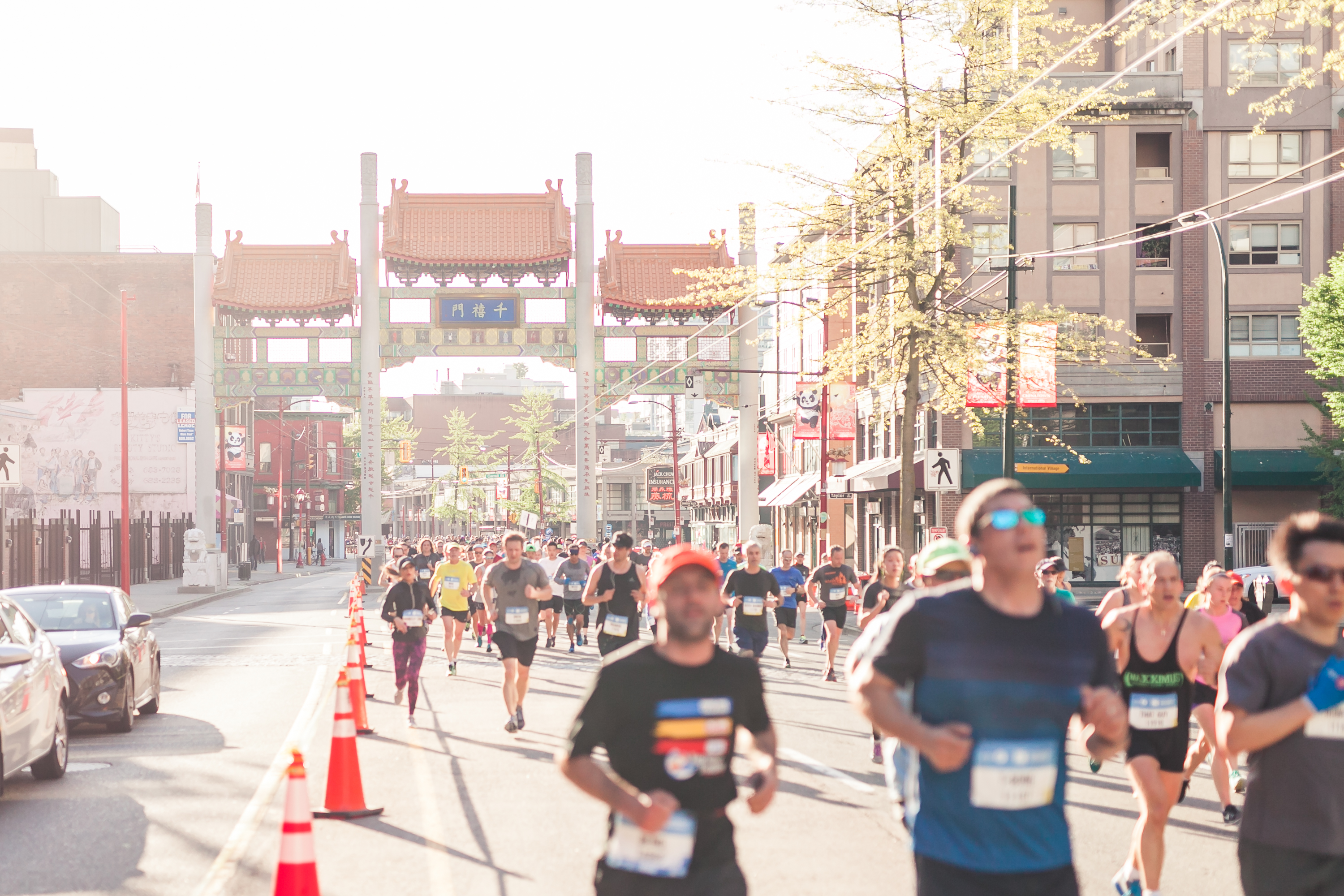 Today, this historic neighbourhood is a vibrant community representing proud Chinese culture and urban renewal. Home to traditional restaurants and family-owned markets, Chinatown is known for its diverse food scene which includes Asian bakeries, dim sum restaurants, and hip cocktail bars. Chinatown annually hosts annual Chinese New Year parades with over 3,000 performers in January/February, drawing thousands of spectators to this cultural event.
BMO Vancouver Half Marathon runners travel through 1.5KM of Chinatown, taking in the rich heritage buildings, authentic markets, and passing through the famous Chinatown Millennium Gate, which was built for the city's Golden Jubilee. Though short, Chinatown remains a captivating, distinct section of the 21.1KM journey.
Featured on the BMO Vancouver Half Marathon course.
Dr. Sun Yat-Sen Classical Chinese Garden
The first Chinese garden built outside of China, the Dr. Sun Yat-Sen Garden employs philosophical principles of Feng shui and Taoism, and is an authentic representation of the Chinese Ming Dynasty era. A cultural gem in the city, the gardens offer covered walkways and beautiful pavilions and feature a jade green pond, koi fish, and a collection of 150-year old trees imported from China. Entry is free to the Dr. Sun Yat-Sen Park, but a small admission fee is required to visit the Dr. Sun Yat-Sen Classical Chinese Garden. Learn more
Wok Around Chinatown (Tour)
A guided culinary and cultural walking tour, A Wok Around Chinatown is a fun way to get to know the colourful history of Chinatown. Starting at the Dr. Sun Yat-Sen Classical Chinese Garden, the tour takes visitors on an exciting tour around the hidden restaurants and establishments loved by locals. Learn more