Run Downtown
Vancouver Neighbourhoods
Downtown
With its scenic views, mild climate and electric west coast vibe, Vancouver is known as one of best places to live. Downtown Vancouver is the city's most cosmopolitan areas consisting of a number of diverse and iconic neighbourhoods.
Downtown is bounded by the Burrard Inlet to the north, False Creek, and the popular district of Yaletown to the south. The West End neighbourhood and world-renowned Stanley Park are to the west and the historic districts of Gastown and Chinatown are to the east. Downtown Vancouver is home to the financial and entertainment districts, sports venues, and several vibrant residential communities.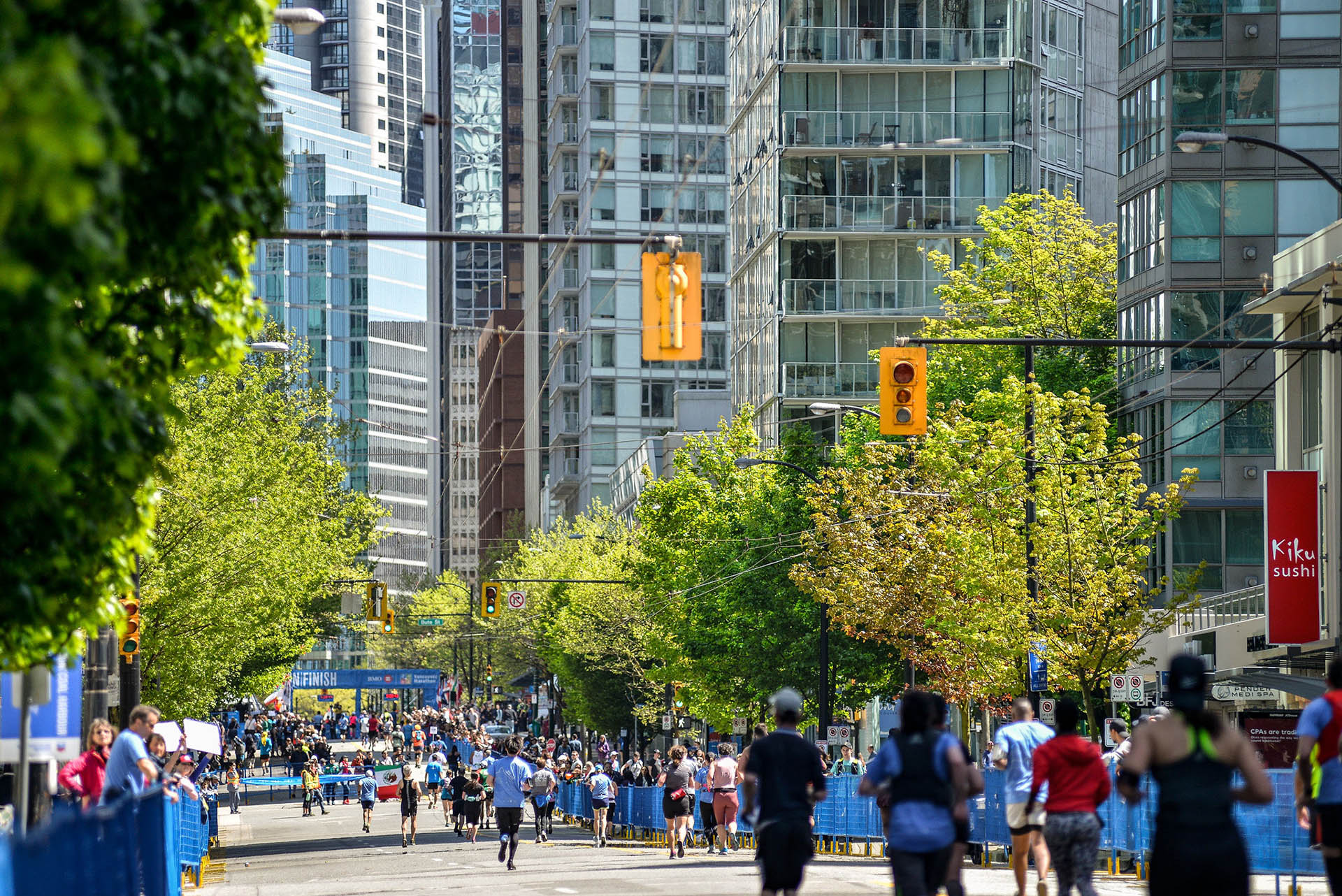 The city's financial district, located near West Hastings and Burrard streets encompasses 60% of the region's office space. It is home to headquarters of forest products and mining companies as well as branches of national and international banks, accounting and law firms, malls, and luxury hotels.
The downtown core also contains the city's major sporting facilities, Rogers Arena and the BC Place Stadium. The NHL's Vancouver Canucks play at Rogers Arena, while the CFL's BC Lions and the MLS's Vancouver Whitecaps FC use the neighbouring BC Place Stadium.
Downtown Vancouver's picturesque setting is unique to many other city centres. With a coastal mountain backdrop and waterfront on all sides, BMO Vancouver Marathon, Half Marathon, 8KM and Relay runners enjoy a total of 10KM through Downtown, while the First Half takes place entirely Downtown.
Runners are able to reconnect with friends and family at the Finish Line Street Festival on West Hastings. The Street Festival celebration features food trucks, various vendors, live entertainment, and a fun, festive atmosphere!
Featured on the First Half, BMO Vancouver Marathon, Half Marathon, 8KM and Relay courses.
Vancouver Lookout
The Vancouver Lookout, sitting atop Harbour Centre, offers spectacular 360º panoramic views of the city and a 40-second ride in a glass elevator. From 160.0m up in the air, visitors can take in stunning views of Stanley Park, the North Shore Mountains, the downtown Vancouver landscape, and more. Tickets are valid all day so enjoy the bright daytime views and return for the city lights. Learn more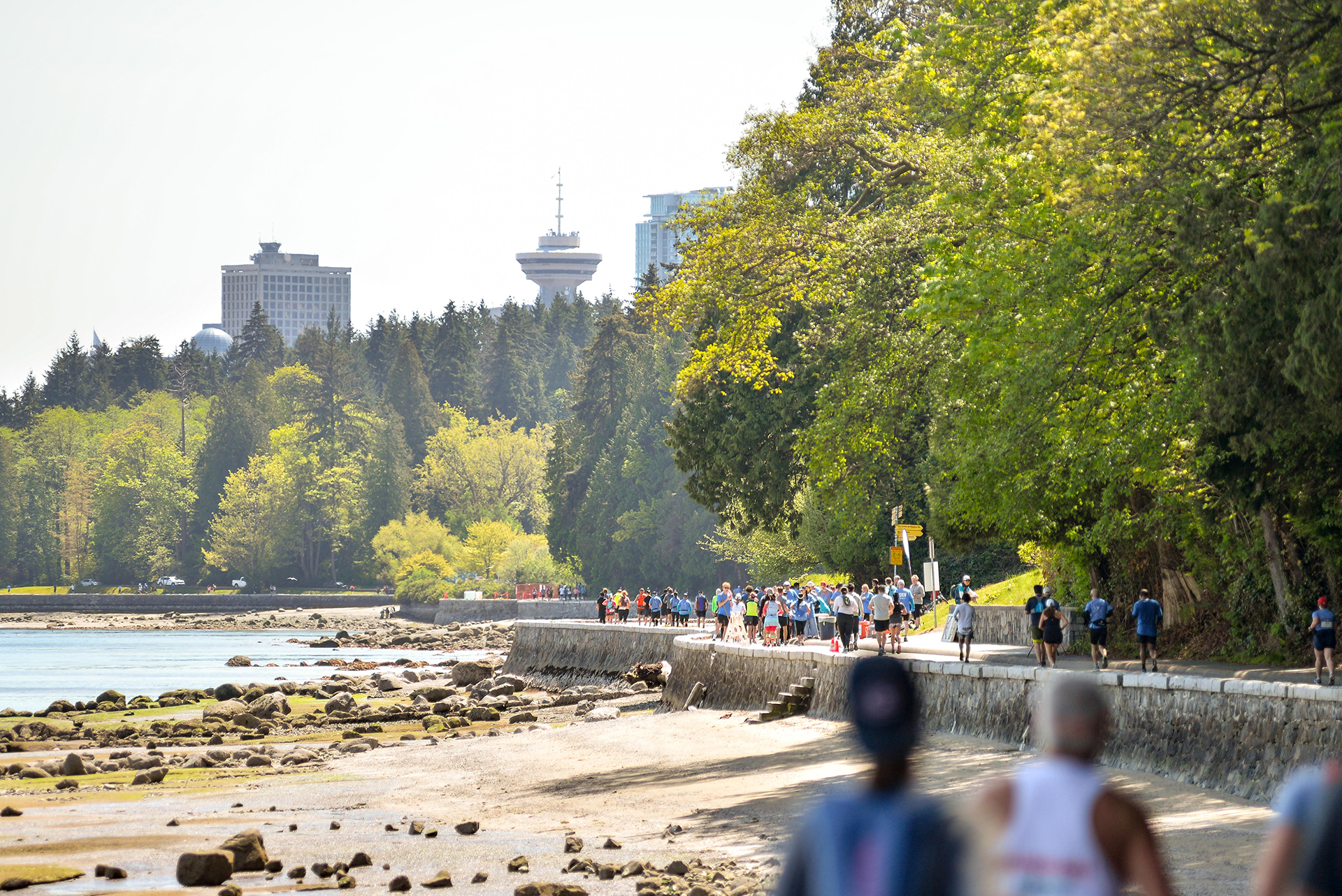 Vancouver Art Gallery
The fifth-largest art gallery in Canada, the Vancouver Art Gallery promises an awe-inspiring experience. Featuring historic masterworks and ground-breaking contemporary exhibitions, the Gallery is home to the world's largest collection of works by Canadian artist Emily Carr and over 200 major works by the Group of Seven, Harry Callahan and Marc Chagall. The gallery offers admission by donation on Tuesday evenings and is open daily. Learn more
Bill Reid Gallery of Northwest Coast Art
The only public gallery in Canada dedicated to contemporary Indigenous Northwest Coast Art, the Bill Reid Gallery presents special exhibitions and programs that build bridges between all peoples. Their mandate is to promote a greater awareness of Indigenous cultures and values. Also open daily, the gallery offers free exhibition tours with the price of admission. Learn more
Robson Square
A small, civic plaza, Robson Square is the site of the Provincial Law Courts, UBC Robson Square, government office buildings, and the Vancouver Art Gallery. Featuring a skating rink underneath, Robson Square is a popular spot for locals in the winter months, however the rink turns into a site for free dancing in the summer.
RUNVAN® Club
Meeting every Thursday morning at 6:30am, the RUNVAN® Club is hosted by the Vancouver International Marathon Society and takes off from the Fairmont Waterfront Hotel. Free for all to join, simply meet in the hotel lobby in your run gear! Runs last approximately 45 to 60 minutes or about 6KM to 8KM, taking runners on routes all around Stanley Park, the Seawall, and through the streets of Downtown. Learn more
RYU Thurlow Run Club
Runners of all levels are welcome at the RYU Thurlow Run Club, which meets every Monday from 5:30pm at the RYU Thurlow store. While no registration is necessary, a minimum $5 donation is suggested with all proceeds being donated to Right to Play. Learn more
Vancouver Frontrunners
An inclusive group of runners and walkers of all abilities, the Vancouver Frontrunners provides a safe and friendly environment for the LGBTQ2+ community. The crew meets every Saturday at 9:00am at Brockton Oval and offers both a running and walking group. Learn more
Explore Downtown – 10.08KM
This beautiful run takes you through 3 of Vancouver's iconic neighbourhoods – Coal Harbour, Gastown and Yaletown – while running along the breathtaking seawall and passing some of Vancouver's best restaurants and bars! Be sure to stop by for a photo or two and end your run with some delicious food in one of the many restaurants in Gastown.
Stanley Park Seawall – 10.2KM
One of the most iconic parks in Vancouver, Stanley Park has a whole host of running paths and trails! This run takes you around the park along breathtaking water views for a very relaxing run.