Run False Creek
Vancouver Neighbourhoods
False Creek
A waterfront community, False Creek is a historic Vancouver neighbourhood bordering the inlet separating downtown from the rest of Vancouver. Discovered in the mid-1850s, False Creek was named by a British surveyor who was disappointed to find out that the "creek" did not connect to Vancouver's harbour, and was instead a small inlet. False Creek was industrialized during the early 1900's, with several sawmills and factories. The area was undertaken by the city as an urban renewal project during the 1980's in preparation for the Expo 86.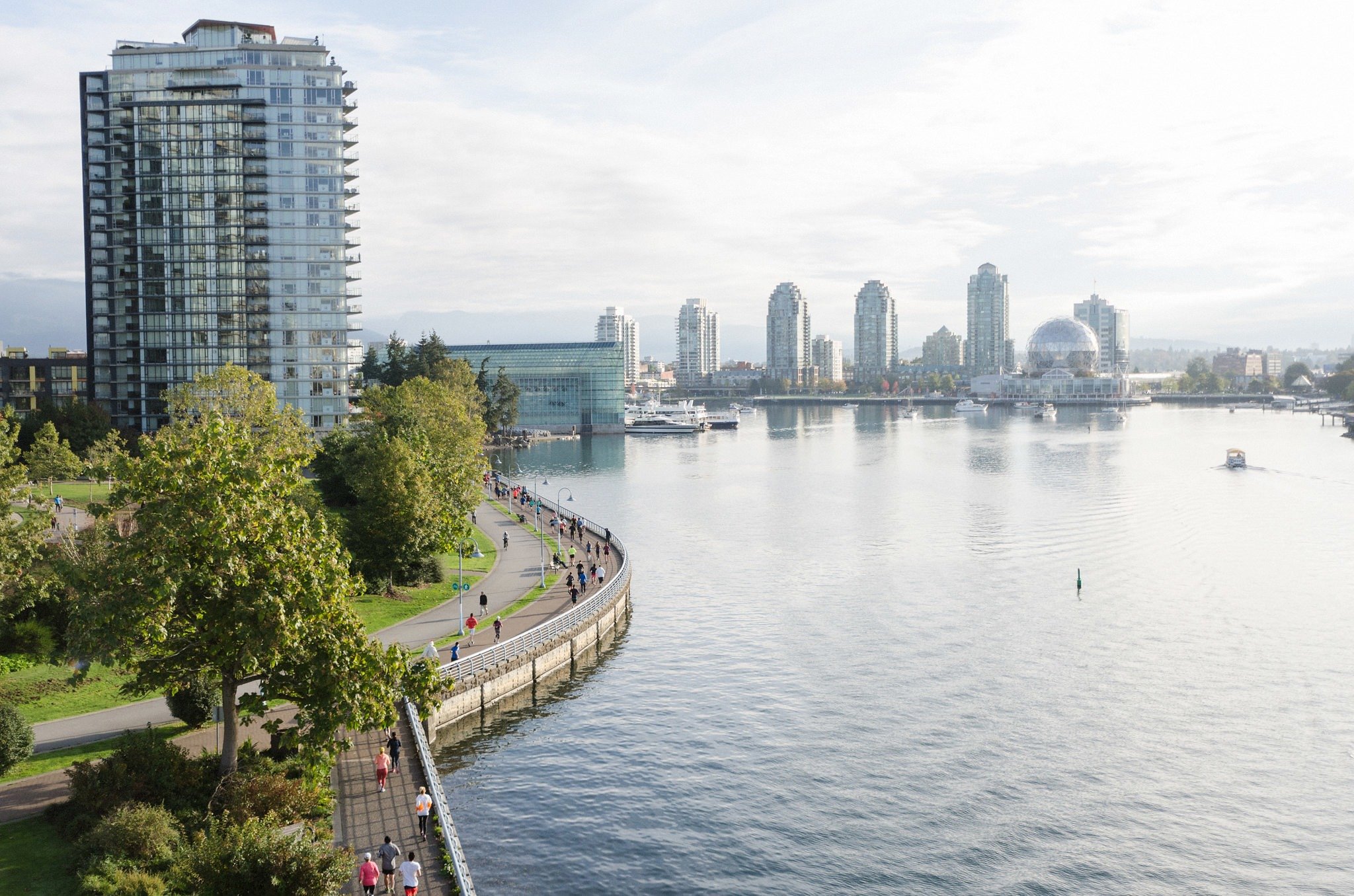 Located in the heart of Vancouver, False Creek is now a residential area with a popular boating hub and a transportation route for many locals and tourists. High-rise apartments line the north shore of False Creek, while Science World and the 2010 Winter Olympics Athlete's Village are located southeast. Canoes and kayaks can be seen on the waters, with paddling events, such as the Canadian International Dragon Boat Festival, taking place during the summer.
For runners, the BMO Vancouver Half Marathon course provides a beautiful 2.5KM stretch of False Creek with a scenic route along the inlet, passing by Science World and BC Place, some of Vancouver's famous landmarks. The Granville Island Turkey Trot course leaves from the iconic Granville Island and largely covers the False Creek Seawall towards Science World before returning to Granville Island. The waterfront apartments, shops, and restaurants along False Creek are a great sight for all runners.
Featured on the BMO Vancouver Half Marathon and Granville Island Turkey Trot 10KM courses.
Science World
Constructed in the 1980s for the Expo 86, Science World at TELUS World of Science is home to interactive displays, feature exhibitions, the OMNIMAX® Theatre and more. Fun for all ages, Science World is open daily and is easily accessible by the Expo Skytrain Line and several bus routes. Learn more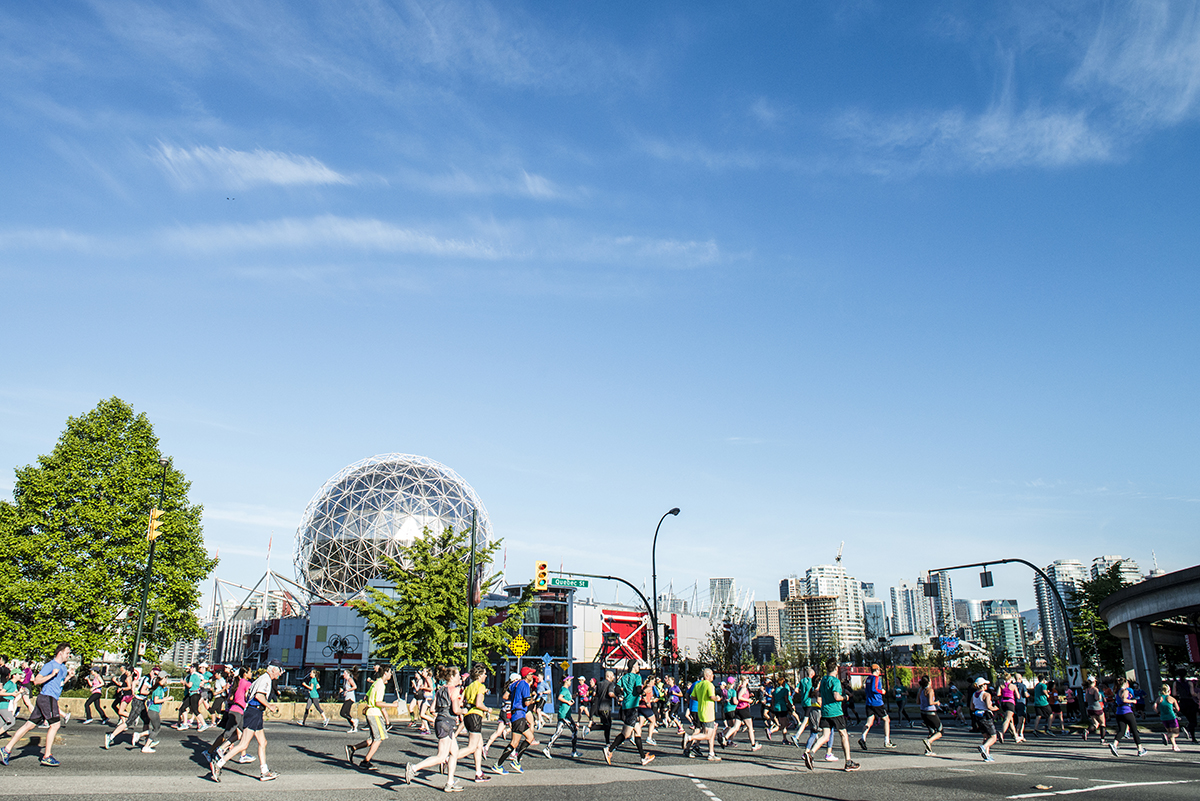 Granville Island
A shopping and arts district in Vancouver and home of the Granville Island Turkey Trot, Granville Island is located on a peninsula underneath the Granville Street Bridge. Granville Island features the popular Granville Island Public Market, a stunning marina, several boutiques, fine art galleries and shopping areas, as well as various performing arts theatres, and the Kids Market. Open daily, Granville Island is easily accessible by the Aquabus, False Creek Ferry, and the #50 False Creek bus. Learn more
BC Place
The third-largest stadium in Canada, BC Place is the home of the Vancouver Whitecaps (Soccer), BC Lions (Football), Canada Sevens (Rugby) the BC Sports Hall of Fame, and hosts several concerts and events annually. Learn more
False Creek Ferries
Operating between nine ferry terminals, False Creek ferries departs from Granville island, Maritime Museum, Yaletown, Stamp's Landing, David Lam Park, the Vancouver Aquatic Centre, Spyglass Place, the Plaza of Nations, and Science World. With small, comfortable vessels, False Creek Ferries offers a scenic trip along the urban waters of False Creek. Learn more
Pacific Road Runners
A recreational running club, the Pacific Road Runners cover a variety of page groups and distances. Meeting every Tuesday and Thursday at 5:55pm at the False Creek Community Centre on Granville Island, PRR also hosts several social events each year. The community centre offers changing rooms with lockers, showers, and saunas that are available for members to use. Newcomers are encouraged to join in on Tuesday nights. Learn more
Pacific Spirit Trail Runners
Primarily a trail running club, the Pacific Spirit Trail Runners are a free run club that meets every Tuesday at 6:30pm and Saturday at 8:30am. Usually leaving from Ranger Station Pacific Spirit Park in Dunbar, the club meets at Creekside Community Centre in Olympic Village in the winter months. Learn more