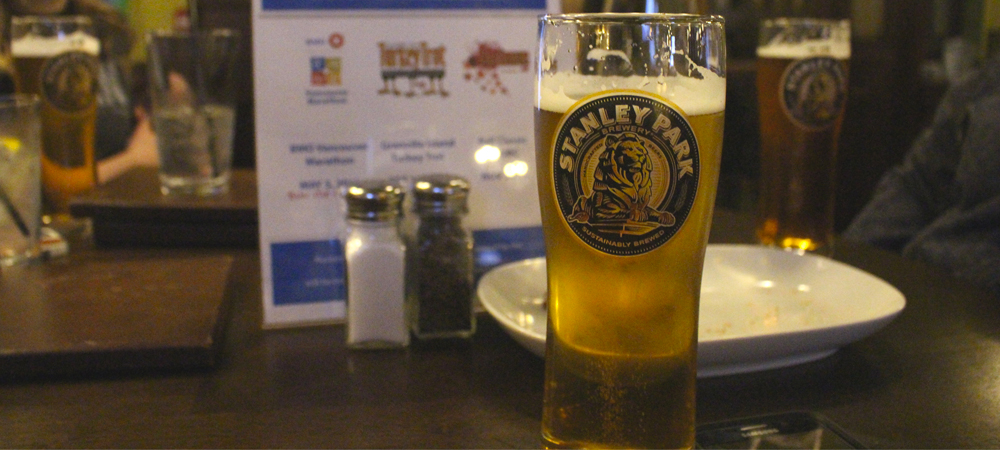 Free Stanley Park Beer at Mahony and Sons for RUNVAN® runners
All BMO Vancouver Marathon, Granville Island Turkey Trot and Fall Classic runners 19+ receive a free Stanley Park Beer when they present their race bib
Vancouver, BC – March, 10 2016 –
Mahony & Sons will pour all 2016 BMO Vancouver Marathon runners of drinking age a free Stanley Park Beer anytime during the month of May when they show their race bib. Runners 19+ will be able to enjoy the same great benefit when they register for the Granville Island Turkey Trot in October or Fall Classic in November.
Vancouver's favourite Irish pub, Mahony & Sons, voted Best Pub Fare by Where to Dine Vancouver, has a downtown location at Burrard Landing, on the Seawall at Stamps Landing, and right on the UBC Campus. With three locations next to RUNVAN® Finish Lines, it is easy for runners to redeem their complimentary beer.
"Free beer was a hit last year, and we are thrilled to offer this exciting benefit to runners of all of our RUNVAN® races again thanks to Mahony & Sons and Stanley Park Brewery," adds Charlene Krepiakevich, Executive Director of the Vancouver International Marathon Society.
The official pub/restaurant partner for a second year in a row, Mahony & Sons will also supply catering at the BMO Vancouver Marathon Finish Line Hospitality Tent, plus play host to the marathon event's Exhibitor Night and Charity Reception.
"We look forward to welcoming all runners and their adoring fans into our pubs for a celebratory pint," says Mike Mahony of Mahony & Sons. "Mahony & Sons loves being able to reward all athletes with a cold, crisp beer after working up a sweat. It's a great way to celebrate their achievements."
Runners will enjoy other great benefits when racing in the RUNVAN® Race Series including free gift cards, the opportunity to win free entry, free flights, medals, Street Festivals, free Expos, and more.
The RUNVAN® Hat-trick series kicks off with a free three-day Health, Sports & Lifestyle Expo April 28-30, and continues with 8KM, Half Marathon, Marathon Relay and Marathon races at the BMO Vancouver Marathon on May 1, 2016.
The Granville Island Turkey Trot again takes place over Thanksgiving Weekend on October 9-10, and the Fall Classic is November 13, at UBC, featuring 5KM, 10KM and Half Marathon race distances. The non-profit Vancouver International Marathon Society prides itself on offering race distances for everyone.
To learn more, visit runvan.org or the individual websites, turkeytrotrun.ca and fallclassicrun.ca.