RUNVAN® adds 'First Half' Half Marathon from Pacific Road Runners
Vancouver, BC – April 20, 2018 –
Initially established as a build-up to Vancouver's only Marathon, the 'First Half' Half Marathon has come full-circle and will now be organized by the Vancouver International Marathon Society RUNVAN® moving forward, after 30 successful years with the Pacific Road Runners.
The popular February running event actually started in 1988 when the Vancouver International Marathon Society approached Pacific Road Runners with the idea of hosting a Half Marathon as a build-up event to the Marathon. Both the 'First Half' and Vancouver's only Marathon now thrive, but the Pacific Road Runners wanted to pass the event along to another non-profit with the resources, capacity and capability to move its event forward even further.
"We thought it was time to pass along the torch, and it's only fitting that we bring the 'First Half' back to the Vancouver International Marathon Society, another non-profit," shares Race Director Terry Bushnell of the Pacific Road Runners. The event has been entirely organized by volunteers over the years.
"We are excited to see RUNVAN® take the 'First Half' to new heights and to keep supporting runners," adds Bushnell. "I'd like to take this opportunity to also thank everyone for their support of the 'First Half' Half Marathon, which has become a fixture in the local running scene."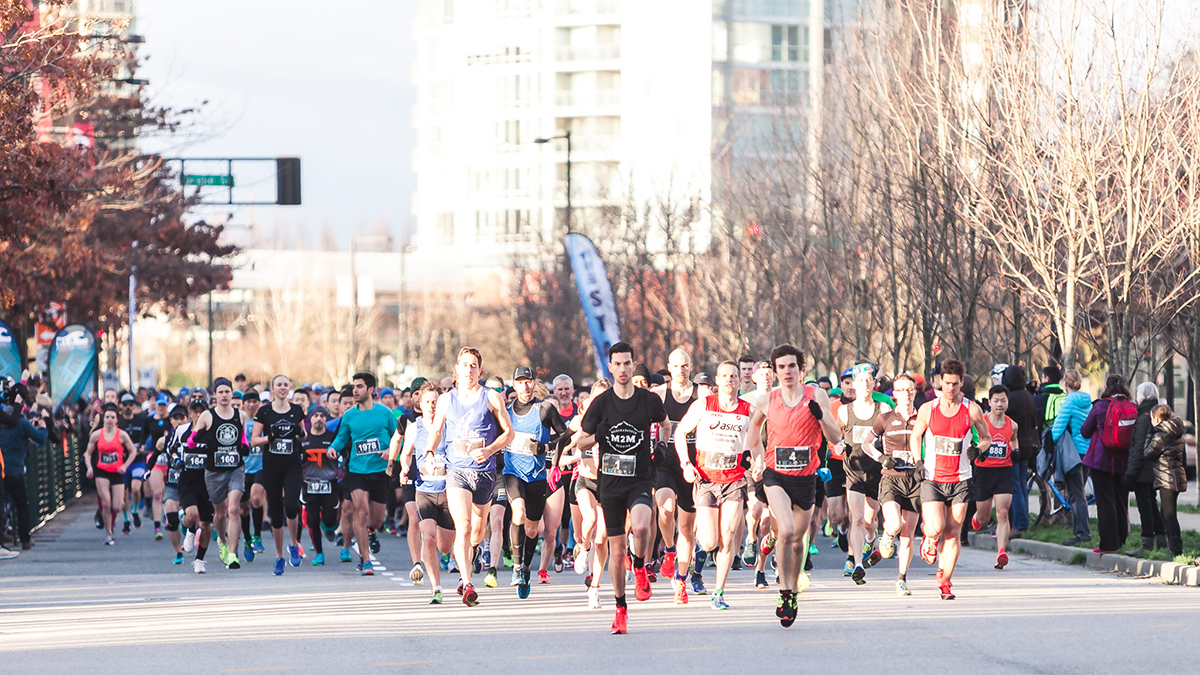 RUNVAN® will continue to honour the event's charitable program which has donated over $800,000 to charities, primarily Variety – the Children's Charity, and will continue other popular services including gear check, on course stations, breakfast and medals, plus support of local Elite Athletes.
"The Pacific Road Runners have done a spectacular job building this event, and we look forward to continuing their success," adds Eric Chéné, RUNVAN® Race Director. "We are keen to support the Vancouver running community, and hosting the 'First Half' in February makes sense for our non-profit – our vision is to be the hub of running in Canada, offering the world's most memorable experiences."
The popular 'First Half' is known to sell-out the same day registration opens. Local runners continue to use the 'First Half' as competitive training for the BMO Vancouver Marathon, and its course previews much of the BMO Vancouver Marathon and Half Marathon routes.
Backed by nearly 4,000 volunteers, RUNVAN® has proven ability to seamlessly transition other events. In 2014, RUNVAN® acquired the local Granville Island Turkey Trot, and the Fall Classic, both of which now annually sell-out and are coming off of record-breaking years.
RUNVAN® now annually organizes four marquee Vancouver running events:
'First Half' – Half Marathon – February
BMO Vancouver Marathon – Marathon, Half Marathon, 8KM, Relay, Kids Run – May
Granville Island Turkey Trot – 10KM, Kids Run – October
Great Trek – Half Marathon, 10KM, 5KM – October
RUNVAN® has a mission to deliver premiere running events that inspire active lifestyles and invite the world to experience Vancouver. Learn more at runvan.org.