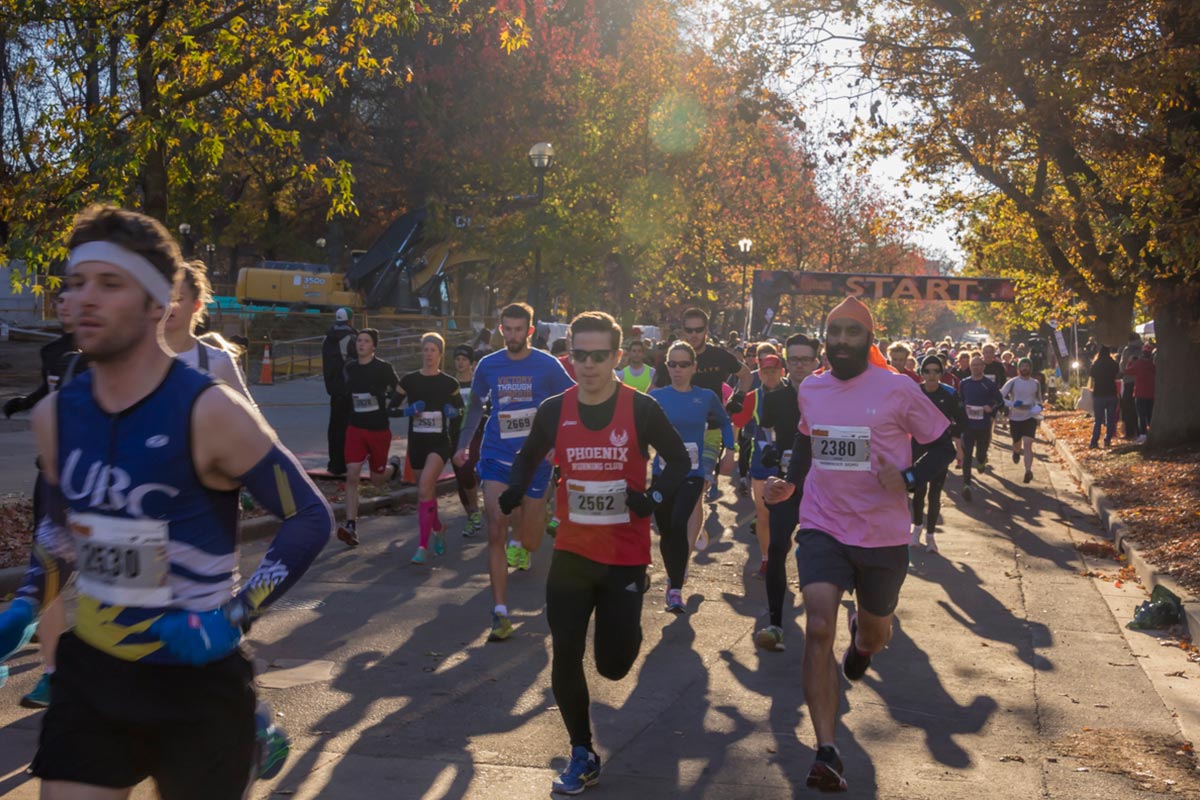 Fall Classic Half Marathon over 95% sold out                                                                                                                                                                       High demand for Vancouver's last great run of the year 
Register Now for Fall Classic!
Vancouver, BC – November 2015 – The Fall Classic Half Marathon has already reached over 95% capacity, and organizers are predicting a sell-out for the November 15th, 2015 event. Space is also filling up fast for the 5KM and 10KM distances. All three events take place at UBC on a fun and fast course with a great race atmosphere and spectacular scenery.
"The Fall Classic has new race offerings, which has attracted more and more people from the community," says Charlene Krepiakevich, Executive Director of the Vancouver International Marathon Society, the non-profit responsible for organizing the annual BMO Vancouver Marathon, Granville Island Turkey Trot, and Fall Classic Run. "It's amazing to have such a diverse group of runners come together in Vancouver to celebrate their love of running and passion for healthy living."
Like all Society races, participants of the Fall Classic Run at UBC will enjoy fun race day festivities. This year's event will feature live music on course and post race festivities at the new UBC AMS Student Nest with music, food, and age category awards. Race bibs also score runners a complimentary Stanley Park Beer at Mahony and Sons.
Now in its 27th year, the Fall Classic Half Marathon will kick-off from UBC campus at 8:30am, while the 10KM race gets under way at 10am and the new 5KM race starts at 11am. Both the 10KM and the Half Marathon are capped at 900 runners.
All registered runners will receive:
– Race bib with built-in timing chip
– On-course services including water, toilets and electrolyte
– Free Expo with great merchandise, and gear check
– Food, drinks, music, awards and post-race celebrations
– Complimentary Stanley Park Beer valid at Mahony and Sons
– $20 gift card from Forerunners valid on New Balance product
– $200 e-coupon from BikeHike Adventures
– Chance to win free flights for two from Vancouver to Tokyo courtesy of Japan Airlines
– Free RUNVAN® Gloves from the Vancouver International Marathon Society
– Finisher's Medal
– Also, participants who run all three RUNVAN® events in 2015 will score a RUNVAN® Hat-trick and receive a commemorative tech shirt.
From ocean-side and mountain views, to the bustling UBC campus, participants of the Fall Classic Run at UBC experience a beautiful backdrop topping off a great running calendar year.
"We are extremely proud to grow our great community events as a non-profit, volunteer-based organization," adds Krepiakevich. "We are happy with the success of the Granville Island Turkey Trot, and we are excited to carry that success over to the last great run of the year, the Fall Classic at UBC on November 15th. We strive to offer a great race experience and value added benefits from our many partners."
The non-profit, Vancouver International Marathon Society also organizes the BMO Vancouver Marathon which is set to celebrate its 45th anniversary on May 1st, 2016. Excitement is already building for this as well.
"The Marathon race remains our marquee event; however, we now have races for everyone and encourage all to join in," says Krepiakevich.
For more information and to register for the Fall Classic 5KM, 10KM, or Half Marathon, visit FallClassicRun.ca