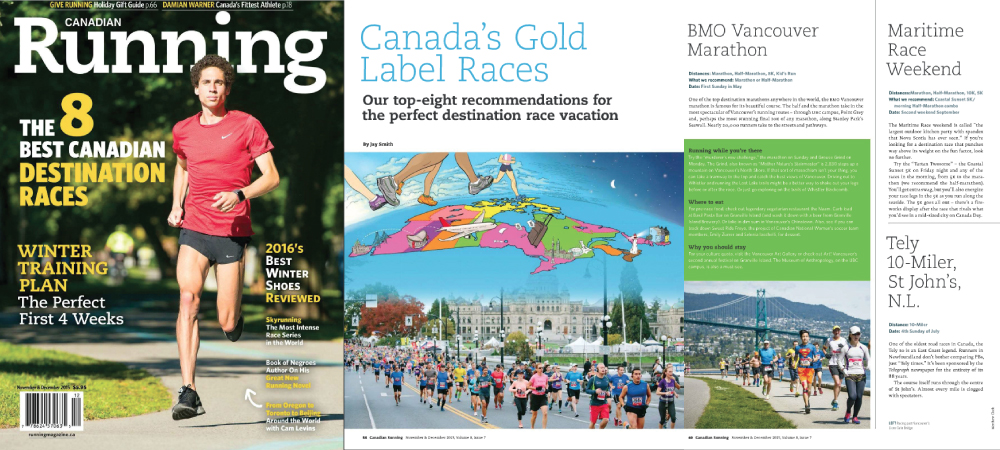 Ranked by Canadian Running Magazine as one of "Canada's Gold Label Races"
Vancouver BC – November 26th, 2015 – Canada's national running magazine has named the BMO Vancouver Marathon one of "Canada's Gold Label Races". Canadian Running Magazine selected the BMO Vancouver Marathon as a top-eight "perfect destination race vacation" and is the only race to make the list from Vancouver, BC.
Our vision is to create a race weekend that showcases the spectacular city of Vancouver and the amazing community support that we receive each year," says Charlene Krepiakevich, Executive Director of the Vancouver International Marathon Society, organizers of the event. "From thousands of raving spectators along the course, our amazing crew of 4,000 volunteers, and to the three-day Expo on the waterfront at the Vancouver Convention Centre West, athletes and their families from around the world will be able to understand why the BMO Vancouver Marathon is so special when they participate next May."
The top ranking adds to the list of awards both the BMO Vancouver Marathon and the City of Vancouver have received over recent years. Ranked by Forbes, CNN and USA Today as one of the world's best destination marathons, the most recent BMO Vancouver Marathon attracted international runners from over 50 countries.
"One of the top destination marathons anywhere in the world, the BMO Vancouver Marathon is famous for its beautiful course," writes Canadian Running Magazine. "The half and the marathon take in the most spectacular of Vancouver's running routes – through UBC campus, Point Grey and, perhaps the most stunning final 10K of any marathon, along Stanley Park's Seawall."
Set to celebrate its 45th anniversary on May 1st, 2016, the BMO Vancouver Marathon has grown into one of Canada's greatest running events with races for everyone including a Marathon, Marathon Relay, Half Marathon, 8KM race, 2.5KM Walk, and Kids Run. With 70% shorelines, snow capped mountains, cherry blossoms, beaches and city parks, the BMO Vancouver Marathon is an unforgettable journey.
For more information about the award-winning BMO Vancouver Marathon and to register, please visit bmovanmarathon.ca.