RUNVAN® returns it regularly scheduled programming with the First Half in February and BMO Vancouver Marathon in May.
The local non-profit event organizers successfully hosted two in-person events in late 2021 with the Granville Island Turkey Trot and Great Trek. With safety as top priority, the organizers made several changes including eliminating access to indoor venues and requiring all participants and volunteers to be fully vaccinated and masked while waiting near the Start and Finish Line.
"Safety is always a top priority at RUNVAN® events," adds Eric Chéné, race director for the non-profit event organizers.
Thankfully there have been no COVID case outbreaks linked to outdoor flow-through events that the organizers are aware of. Further, the non-profit Society believes being active is a great way for individuals to stay both physically and mentally fit.
The events are supported by numerous stakeholders including the City of Vancouver and the Vancouver Parks Board who helped RUNVAN® introduce a new First Half event route this year due to damage along the Seawall caused by the 'King Tide'.
The team now looks forward to an exciting year ahead that will include the First Half this Sunday, the BMO Vancouver Marathon and Half Marathon in May, plus the Granville Island Turkey Trot and Great Trek in October.
It will be the Marathon's special 50th Anniversary, and the 100th Anniversary of the Great Trek.
"As a local non-profit, we're proud to continue these community events that inspire and uplift with so many positive outcomes," adds Chéné, noting the emotion felt at the Finish Line is overwhelmingly positive and inspirational.
The First Half sold-out in just a few days, and Vancouver's only Marathon event is tracking for another record registration year and its largest Marathon field ever. The event dates back to 1972 when Tom Howard led 32 finishers including two females around Stanley Park. Since then, the event has grown to offer races for everyone including a Marathon, Half Marathon and 8KM.
In 2019, the last time the BMO Vancouver Marathon was held live, over 18,000 runners participated from over 65 countries. The event was live streamed in more than 100 countries.
"We're seeing people are excited to stay active," adds Chéné, noting while international numbers may be down this year due to hesitancy and restrictions around travel, interest from national and local athletes is up significantly.
To kick off the year, the First Half Elite Athlete field is stocked with talent including multiple Canadian Olympians in Natasha Wodak, Dayna Pidhoresky, Malindi Elmore, Trevor Hofbauer, Ben Priesner and Lucas Bruchet. Justin Kent joins the field as well.
"We're so excited to kick off the season with the fast First Half and build more opportunities for participants and community to be engaged with healthy, active lifestyles," adds Chéné.
"The First Half offers a chance to run in a beautiful city, race against great competition and start the year off with a great event," says Elite athlete Patrick Sperling.
"Event records may fall," adds former Olympian and Elite Athlete coordinator, Lynn Kanuka. "Hofbauer and Priesner will make the pace go, Bruchet will be in for the kick finish and Kent will be along for the big ride. On the women's side, all three Tokyo Olympic Marathoners are racing!"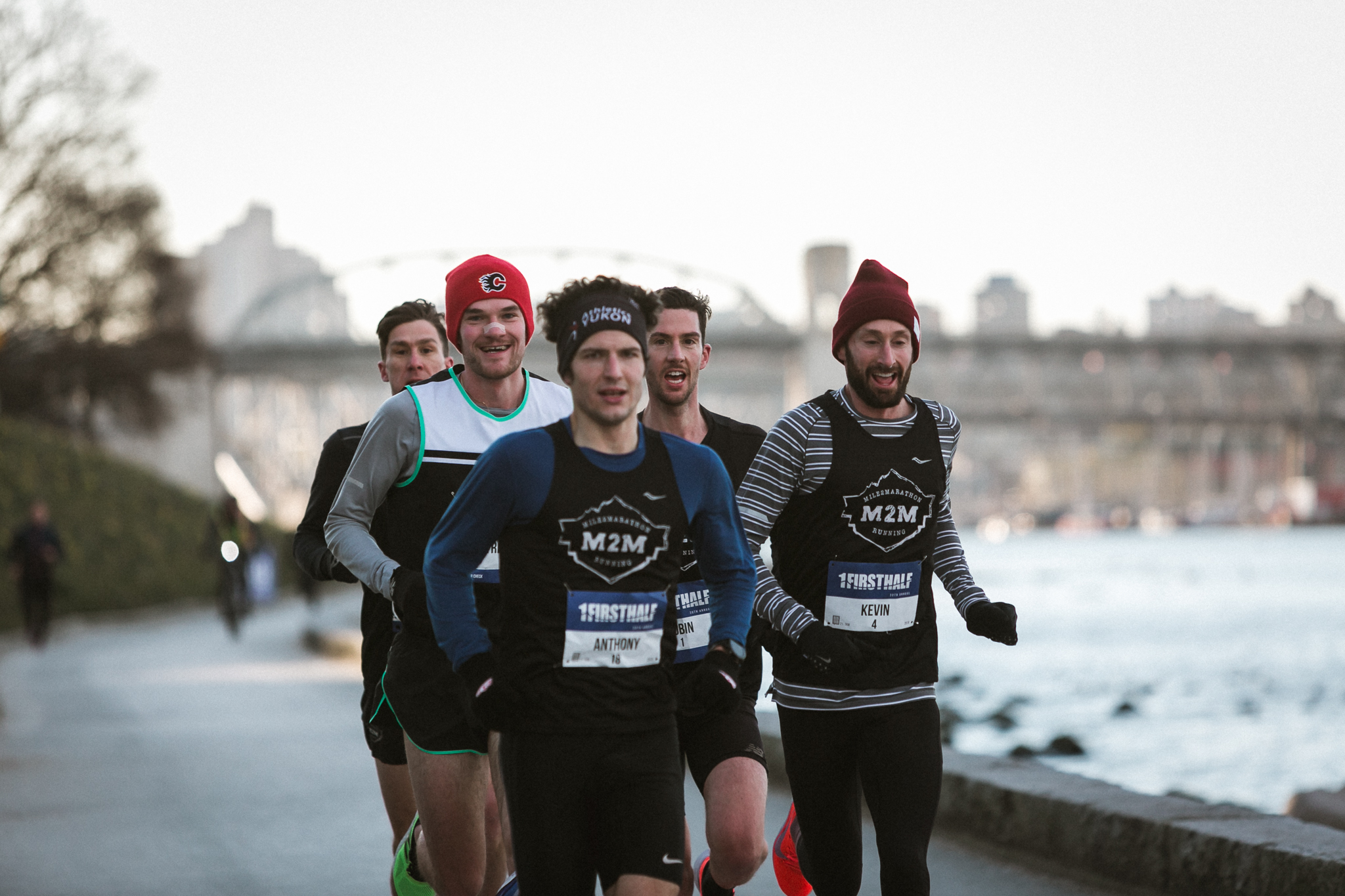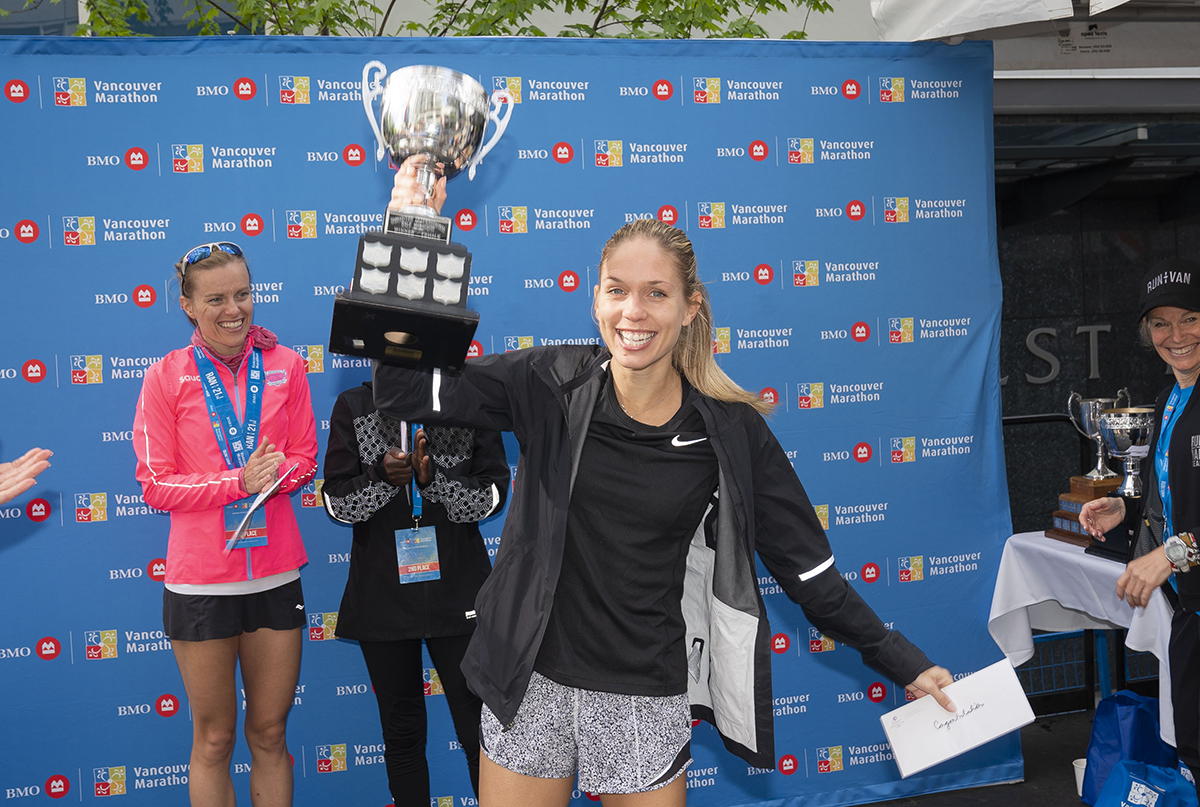 Over 2,000 runners in total will participate in the sold-out event that begins and ends near David Lam Park in Vancouver, BC. Age category awards will go to top overall finishers and the Dan Cumming Memorial Trophy will be presented to the top age-graded finisher.
Participants receive numerous benefits including exclusive technical race shirts and medals. Other bonuses include fun giveaways from partners, including a celebratory Stanley Park Brewing beverage for those of age, and a $25 promo card to Forerunners.
First Half partners include Forerunners, Stanley Park Brewing, Nuun Hydration, Xact Nutrition, Old Dutch, BC Athletics, Sport Hosting Vancouver and the Province of B.C.
The First Half event also has a long-standing partnership with Variety, the Children's Charity. This year, runners have raised over $12,000 for the charity, led by 91-year-old, Delia Visscher.
BMO continues as the title sponsor for Vancouver's only Marathon event which also features the Running Room, Brooks, Stance, Xact Nutrition, Nuun Hydration, Old Dutch, Stanley Park Brewing, Kettle Valley Winery, Hyland's, BigSteelBox, Frogbox, GoWireless, Pitstop Portables, Downtown Vancouver, Sport Hosting Vancouver, StayVancouverHotels and the Province of B.C.
Overall, RUNVAN® events traditionally rely on nearly 4,000 volunteers annually and help to support numerous charitable causes. Through the Society's RUN4HOPE Charity Program, runners have helped to raise over $16 million for charity.
To learn more and get involved yourself, please visit firsthalf.ca, bmovanmarathon.ca, or runvan.org